Punjab awaits Amarinder's response as politics picks up around his loan waiver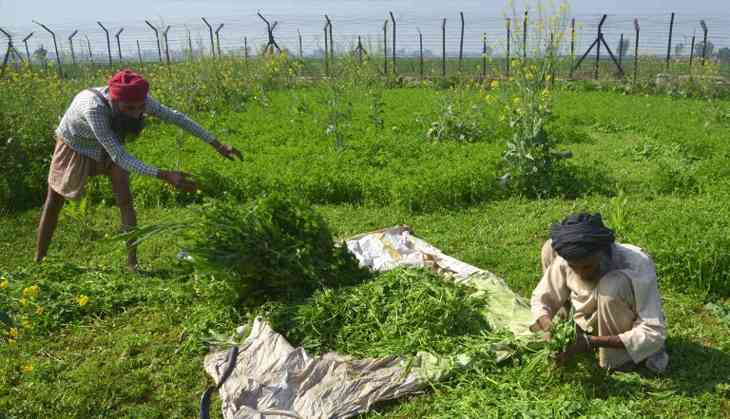 Farm distress was an issue that propelled the Captain Amarinder Singh-led Congress into power in Punjab almost a year ago. Today it is the very same issue on which the government stands on a sticky wicket even as it gets ready to roll out a farm loan waiver that it had announced last summer.
The government is facing charges of not fulfilling its poll promises, favouritism and duping the masses on this issue from the farming community as well as its political opponents. In the last one month, Punjab has seen a series of protests on the issue and these protests are still continuing.
It was on 18 October that the Punjab government issued a notification on the loan waiver that Amarinder had announced on 19 June. Under the scheme around 10.22 lakh debt-ridden farmers will reportedly get a benefit of Rs 9,500 crore. Till 31 March 2017 Punjab's farmers owed Rs 59,620 crore to various banks.
The basis of loan waiver is the amount due from the farmers only to cooperative, public sector and private banks till 31 March 2017. Amarinder had announced a waiver of debt up to Rs 2 lakh for farmers who own land holding up to 2.5 acres and also to those also who have between 2.5 to 5 acres of land with some conditions. Initially, all loans taken from cooperative banks were to be waived and this was to be followed by the public sector and private banks.
But things seem to have gone haywire. Starting September, the farmers have been agitating on the delay in the loan waiver. They have also been accusing the government of going back on its words pointing that that the Congress, in the run-up to the elections, had promised a complete loan waiver and what it has delivered is a partial one.
Amarinder is set to roll out the scheme from Mansa on 7 January with around 47,000 marginal farmers from five districts of the region Mansa, Bathinda, Sangrur, Muktsar and Moga receiving cheques towards loans taken from cooperative institutions. There are reportedly around 1.42 lakh marginal farmers in these five districts.
What is being reported from various corners of the state now is that the lists of beneficiaries that have been prepared are full of flaws. The intensity of the matter can be gauged from that instance of Sikandar Singh, a farmer in Rodewala village of Sangrur, reportedly ending his life on Thursday because his name was missing from the list of beneficiaries.
Even otherwise there have been protests at some places by farmers who claim to be the actual beneficiaries and not being included in the lists that have been prepared across the districts. There have been reports of a very large number of farmers hitting the Aadhar card hurdle as they have been unable to provide their unique identification numbers to the authorities. In addition to this are the routine technical faults.
"I do not see anything tangible coming out of the whole affair. I am yet to come across a genuine beneficiary contacted by the government. They fail to realise that majority of the loans taken by the farmer are from moneylenders and commission agents on which nothing has been done," points out Ahbab Singh Grewal who has been leading several farmer programmes for the Aam Aadmi Party (AAP) in the state.
The Shiromani Akali Dal (SAD) as gone a step ahead accusing the Congress MLAs of looting the state exchequer by preparing lists of crop loan waiver beneficiaries at their residences while ruthlessly ignoring genuine recipients.
Former minister Bikram Singh Majithia has charged that the Congress legislators and halqa in-charges have hijacked the crop loan waiver scheme while booting out small and marginal farmers from it.
"Farmers themselves have exposed this fraud by revealing how Congress favourites have been included even as eligible indebted farmers with less than five acres of land have been kept out. There are also accusations of Congressmen demanding bribes from indebted farmers to include their names in the beneficiary list," he said.
Asking the farmers to start 'gherao' of legislators and ministers indulging in such malpractices, Majithia said – "There should be an independent inquiry into the entire scam to ensure the perpetrators who are making money out of the misery of indebted farmers are brought to book. The SAD will also start a protest movement in support of the farming community."
Stating that only a comprehensive loan waiver of Rs 90,000 crore covering cooperative and nationalised banks as well as private money lenders would be acceptable to the farming community, Majithia said:
"The current crop loan waiver scheme is fraud as the government reduced the number of beneficiaries from 10 lakh to two lakh. Now it has come about that there is a scam even in this. The current scheme does not include all farmers who own less than five acres of land. Small farmers with five acres of land who have availed a loan of over Rs 2 lakh have been made non-eligible for the scheme. It also does not give any relief to those who are under stress and are committing suicide because it caters to only 5% of farmers who have defaulted on crop loans. Even marginal farmers with 2.5 acres of land and farm labourers have been kept out of the scheme."
According to Majithia, the number of suicides has gone up to almost 400 in the last ten months of the Congress rule.
The Akalis have also condemned the manner in which the government has been pasting lists of indebted farmers in villages and subjecting them to social and mental torture. "Such farmers now run the risk of being branded as lifelong debtors and will have to pay a heavy social price for the same. The social stigma attached to them will even affect the marriage prospects of their daughters," Majithia said.
Meanwhile, Punjab is awaiting a public statement from Amarinder on this issue which is expected to come when he launches the ambitious programme.