Proposed amendments to Adivasi land rights put Jharkhand on the boil
Photo: Nirala Bidesiya/Catch News
On 22 November, the Jharkhand Assembly celebrated the state's foundation day. The occasion was marked by a ceremony attended by all the major leaders of the state.
Jharkhand Mukti Morcha (JMM) MLA and former Deputy CM Stephen Marandi was scheduled to be honoured with the Excellent MLA award for the current year during the programme, which was attended by the Chief Minister Raghubar Das and the Leader of the Opposition Hemant Soren, among others.
However, the atmosphere of euphoria changed into one of tension when the Das and Soren chose to take potshots at each other. Referring to the Opposition protest over the amendment of the Chotanagpur Tenancy (CNT) and the Santhal Pargana Tenancy (SPT) Acts, Soren stated: "Nobody knows what will happen on 23 November. But, the government is not going to find any solution through confrontation."
To this, the CM replied: "We will table the CNT-SPT Amendment Act under any circumstances. Opposition members are welcome to debate and discuss the act. The government cannot accommodate everybody's viewpoint. We want to simplify the law. You would also have done the same in power."
Eventually, the ceremony ended with palpable restiveness between the government and the Opposition.
What do the amendments entail?
The amendments would enable the Adivasis to use their land for non-agricultural purposes without any change in ownership. They would also pave the way for the acquisition of tribal land for infrastructure projects. The proposed Bill suggests the return of the land if no project is set up within a five-year time span, but the landowners would not be able to claim any compensation.
Some of the other changes in the law are likely to have far-reaching effects on the state.
First, the government tried to bring in the amendments through an ordinance, which was approved by Governor Draupadi Murmu four months ago.
It then went to the President of India, who sent it to the Union government for final consideration. However, the Union Ministry for Tribal Affairs raised its objection to the proposed amendments, stating that the region of Jharkhand comes under the fifth schedule of the Constitution.
Even eminent Constitutional experts like Subhash Kashyap had questioned the rationale of the amendments. As a result of the impasse, the President of India turned down the ordinance.
Now, the state government is trying to take the Vidhan Sabha route to carry forward its decision.
Stiff opposition from within and without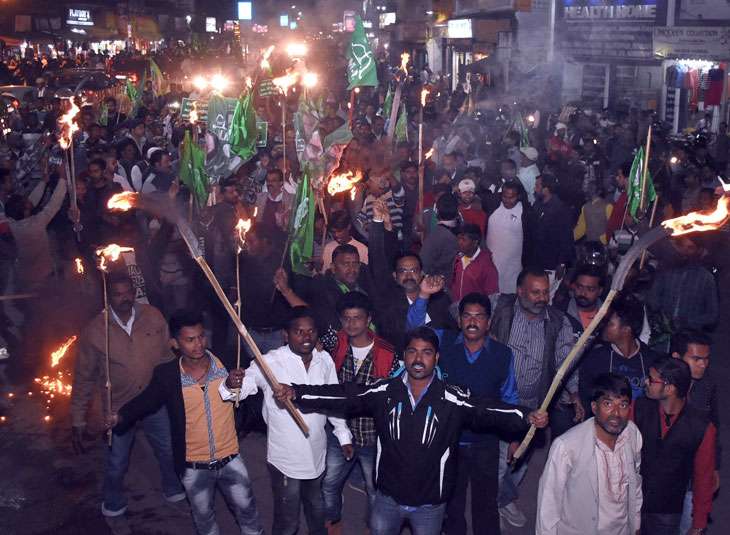 Photo: Nirala Bidesiya/Catch News