Pranab Mukerjee's visit to RSS HQ gives a boost to the outfit's membership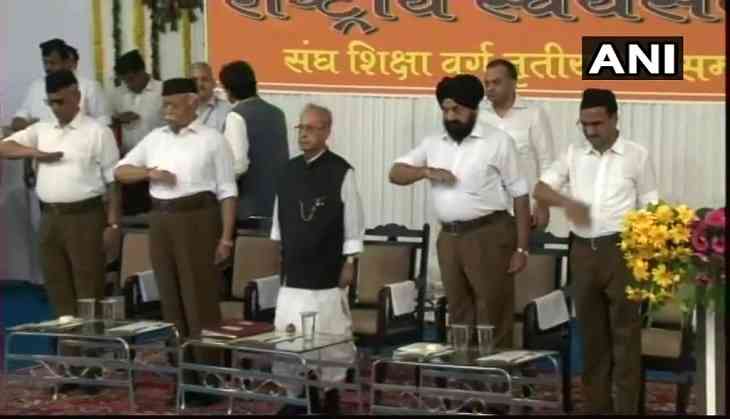 Former President of India Pranab Mukherjee's visit to the Rashtriya Swayamsevak Sangh headquarters in Nagpur appears to have helped the saffron outfit win more followers in West Bengal. RSS functionaries in the state say that their membership has increased substantially after Mukherjee's visit.
Biplab Roy, RSS publicity secretary for South Bengal, said "Before Pranab Mukherjee's visit, the number of applicants as registered in the RSS website from all over India was about 378 everyday. On 7 June, it was 1779. And out of that figure, 40% are from Bengal. And it is increasing with each passing day. This shows how people have responded to his visit"
According to Roy, normally in a day the RSS receives around 300-400 applications on its website . Now it has increased to 1100-1200 applications per day on an average.
Roy said "Although RSS membership is increasing because of the good work the organisation has undertaken in the past few years, Mukherjee's visit definitely given a boost. We hope that it increases further in the coming days."
On 7 June, Mukherjee visited the RSS headquarters in Nagpur, inviting criticism from his own Congress party.
The RSS made most of the controversy and began cashing in on Mukherjee's visit especially in his home state West Bengal where the outfit is engaged in a pitched battle with the ruling All India Trinamool Congress.
"We are rapidly expanding in Bengal. In South Bengal last year we had 850 shakhas and this year it has increased to more than 1200. In North Bengal it has increased from 300 to 400,'' disclosed RSS general secretary for Eastern India Jishnu Bose.
The Congress and CPI(M) both admit that Mukherjee's visit made RSS more acceptable, especially in West Bengal.
Adhir Ranjan Chowdhury West Bengal Pradesh Congress chief said "By paying a visit to an RSS programme at Nagpur, Pranab babu proved his relevance while the RSS gained acceptability."
According to Mohammad Salim of the CPI(M), "What we feared is now happening. His visit has opened the floodgates for the organisation (RSS)".