PM Modi's Balochistan offensive has got the Congress in a churn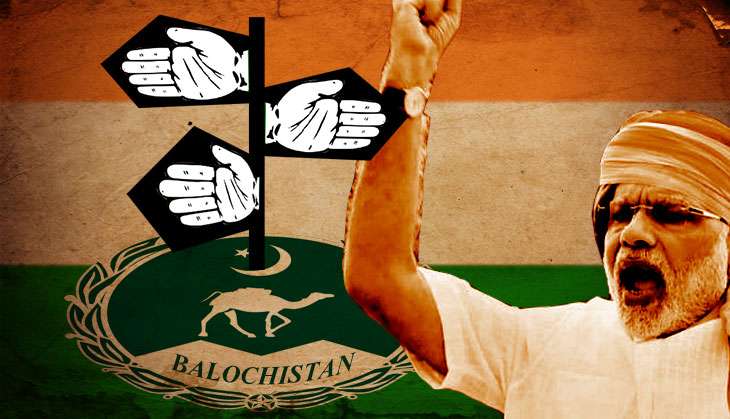 Ever since Prime Minister Narendra Modi dropped the Balochistan bomb from the ramparts of the Red Fort on India's 70th Independence Day, the Congress has been doing a flip flop on its official position and there seems to be a clear division within the party on its stand vis-a-vis Balochistan.
Party leaders have been echoing different views and Congress spokespersons have been on the back foot trying to explain Congress' official position on the contentious issue.
Crown on fire
Wednesday saw senior leaders bringing the K-word into the debate. A clear departure from their earlier position, Congress leaders questioned Modi's reference on Balochistan while ignoring the violent crisis in Kashmir. "India's crown is on fire and the prime minister is busy talking other frivolous issues," said senior leader Ghulam Nabi Azad.
Also read - Modi raises Balochistan & PoK on Independence Day: What about India, sir?
The division within the party ranks surfaced after Salman Khurshid on 15 August claimed: "PoK is our right. Our entitlement. We will support it. But by bringing in Balochistan, you are ruining our case".
After hours of introspection, Congress endorsed Modi's speech and distanced itself from Khurshid's comments and released an official statement that read: "The Congress does not subscribe to the statement made by Salman Khurshid, who is a senior leader. He can have his own opinion. Our view is very, very clear. Congress party believes there are serious human rights violations in Balochistan and the voice of democratic dissent is being suppressed by Pakistani forces and agencies."
Secular credentials
Congress' statement did come as a surprise considering it refused to criticise the prime minister for raking up the Balochistan issue at a time when Kashmir is witnessing one of its most violent periods of unrest in recent years. Instead, it backed the prime minister. Sources claim that the decision to back Modi's statement is a strategic decision as the party cannot afford to provoke the majority community - which according to its own report, had been raising serious doubts about its "secular credentials".
Back in 2014, the party, while looking for reasons for its electoral rout, formed a committee headed by AK Antony. The findings of this committee cautioned the party for its proximity to minority community which it claimed was largely responsible for the 2014 defeat. Back then many party leaders backed the report and sources say it yet again reflected in its stand on Balochistan.
Playing the Baloch card
The grand old party didn't pay heed to the advice offered by some of its leaders, who in a close door meeting with vice president Rahul Gandhi, said that Modi deliberately raised Balochistan to divert the attention from his failure to deliver on poll promises. And, that it needs to be answered with a counter narrative.
On Wednesday, the division over Balochistan was far too evident. Khurshid stood by his statement and said, "This is the foreign policy of the novice." He even wrote a long essay defending his position on Balochistan and PoK.
Later, when the question was put to senior leader Ghulam Nabi Azad, who was briefing the media on Congress' second phase of UP campaign, he too criticised Modi for taking up frivolous issues and not the ones that concern the nation.
"The prime minister is making appeals to others but not to people in his home where someone else is doing politics. He wouldn't get votes for this (Kashmir) nationally and that is why he is talking about other places (Balochistan). His politics centres around votes even when his house is burning. I request him first put your house in order and then talk about others," he said.
Taking jibes at the prime minister, Azad said that someone who is not ready to utter a word on Kashmir, how do you expect him to visit the state. "You do all the talks about Pakistan, but also talk about Kashmir." When asked about the party's official position, Azad said, "I don't want to say anything about that."
Congress spokesperson Abhishek Manu Singhvi too repeated Azad's concerns and said that the prime minister said so much about Balochistan but nothing about Kashmir. "The real problem, Mr Prime Minister, is that you have not sorted out the internal contradictions and paradoxes in your lust for power. In J&K within your own coalition, these are irreconcilable paradoxes and unless you extend the healing touch in a proper manner in an integrated policy, we have a huge problem in hand with regard to Kashmir which by the way I must, with great regret, repeat; you did not touch upon in 95 minutes of your speech. What is the point talking about Balochistan?"
The middle ground
Singhvi downplayed the question of different voices within the party on the issue and said that when Balochistan is thrown "as a slogan, as an empty rhetoric, as a magical formula, you are only playing with people". "You are just fudging the issue. If you do it in a serious way, along with solution of the issues internally and being a strong nation, then of course, we will support you but we believe what is happening is nothing but rhetoric."
Sources claim these differences are a consequence of the party being wary of Hindutva polarisation in case it resorts to politics of confrontation. With the crucial Uttar Pradesh and Punjab Assembly elections just round the corner, the strategy is to tread carefully and avoid upsetting the youth and middle class who are most susceptible to the anti-Pakistan narrative.
In such a scenario, Congress doesn't want to be seen as going against the popular mood. A middle path is party's safe bet or else BJP can accuse the party for being weak on nationalism which could hurt the party electorally.
The Congress suffered a major embarrassment in 2009 when it signed a joint declaration with Pakistan in Sharm el-Sheikh and gave BJP enough ammunition to target the Congress on compromising India's position vis-a-vis Pakistan. Back then, former prime minister Manmohan Singh had agreed to share information on threats in Balochistan and other areas. To this, the BJP had said: "Waters of the seven seas will not be able to wash the shame".
The Congress certainly doesn't want a repeat of that especially with its back to the wall in national politics.
More in Catch - Omar Abdullah slams PM Modi for raising Balochistan when Kashmir has been hit by violence
PM's Balochistan reference unnecessary, he should have applied his mind: Kapil Sibal
Keep talking: Balochistan and the murder of Sabeen Mahmud