PM Modi falls back on rhetoric and tears to strike a chord in poll-bound Gujarat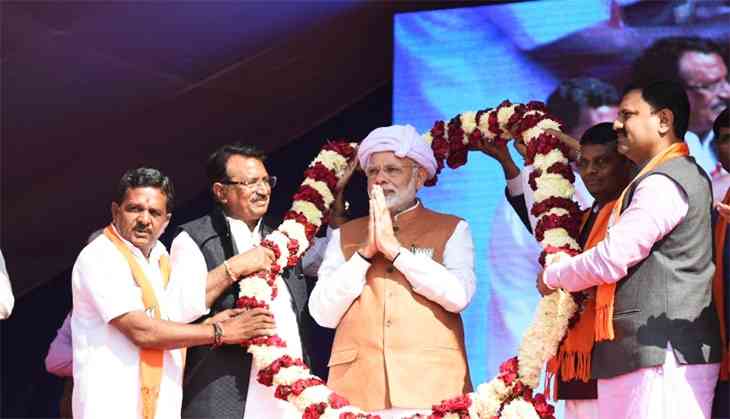 On the first day of his three-day campaign in poll-bound Gujarat, a teary-eyed Prime Minister Narendra Modi reminded the crowds once again of the days when he sold tea.
Launching a blistering attacks on Congress for mocking his origins, Modi said, "Yes, I did sell tea, but I did not sell the nation."
Hoping to strike an emotional chord with the voters in his home state, the PM accused the grand old party of disliking him because of his humble background. "The Congress does not like me because of my humble origins. Can a party stoop so low? A person from a poor background has become PM and they cannot accept this fact," he said, while addressing a rally in Rajkot.
Throughout the day, the PM, who held four rallies, trained his guns at the main Opposition party and accused it of promoting dynastic politics and betraying Sardar Patel and former prime minister Morarji Desai. He also accused the Congress of keeping Gujarat backward and asserted how it was he who has brought vikas (development) to the state.
In totality, the PM stuck to his usual rhetoric and banter against the Congress. Whether the people pf Gujarat get swayed by his speeches to whether they look at his tenure more critically, particularly in the wake of the twin ills of demonetisation and the Goods and Services Taxes (GST) remains to be seen.
Empty venues
The PM began the day with a rally in Bhuj town of Kutch district of Gujarat, which, according to news reports, was delayed because more than half of the venue was empty. Only after appropriate numbers landed up, the PM visited the Lallan College Ground and began his address.
"The delay is apparently because Lallan College Ground, where he is to speak, was more than half empty at the scheduled time. Now, there are better crowds and he is likely to reach anytime now," reported news website Firstpost.
Meanwhile, once the rally began, the Prime Minister largely focused on his achievements in developing Kutch as chief minister and how the Congress has insulted Gujaratis by insulting him.
The attack on Congress
Portraying himself as the son of the soil, Modi asked that how he, who rebuilt Bhuj after the devastating earthquake in 2001, is being accused of corruption. "These Congressmen are now accusing me of corruption. Will you forgive them?" he asked in his customary style, only to be greeted with a loud 'no'.
Well aware of how the hurried implementation of the Goods and Services Tax (GST) has become a major poll issue in the state, the PM responded to many stinging jibes by the Congress vice president Rahul Gandhi and claimed how Congress initially supported it only to raise objections after it was implemented.
At his next pit stop at Jasdan in Rajkot, Modi repeated how the Sardar Sarovar Project will bring prosperity in the region and accused the Congress of not letting the project take off. It is here in Jadan that the prime minister accused the main opposition party, particularly the Gandhi family, for insulting Patel, Desai and other Gujaratis.
From providing free homes to hailing counter insurgency operations in Kashmir, Modi interestingly spoke about communal harmony in the state. Further, he stressed that Congress has a habit of pitting one caste against each other and even urged voters to not let the party destroy Gujarat's asmita.
Later in Amreli, where the crowds had been waiting for more then two-and-half hours, the PM said that Congress' hatred for Gujaratis and the state flows in their veins. It is here that he raised the issue of demonetisation and spoke of how the Congress is still mourning the loss of its black money even after a year.
Equating Congress' repeated attacks on demonetisation with death of losing an earning son, the prime minister said that the grand old party has tears in its eyes even after an year since they have lost all their black money. It remains to be seen how Congress responds to this jibe by the prime minister considering more than 150 people lost their lives after Modi announced the decision to ban Rs 500 and Rs 1000 currency notes.
Next the PM visited Kadodara, Surat, which falls within the Kamrej constituency – a well known Patidar bastion. Interestingly, CNN-News18 quoted BJP sources as saying that the venue was shifted from inside Surat city to the outskirts in Kadodara after the party received reports of Patidars planning to disrupt the prime minister's rally. In fact, the CNN-News 18 report added that the decision to shift venue was taken two days ago.
Congress' reply
Meanwhile, Congress did not take Modi's criticism particularly well and accused the PM of suffering from "sick mentality".
Criticising the PM's comments questioning former prime minister Jawaharlal Nehru's contributions, senior Congress leader Anand Sharma said, "The Prime Minister said that India's first prime minister did nothing for Gujarat. We condemn that. Prime Minister has a sick mentality which should be cause of national concern."
Sharma said that it seems the PM feels that nothing happened in Gujarat or the country before his or BJP's rise. To remind Modi that his statements were unsure, Sharma said that it was Nehru and Congress who had established Amul, Indian Institute of Management, National Institute of Design and even Gandhinagar. He added how it was the Congress which had founded IIT, NIFT and Central University in Gandhinagar.
Taking digs at the PM, Sharma added, "All airports in Gujarat have been built by Nehru and Congress and the only airport they built is in Dolera whose runway is not even functioning... After the Gujarat agitation, Nehru took the decision State Re-organisation Commission be put in force which led to creation of Gujarat on 1 May 1960."
Reacting to PM's jibe that only members of the Gandhi family have been Congress presidents, Sharma said that the 132-year-old history of Congress boasts of presidents like Mahatama Gandhi, Subhas Chandra Bose, Patel, Gopal Krishna Gokhale, Lala Lajpat Rai and Pandit Madan Mohan Malviya.
"The PM says that members of only one family have been president so I have narrated several other names. Gujarat's Ranchod Bhai has also been Congress president. When we go to Gujarat, we will give you detailed information about what Congress and Pandit Jawaharlal Nehru did."