Phase II of UP Polls 2017: BJP plays communal card again, SP fighting it out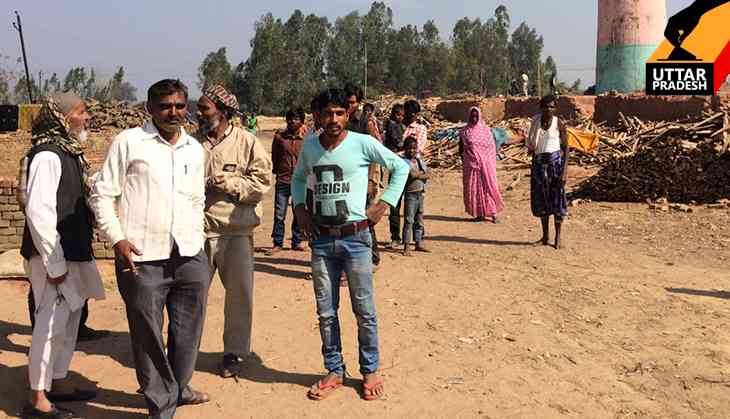 "The murder in Bijnor had the potential to alter the course of elections in this region," an RLD activist told this reporter in Chandpur, constituency, as party's general secretary Jayant Chaudhary was about to address a public meeting on Saturday.
This murder took place on 10 February, the evening before fifteen districts in Western Uttar Pradesh went to vote in the first phase. In Naya Gaon village, a few kilometres from the district headquarters of Bijnor, Jat Pradhan Sanjay Singh and his son Vishal Singh were shot at and attacked with sharp weapons.
The attack allegedly carried out by people belonging to the minority community from the neighbouring Peda village. Peda village had witnessed the killings of three people belonging to the minority community six months back, and the entire town had been on edge since.
"The situation was contained. BJP wanted to use it to polarise the votes," the RLD Jat worker said. Although the party did not want to be seen as directly involved since it was about the killing of a Jat, it did send indirect messages to its workers to ensure that things remain calm.
However, as the locals said, the way BJP tried to take advantage of the murder, has seen the minority community coming together in favour of SP's Ruchi Vira, the sitting MLA, instead of BSP's Rasheed Ahmad.
"I have been meeting several people at my shop. After the incident they have been saying how they will not let their vote go waste and instead vote for the SP," says Farhan Ahmad, a local trader.
Rallying forces 2.0
67 constituencies of Western UP will go to polls in the second phase in districts of Saharanpur, Bijnor, Moradabad, Rampur, Amroha, Sambhal, Bareilly and so on. This high-stake region saw an impressive performance by the SP in the last Assembly polls. However, all these seats went to the BJP in the last Lok Sabha polls.
In this region, where most districts have a high concentration of Muslims, the BJP is aiming to consolidate the 'other' votebank to shore up its chances.
"The RSS is active in Nowgawan constituency of Amroha. It is asking people to take a pledge with Ganga Jal that they will vote for the party," claimed Khushtar Mirza, a Congress leader in Amroha.
In this constituency, Akhilesh's close aide Jawed Abdi is contesting the polls against BJP's Chetan Chauhan, the former cricketer.
BJP leaders, like Yogi Adityanath, are working overtime in this region to ensure that it manages to pull enough votes. Chetan Chauhan, for example, has been mentioning in his campaign that the SP government has only worked for only one community, the Muslims, and has not cared about others.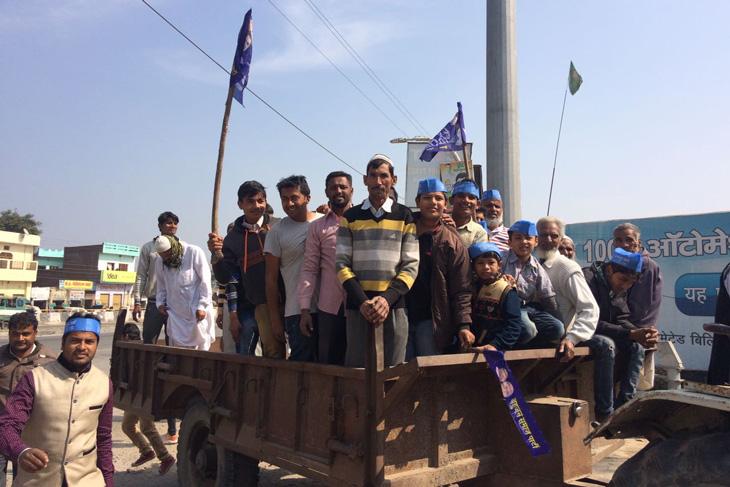 No cake walk
But this consolidation won't come easy. "We voted for Narendra Modi in the last elections. This time we want to show him the worth of Jatav votes. Now he will not be able to win without our votes," said Rajinder Kumar, in the Bamboogarh Pandki village, a little off NH24 on the road to Amroha.
"BJP gets votes when the election becomes a matter of your religious identity. Why would anybody vote for them otherwise seeing their anti-people policies?" Ramesh Yadav asked as he sat in a chai shop next to a Punjab National Bank Branch where a lot of people are seen to be waiting for their turn to get in.
Others at the chai shop, meanwhile, rooted for the BJP. "We are from the Saini community. We vote for the BJP," said Ramesh Saini, as he poured tea for the customers.
"I have been seeing a rising wave for the SP among all the Muslim communities," Wisal Mehdi, who has been campaigning for the SP candidates in several constituencies in Bijnor, Moradabad and Rampur, claimed.
"We will vote for the SP. Notebandi has destroyed us. The brick kiln which was supposed to start work three months ago has only recently started," said Ali Hasan, a daily wager at a brick kiln in Amroha.
Matters in-house
However, in Azam Khan's drawing room, the mood is not so upbeat.
"We are facing a lot of anti-incumbency against our MLAs in several constituencies," a leader of the party told this reporter, as we waited for 'Khan Saheb' to turn up. He asks that the left most sofa in the room be left vacant, for "the minister prefers to sit on it during the meetings."
In Amroha, for example, the sitting MLA Mahboob Ali, has created a lot of opposition for himself through his strong-arming tactics.
"We will all vote for the BSP this time. Mahboob Ali oppresses us," said Feroz, flashing his BSP cap as he and some others headed for BSP's roadshow in Amroha.
However, others claimed that despite opposition, Mahboob Ali has enough support to ensure a smooth sailing victory. "Mantri Mahboob Sher hai," – as a local remarked.
Fielding it right
The BSP has fielded strong Muslim candidates in many seats like – Kaanth, Moradabad and Amroha – which could make it tough for the SP incumbents. Moreover, as Mirza, explained, the SP-Congress alliance has not resulted in a perfect symphony between workers of both the outfits.
Congress workers in Amroha said they do not get the respect they deserve in the SP camp. "They do not take us seriously," one Congress leader said, adding that this factor has forced us to work for the BSP.
There are many other seats which have more than one Muslim candidate, which would give the BJP candidates an edge. The party has not fielded even one Muslim candidate in the state.
Meanwhile, on some seats like Nowgawan, SP's sitting MLA Ashfaq Khan was denied a ticket as the party fielded Abdi, a newcomer. "He has been fielded by the RLD. He will corner a lot of votes making it difficult for Abdi," said another SP leader.
And the other player
Meanwhile, Asaduddin Owaisi's AIMIM, too, has caught the fancy of the youth in some constituencies like Sambhal, where the party in a major coup managed the support of senior SP leader Shafiqur Rehman Barq.
Barq was unhappy with the SP for his grandson Ziaur Rehman was denied a ticket. His rallies are seeing impressive crowds in constituencies like Sambhal, Kaanth and Moradabad (rural).
"In 1999, Sonia Gandi's rally against Mulayam Singh drew a crowd of almost 5 lakh people in Sambhal. When the results came, the Congress candidate could only manage 19,000 votes. And that was Lok Sabha polls," said a SP MP. He went on to explain that it was going to be very difficult to defeat the party in this stronghold. "There is a visible wave for us at least among the minority community," he said.
"How does it matter if Mahboob Ali is bad. We will vote for Akhilesh Yadav," Ali Hasan said. "We may not win as many seats as we had the last time in the districts of Sambhal, Amroha and Moradabad. But we will still get the lion's share," said the MP, adding – "we will make up for them in other districts".
Edited by Jhinuk Sen