People still remember Jungle Raj. They will not vote Nitish-Lalu: Manoj Sinha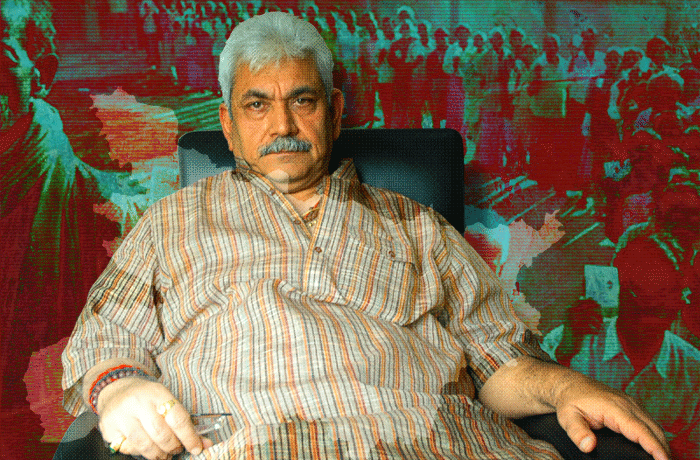 Pole position
Bihar\'s voters seek a change
NDA will form the next government
Poll factors
Lalu\'s supporters will not forget the atrocities committed by Nitish
Bihar still remembers Jungle Raj
More in the story
Who will be the CM if BJP wins
How will the govt make lift Indian Railways
You are active in the Bihar campaign. Where is this election headed?
I have been visiting many areas of Bihar. I think the common voters are vying for change. The National Democratic Alliance (NDA) is going to form the next government with a clear majority.
A segment of vocal and pro-active voters is supporting BJP. However, a large section of the electorate is silent. The uncertainty over Extremely Backward Class (EBC) and Dalit voters is among many factors that is causing concern with in the BJP.
I do not see any cause of worry because the so-called Grand Alliance is an unnatural association. Nitish Kumar has committed atrocities on Lalu Prasad's supporters for eight years. I think forging an alliance at the last moment will not result in transfer of those votes in JD (U)'s favour. Whereas, a large section of EBCs as well as Scheduled Castes are supporting the NDA in these elections.
Bringing together forward castes and Dalits is a tested formula. Mayawati has already tried it in Uttar Pradesh. But it proved to be a fragile arrangement, much like a goat and a lion present on a boat together.
It is a misinterpretation to infer that forward castes stood with Mayawati during the Uttar Pradesh Assembly elections. I agree that people had resentment against the Samajwadi Party government.
But people voted for Mayawati because the BJP did not seem a viable option. However, the situation is different in Bihar.
The people of Bihar are all for change. They are getting restless. People are cautious that Jungle Raj is knocking at their doors again. I am confident they will not let it come back.
The issue of leadership in NDA still remains. It is not clear who is confronting Nitish Kumar. After all, you had trusted his vision for seven-and-a half years. The middle class of Bihar is confused as Narendra Modi surely cannot rule from Patna. People are asking where is the face that can replace Nitish Kumar?
We supported Nitish Kumar only till he adhered to the issues. Now, voters are convinced that he is opportunistic and switches sides as per his political convenience.
Nitish parted ways with the BJP as he considered himself to be PM material. He has joined ranks with the same Lalu whom he had criticised on hundreds of occasions for Jungle Raj.
The talk of ethics and principles does not suit Nitish Kumar now. A person who is standing with the Congress while claiming to represent Karpuri Thakur, Lohia and Jai Prakash Narayan has no moral authority.
'Nitish thought he was PM stuff. He went ahead and joined Lalu after criticising him for Jungle Raj' - @manojsinhabjp
As far as the question of the chief ministerial CM candidate is concerned, the BJP has many deserving leaders. We projected the CM designate in various elections as part of our electoral strategy.
But we did not project anyone as the CM candidate during Assembly elections in Maharashtra, Haryana and Jharkhand.
We have 8-10 leaders within the party suitable to become the Chief Minister. Our Parliamentary Board will take the final call after the results are out.
Your party is facing revolt in many constituencies. Rebel candidates are damaging BJP's prospects in many places. An ADR report suggests 30% candidates in these elections have a criminal background. And the largest chunk of these tainted leaders is contesting from the BJP. Where does Modi's proclamation of cleansing politics of criminal elements stand in such a situation?
I have read the ADR report in detail. Many of the cases against our contestants are politically motivated. Our workers were persecuted during Jungle Raj and false cases were lodged against them.
Such contenders are social workers, not criminals. A particular government had tried to malign their image. Many families who made sacrifices to get rid of Jungle Raj are also behind the BJP.
Bihar has a history of caste-violence. How will you address the issue, especially now that Manjhi and Paswan are with you and forward castes are also expecting representation from your party at the same time?
My party believes in social harmony. Our mantra is 'sabka saath, sabka vikaas'. (with all, development for all). All sections of the society will come together when there is equitable development.
Modi is pitching for 'Make in India' on one hand and awarding major contracts to foreign companies on the other hand. He recently invited foreign companies to establish Wi-Fi zones in hundreds of railway stations, ignoring Indian IT companies. How do you explain this contradiction?
This is not the case. The Railtel Corporation of India is collaborating with Google to provide Wi-Fi in 500 railway stations. Indian IT companies can also be considered for this if they show interest.
You are hailed for imposing discipline in the railways. But, the weakness of Digital India is exposed when you try to send goods from Patna to Delhi through Internet. Many trains still run late. How will you address these issues?
The lack of investment is the real challenge before the railways. The number of railway passengers has increased 17 times since Independence. Goods volume have also multiplied eight times.
In contrast, infrastructure has only doubled. It is not possible to run all trains on time until the gap between traffic and infrastructure is bridged.
There are 492 railway sectors working up to 100% more than their capacity. Therefore, increasing investment in the railways is our first priority. It is for the first time that an investment of Rs 1.10 lakh crore was announced in the Rail Budget.
We have increased investment by 52% in railways compared with the previous years. Our plan is to pump in Rs 8.5 lakh crore in the sector in the next five years. We want to end congestion as soon as possible. The real challenge is to improve infrastructure while keeping railways running.
Nitish Kumar had laid the foundation of two major railway projects for Bihar. Ironically, he proved to be the biggest impediment in their implementation.
One is the Munger bridge project and the other is the construction of a railway bridge over Ganga in Digha. We have allocated Rs 612 crore for the Digha project and Rs 587 crore for the Munger bridge.
These projects would not have been completed had our government not been at the Centre. We have completed work on two projects, but have not been able to ply transport on these bridges because the Bihar government is not co-operating.
'False cases put against our candidates. They are social workers, not criminals' - @manojsinhabjp
In addition, we have cleared the construction of Rajendra Setu, a major demand of the people of Bihar. The surface transport ministry has sanctioned the construction of a six-lane road bridge as part of the project.
Bihar has been a priority state for the Modi government. Apart from the special package announced by Modi, we have sanctioned many important projects for the state. Development is not merely a slogan for us, but a commitment.
When can people expect the realisation of the bullet train project amid the prevailing investment constraints in the railways?
We will work simultaneously on improving the railway network and implementing the bullet train project. The final decision on the Mumbai-Ahmedabad bullet train project will be taken during the visit of the Japanese Prime Minister. Also, I assure that every passenger planning to go home for Chhath will get a ticket.
You have such grand plans for development, yet the country witnesses incidents like Dadri? Is it not a contradiction?
Law and order is a state subject. The UP government must act effectively on the Dadri incident. It must also take responsibility for rising communal tension in the state.