Peacemaker Rahul Gandhi gets down to fighting Congress factionalism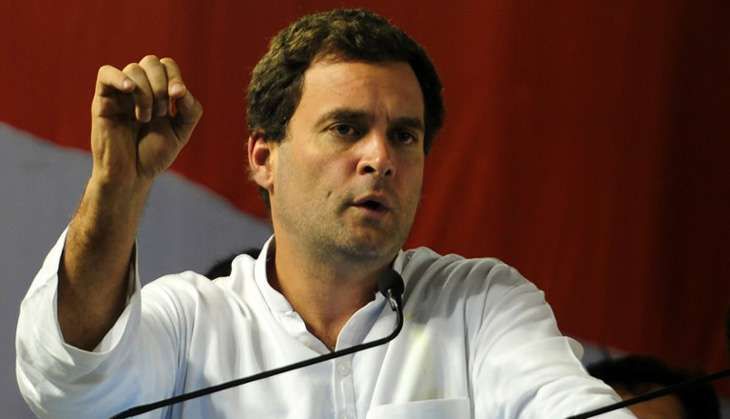 Rahul Gandhi
Rahul Gandhi is making leaders from feuding state factions sit at one table to bury the hatchet
His first target was Kerala. Next up are Maharashtra and Tamil Nadu
More in the story
What transpired at the meeting
What leaders have to say about Rahul\'s initiative
Congress vice president Rahul Gandhi has turned peacemaker to diffuse growing factionalism within party ranks in various state party units. The Gandhi scion is meeting factions from different states, trying to sort out differences that are hurting the party's interests. What makes these meetings stand out from the ones in the past is Rahul making these factions sit across the table and sort out their differences while he moderates these discussions.
On Thursday, the Congress vice president met 60 leaders from Kerala to diffuse tensions between the warring factions in the state. The meeting continued till Friday and similar meetings are lined up for other states - Tamil Nadu and Maharashtra - that are facing similar crisis.
"The idea is to let these factions sort out issues amicably and offer possible solutions to ensure the party presents a united face in these difficult times," said a senior Congress leader.
In the recent past, Congress suffered electorally after an exodus of senior leaders who blamed the Gandhi scion for not giving them time to express their concerns.
Also read: 5 reasons why the Congress is in a shambles in Uttar Pradesh
The biggest casualty was Assam leader Himanta Biswa Sharma who exited the the party over differences with former Assam chief minister Tarun Gogoi. Sarma later joined the BJP and helped it win the assembly elections by a huge margin.
Similarly, the Congress witnessed rebellion in Arunachal Pradesh which resulted in rebels bringing down the Congress government and installing a new one with the help of the BJP. Even in Uttarakhand, rebellion within party ranks led to imposition of President's Rule and the Congress government survived only after the courts' intervention. Even in Meghalaya, Manipur, among other states, factionalism became a major threat to the incumbent Congress government.
Also read: Congress strategist Prashant Kishor faces heat after secret 'Brahmin meeting' in Uttar Pradesh
In all these states, the rebels repeatedly said that Rahul didn't lend ears to their issues and instead chose to believe what others in powerful positions had to say. A senior Congress leader had earlier informed how some of these leaders were not given time by Rahul to present their side of the story and that they even approached journalists to set-up a meeting, but to no avail.
Former Uttarakhand chief minister Vijay Bahuguna levelled similar charges and said that he waited for 13 months for a response from Rahul for a meeting. Congressmen from Meghalaya shared similar stories of not being given time to vent their anger against the incumbent chief minister.
Peacemaker Rahul
In order to avoid similar situations, Rahul met factions of Kerala PCC president VM Sudheeran and others representing the Oommen Chandy and Ramesh Chennithala who want a complete restructuring of the state party unit. Handpicked by Rahul Gandhi over those backed by the two dominant factions, Sudheeran has been facing the ire of influential Congress leaders who are blaming him for the recent poll debacle in the state.
They have repeatedly requesting the high command to remove Sudheeran to ensure unity in the party unit. "His message is that there is no room for those who indulge in factionalism and that one person holding a prominent post can't be singled out for electoral losses," said a party functionary from the state.
The discussions continued till Friday and insiders say the stalemate is likely to end soon.
After Kerala, Rahul will meet leaders from Tamil Nadu Congress unit that is divided into several factions including the ones backed by P Chidambaram, former PCC chiefs KV Thangkabalu and Krishnaswamy and two-time MLA Vasanth Kumar. In fact, the growing differences within the state forced Congress chief EVKS Elangovan to resign who took responsibility for the party's poor show in the recently held assembly elections.
In fact, Elangovan was one of the few PCC chiefs who had held the post for almost two years despite regular objections from senior leaders from the state. But the party's dismal performance in the assembly elections gave his detractors enough ammunition to target the incumbent PCC chief. They blamed him for not negotiating a fair deal with the DMK who didn't allot seats to Congress in constituencies that were party's strongholds.
Similarly, a meeting would also be held for the warring factions from Maharashtra which saw party general secretary Gurudas Kamat resigning and then withdrawing it later. Kamat's differences with Mumbai PCC chief Sanjay Nirupam are well-known and senior leaders believed that this could damage party's prospects in the crucial upcoming municipal elections in the city. Insiders say a compromise was worked out to ensure Kamat's return and now efforts are on to make these factions come together and present a united face for the party's good.
Whether such exercises yield any results is merely a speculation, but it does ensure that the senior leadership would be aware of the inner dynamics of the state units and can act accordingly to avoid situations that have hurt the party in recent past. "It gives us a platform to express our grievances to the senior leadership and suggest possible solutions which is acceptable to all. This will bring in transparency which will only strengthen the party," said a Congress politician from Kerala at the AICC headquarters in Delhi.
Also read:Uttar Pradesh polls: Desperate for a tie-up, Congress woos both BSP & SP