Parliament's Winter Session: Look at what's on the table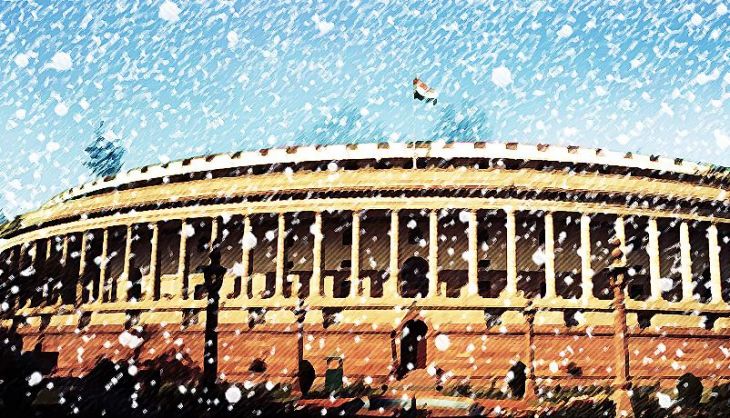 So Bihar boomeranged on BJP. But before the party's strategists can take stock properly, its government at the Centre has its task cut out.
Parliament's Winter Session starts on 26 November. From then unto 23 December, the floor managers of the Treasury side will have to navigate carefully and ensure the government can get its agenda working.
Though the BJP has a comfortable majority in Lok Sabha, it doesn't have much of a clout in the Upper House. And the Bihar verdict is sure to bolster the morale of the Opposition to frustrate Modi Sarkaar further.
READ- Parliament logjam: Rajya Sabha has become Modi's worst nightmare
There is a lot at stake. Too many Bills are pending, thanks to a washed-out Monsoon Session: According to PRS India, most of that session was spent on 'non-legislative' affairs.
Lok Sabha's productivity was 48% and the Rajya Sabha's an alarmingly measly 9%.
Has the government learnt its lessons? Doesn't seem so. Parliamentary Affairs Ministry sounded pretty confrontational when recently he said: "To interpret the result as a mandate to disrupt Parliament is questioning the wisdom of the people of the state."
Hopefully, good sense will prevail and we will get some work done. Take a look at what's at stake:
The Consumer Protection Bill
Introduced on 10 August the Bill
Seeks to replace the Consumer Protection Act, 1986.
It proposes to include offline transactions through electronic means, teleshopping and multi-level marketing.
Seeks to increase ambit of consumer rights: protection against marketing of hazardous goods, information about quality, quantity and purity of products, access to various goods and services at competitive prices.
Plans to set up Central Consumer Protection Authority; Consumer Disputes Redressal Commissions at district, state and national levels with attached Consumer Mediation Cell.
Proposes Rs 10,000-Rs 50,000 fine or 1-3 months' imprisonment in case of non-compliance
The Whistleblower Protection (Amendment) Bill
Seeks to amend the Whistleblowers Protection Act, 2014.
Seeks to forbid reporting of corruption under 10 categories - economic, scientific and security interests of India, Cabinet minutes, those prohibited by court, trade secrets and intellectual property harming third party, those received from a foreign government, those endangering a person's safety, those that can influence an investigation and personal matters.
Disclosure under those categories to be referred to government authority, whose decision will be final.
The Right to Fair Compensation and Transparency in Land Acquisition, Rehabilitation and Resettlement (Second Amendment) Bill
Five categories of projects exempted from three requirement - social impact assessment, restrictions on acquisition of multi-cropped land, consent for private projects and public-private partnerships projects.
The five categories: defence, rural infrastructure, affordable housing, industrial corridors and infrastructure where government owns land.
Joint Parliamentary Committee (JPC) asked for changes in keeping views from states on removal of consent clause.
Deadline for JPC extended until last day of first week of Winter Session.
ALSO READ- In numbers: just how useless this monsoon session at the Parliament was
The Constitution (122nd Amendment) Bill, [Goods and Services Tax]
Amends the Constitution to introduce the Goods and Services Tax (GST) - a common tax regime on manufacture, sale and consumption of goods and services.
The Bill states Parliament and state legislatures have simultaneous powers to make GST laws, but only Centre can levy GST on inter-state supply of goods, services and imports.
GST Council, comprising Union finance minister, the Union ministers of state for finance and revenue and state finance ministers, to decide tax rates, period of additional tax and special provisions to states.
Alcohol exempted from GST; five petroleum products to be considered later.
States to be compensated for revenue loss for up to five years.
Passed by the Lok Sabha on 6 May; Needs to be passed in Rajya Sabha.
The Lokpal and Lokayuktas and other related Law (Amendment) Bill, 2014
Introduced on 18 December
Earlier act approved a selection committee for appointments to the Lokpal, including leader of Opposition. Bill amended this, saying leader of single-largest Opposition party will be part of selection committee.
Similarly, Act stated one eminent jurist will be part of the committee; Bill changed this to nominated term of three years.
Referred to Standing Committee of Personnel, Public Grievances and Pensions.
Aims to replace Juvenile Justice Act, 2000.
Seeks to try juveniles between 16 and 18 as adults for heinous offences.
Juvenile Justice Boards (JJB) and Child Welfare Committees to be constituted in each district. JJB to conduct preliminary inquiry to find out whether a juvenile is to be tried as adult.
Passed in Lok Sabha on 7 May; pending for consideration in Rajya Sabha.