Parivartan Yatra: Inside BJP's mega poll campaign to win Uttar Pradesh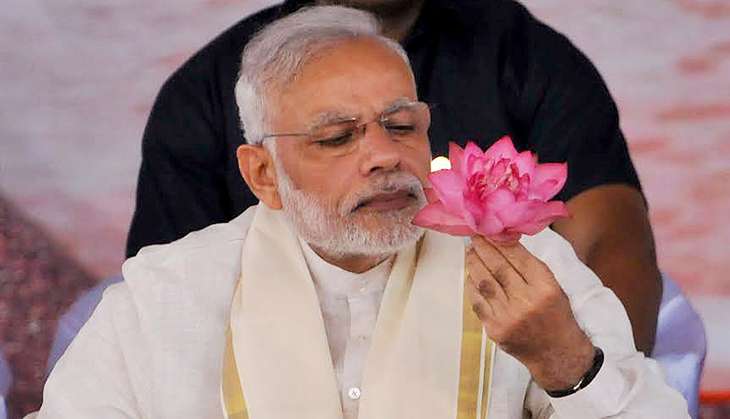 On 5 November, the BJP will launch its biggest election campaign in Uttar Pradesh. That day, separate rallies will be flagged off from Saharanpur in the north-west, Lalitpur in south, Sonbhadra in south-east and Ballia in east. The four rallies, collectively dubbed Parivartan Yatra, will converge into a mega public meeting in Lucknow on 31 December.
Top leaders of the BJP will join the rallies at various places, raising issues of crime against women, unemployment, poverty, Kairana, Dadri and, of course, the recent surgical strikes. Rahul Gandhi's "khoon ki dalaali" jibe at Prime Minister Narendra Modi will also be made a campaign issue, sources in the party said.
While the rallies will be launched on 5 November by the party chief Amit Shah, and central ministers Rajnath Singh, Kalraj Mishra and Uma Bharti, Modi will anchor the showpiece event in Lucknow on 31 December.
Also Read: Amit Shah lays out BJP logic: Nobody can politicise surgical strikes, except BJP in UP
The 55-day yatra, which is expected to cover all 403 assembly segments in the state, is being "micro-managed", according to BJP members involved in its organisation. The organisers have already mapped out the routes for the party leaders.
In the run-up to Parivartan Yatra, Shah will supervise and participate in the concluding phase of Dhamma Chetna Yatra, a campaign tour by Buddhist monks launched in late May with the aim of attracting Dalits and OBCs to the BJP. The tour ends on 14 October, the day BR Ambedkar converted to Buddhism.
The sources said Parivartan Yatra will reflect the lessons the party learnt in Bihar, of ignoring local leaders and relying heavily on "outsiders" Shah and Modi. In Uttar Pradesh, the rallies and roadshows will be led mostly by state leaders; Modi, in particular, won't be overly "exposed" in these shows.
To the public and the party workers, however, this is what is being said: "We are requesting Modiji to come for more rallies but he's very busy these days."
Caste calculations
If one looks at the leaders and the places chosen to launch the four big rallies, it is clear that caste calculations have played a key role in the party's decision.
While the leaders will be shuffled through the four yatras over their course, they will be launched by a Baniya (Shah), a Brahmin (Mishra), a Lodh OBC (Bharti) and a Thakur (Rajnath).
As for where they will set out from, Saharanpur is dominated by Muslims and OBC Hindus, Ballia by Thakurs and Brahmins, Lalitpur by Lodh OBCs, and Sonbhadra by the Scheduled Castes of Pasis and Chamars.
A BJP poll campaign billboard in Aligarh. (Getty Images)
Poll planks
The BJP had initially decided to pivot its UP campaign on the issues of women's insecurity, rising crime, unemployment, corruption, poverty. The party had decided to commemorate 2016-17 as "Gareeb Kalyaan Varsh".
While these remain important issues that the party leaders and workers will use to rally voters, the party has lately found new "core issues" as well.
"Look, we were anyway concentrating on crime against women, which has risen by 100 per cent. But some recent developments have forced us to raise our voice on other important matters as well like the exodus [allegedly of Hindus from Kairana], Dadri [the death of one of Mohd Akhlaq's accused murderers] and the surgical strikes," the source said.
"This is why our senior leader Mahesh Sharma went and spent a day there, in Dadri. In the case of Dadri, we will go to the people of UP and demand that Ravi [the murder accused who died in police custody of an organ failure] be compensated as much as Akhlaq [who was lynched for allegedly keeping beef in his house]. We will also talk about Pakistan sponsored terrorism and our befitting response to them," the source added.
Also Read: BJP's UP strategy hinges on Hindutva, Most Backward Classes
The BJP leaders believes Rahul Gandhi's "khoon ki dalaali" remark will be a big crowd mobiliser for them. "We've already begun a campaign to denounce him and his party throughout the state. And we are setting fire to his effigies in several constituencies," the source said.
On who would be the BJP's leading campaigners, the source said that while Adityanath - who is reportedly quite popular, especially in eastern UP - will be touring the state, "there's no star campaigner among us. Every worker is a star campaigner."
Great stakes
How desperate the BJP is to win UP can be gauged from the fact that for the first time in years, an Indian prime minister will be celebrating Dussehra not in Delhi, but Lucknow.

Modi's decision to spend 11 October in Lucknow has riled the rivals. The ruling Samajwadi Party, whose top leaders attend the Dussehra function at the historic Aishbagh Ramlila Maidan in Lucknow every year, has accused the BJP of "hijacking" their event to gain political mileage.

Apart from this, the BJP plans to hold several programmes in the UP's capital in the run-up to the election, including the mega finale of Parivartan Yatra.

Another significant development within the party days before it launches the UP campaign is the appointment of Swati Singh, the wife of sacked state vice president Dayashankar Singh, as chief of the party's state women's wing.

This hasn't surprised many in the party or outside. The dearth of Thakur leaders in the BJP is well known. The party had expelled Dayashankar in June after public outrage over his comparison of Mayawati with a prostitute. Thus was gone the BJP's only popular Kshatriya leader in UP other than Rajnath.

After his expulsion, Dayashankar only intensified his personal attacks on Mayawati, comparing her to a street dog, and calling her greedy, deceitful and a coward at rallies he took out in several Thakur-dominated areas.

Analysts have pointed out that by letting Dayashankar attack the BSP chief, who is a popular leader of the backward castes, and appointing his wife to a senior position, the BJP has signalled the Thakurs that the party is with them.

The BJP is staking much to win UP -from appeasing the Dalits, OBCs and Buddhists (there are 40-50 lakh of them in UP) to pandering to upper caste Thakurs and conducting Brahmin Sammelans. The party wants to not only sweep the polls in UP but also build a momentum for Gujarat and, eventually, the 2019 general election.

Will the BJP achieve what it has set out to? We might get a good idea by the turn of the year when the party's massive poll campaign concludes.

Also Read: Will surgical strikes help BJP surge in UP? Analysts say polls too far