Pankaja Munde meets Chhagan Bhujbal: just familial ties or start of OBC stir?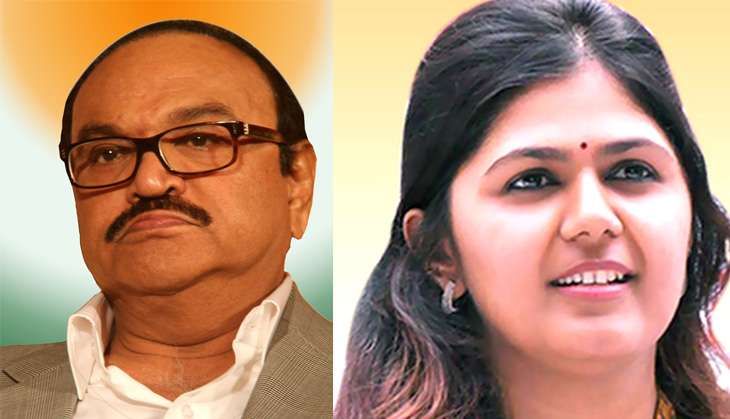 Maharashtra's women and child development minister, Bharatiya Janata Party (BJP) leader Pankaja Munde, recently met veteran Nationalist Congress Party (NCP) leader Chhagan Bhujbal. And this has sparked a political controversy in the state.
Bhujbal is supposed to be lodged in Mumbai's Arthur Road jail on charges of money laundering, but is presently at JJ Hospital due to illness. That's where Munde met him.
Political significance
The meeting was significant - both are OBC leaders, and could have discussed the growing clamour for reservation from the Maratha community. Recent rallies by the Maratha Kranti Morcha have heaped the pressure on the state government, and some OBC leaders have said that their community, too, is planning rallies to protest against any such move, since reservation for the Marathas might eat into their share.
Since the state's biggest OBC leader, Munde's father Gopinath, passed away in 2014, and since Bhujbal was arrested on corruption charges in March this year, there is unrest among the OBC community, as well as a clear leadership vacuum.
Speculation is rife that the meeting at JJ Hospital could be the start of an agitation by the OBCs, and that Munde might fill that leadership vacuum, since Bhujbal won't be released from jail anytime soon.
Sena's stinging editorial
For the Shiv Sena, which shares an uneasy alliance with the BJP and doesn't mind taking digs at its political opponents, the meeting was ripe with opportunity.
In an editorial in the party's mouthpiece, Saamna, the Sena hit out at NCP leaders who have virtually disowned Bhujbal in times of trouble. The editorial said that given the family relations between the Munde and Bhujbal families, it was a meeting between uncle and niece, and those trying to extract political meaning out of it were wrong. In fact, it said, NCP leaders should take a lesson from Munde.
"Though Bhujbal is in jail today, other NCP leaders should not forget that they too are heading to jail sooner or later. It is highly inhuman on the part of the NCP to desert such a senior leader, who salvaged the party on many occasions. At least the NCP leaders should have met Bhujbal to understand the arrangements in jail, so that they can prepare for their stay there," the editorial stated.
The editorial cleverly showed sympathy for Bhujbal to take a dig at the NCP. It said: "Though Bhujbal is a political opponent of the Shiv Sena, we have sympathy for him on humanitarian grounds, for the situation he is currently facing (he is said to be afflicted with dengue). We don't want to bring up his heinous acts against Shiv Sena supremo Balasaheb Thackeray and the party. He has paid for his deeds. It is shocking that the NCP leaders have now disowned him. That is the reason why Pankaja Munde met him in the hospital. We admire her courage to meet him, defying all political indications and ramifications."
The editorial added: "Pankaja must have been moved by his photos published in the media and went to meet him. But the NCP leaders who used Bhujbal over the years were unmoved! All of them were ready to obey all his orders during his good times. His every act was praised and supported. They would not miss the opportunity to attend lavish parties thrown by Bhujbal at his Nashik house. But no one from the NCP met him since he was sent to Arthur Road jail.
"On the contrary, they started shouting at a high pitch about OBC politics being behind the meeting. We pity those who think like this. There is nothing more to the meeting than a family connection and concern. (Sharad) Pawar, (Praful) Patel and (Sunil) Tatkare should take a lesson from Pankaja."
Edited by Shreyas Sharma
More in Catch
Maratha Kranti Morcha's silent protests reach Mumbai, state govt rattled
Chhagan Bhujbal's Nashik farm: authorities take possession, valuation on
More trouble for Bhujbal: SBI begins process to auction defaulting company