Own house in disarray, Cong looks for rainbow coalition to counter BJP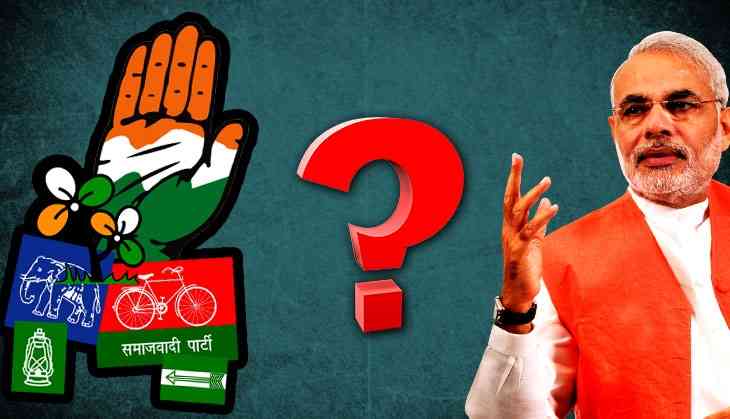 Stung by the recent election results and their aftermath in four of the five states, the Congress believes it needs to stitch together state-specific alliances to counter the Bharatiya Janata Party in the run-up to the 2019 General Elections.
On Thursday, Congress general secretary CP Joshi stressed that since 2014, the political narrative of the country has changed, and the party needs to frame a counter-narrative to take on the challenge.
Citing the success of Bihar's Mahagathbandhan between the Janata Dal (United), the Rashtriya Janata Dal and the Congress, Joshi said: "We will do everything that is required to challenge and expose Modi's politics. But these will be looking at the state-specific political challenges. It can vary from state to state. We will see to it that in 2019, we give formidable challenges to Narendra Modi and his brand of his politics under Rahul Gandhi."
But, speaking to Catch, Joshi said that building alliances was his personal opinion, and the decision has to be taken by the Congress president Sonia Gandhi and vice-president Rahul. "Who am I to make such decisions?" he said.
Aiyar's advice
However, many other senior leaders have backed Joshi's idea to get all like-minded parties together to counter the aggressive brand of Hindutva politics being pursued by the BJP under Modi's leadership.
Senior leader and former Rajya Sabha MP Mani Shankar Aiyar stressed on the need to form a 'rainbow coalition' of secular parties, in line with the ones created in the 2004 and 2009 Lok Sabha elections and the 2015 Bihar Assembly elections, among others.
Aiyar said: "In today's India, the danger we face is of the Savarkarite ideology taking root across the country. The need of the hour is to gather all non-Savarkarites to stop this TsuNaMo. Otherwise, the idea of India created by Nehru would be taken over by the idea of India envisaged by Savarkar."
Stressing on the need for secular parties to join hands, the senior Congress leader said that in 2014, 69% of the voters did not vote for BJP, and even in the recent Assembly elections in UP, about 60% voted against the saffron party, which should give hope.
"It's true we lost in terms of seats, and the only answer to that is moving towards a higher index of Opposition unity, which is the only feasible way of retaining the idea of India. Otherwise, there is no stopping this juggernaut, which will crush all of us," Aiyar said.
He believes that if like-minded political parties don't come together now, it will lead to an India that "we don't want".
"If we don't hang together, we will be hung separately," he said.
He, however, admitted that to counter an aggressive BJP, the party first had put its own house in order, and that for any sort of revival, Congress leaders and workers would have to reconnect with the masses.
Aiyar recalled the presidential address by Jawaharlal Nehru to the Lucknow session of the Congress in 1936, where he had said: "We have largely lost touch with the masses and, deprived of the life-giving energy that flows from them, we dry up and weaken, and our organisation shrinks and loses the power it had." According to Aiyar, this is exactly what the Congress needs to do to get the confidence of other regional forces.
Rewards for losing
This sentiment was echoed by former Union Minister for Tribal Affairs, KC Deo, who questioned the logic of reaching out to regional parties when the grand old party can't even keep its house in order.
"We need the support of other parties only in a few states, since in a majority of states, it is a direct fight between the Congress and the BJP. Who would you have an alliance with in Madhya Pradesh, Chhattisgarh, Jharkhand, Rajasthan and Gujarat, among many others? To make things right, the Congress leadership has to strike at the root cause of problem, and hold people accountable," he said.
Deo went on to add that senior leaders in the Congress play the game of musical chairs and occupy ministries when in power at the Centre. "If we lose, they become chief ministers, general secretaries, Pradesh Congress Committee presidents or in-charges of states. Despite losing, they continue to hold these positions. In fact, after every loss, some of them are given charge of even bigger states."
Ridiculing those who are pitching for creating alliances, Deo said pointed to the fact that the party couldn't manage the support of four MLAs in Goa and three in Manipur. So how was it talking about getting like-minded parties together in 2019?
"We were the single largest party in Manipur and Goa, and yet we are sitting in the Opposition. In Manipur, the BJP Chief Minister was a close aide of the former Chief Minister. Why did he go to the BJP? In Assam, Himanta Biswa Sarma joined the BJP and is now on a mission of a Congress-free Northeast. Why did he leave? In Goa, Goa Forward Party leader Vijai Sardesai, who was earlier with the Congress, is supporting the BJP. Why are these questions not being asked? Why is no one being held accountable?" questioned Deo.
Deo did acknowledge that the Congress was the only party with a national character, but felt saddened about how non-performers were given one post after another. He believes that if Congress doesn't get its act together, then several regional parties would mushroom, which could be the end of Congress.
Tough decisions needed
Another senior leader, who did not wish to be named, questioned the roles of Digvijaya Singh, CP Joshi and Ghulam Nabi Azad in particular, and said that nothing happens to them even if they give deliver one failure after another.
"Digvijaya was the Chief Minister for 10 years in MP, and yet, he doesn't want to go back there to strengthen the party. Joshi is out of touch with the Northeast, of which he is in-charge. Earlier, V Narayanaswamy messed up the Northeast and, despite his poor performance, he was made the Chief Minister of Puducherry. These stories tell you the true character of Congress," he said.
For him, the party leadership will have to take some tough decisions if it has to survive this BJP juggernaut. "Or else, we are most likely to become irrelevant in Indian politics post 2019," he claimed.