'Bharat Mata Ki Jai' is a trick to divide and rule: Mayawati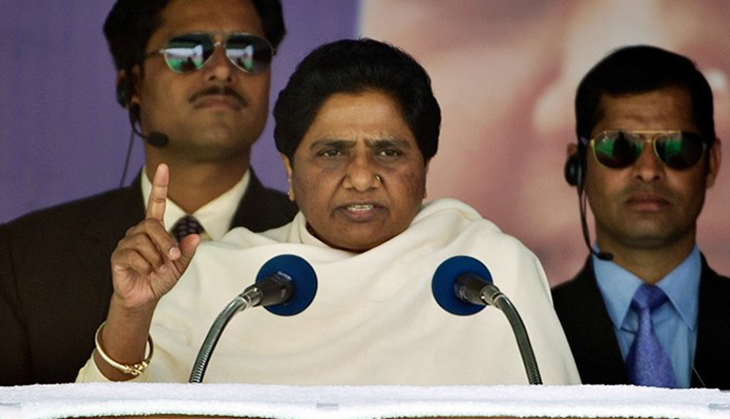 When most TV channels in the national Capital and other parts of the country were busy broadcasting about the Prime Minister's Madhya Pradesh visit scheduled for later in the day, soaps operas and your horoscope, a huge crowd gathered in Lucknow to listen to their leader, Mayawati.
And the Bahujan Samaj Party supremo alerted Dalits and religious minorities not to fall in the trap of the two national parties: the Congress and the Bharatiya Janata Party.
Read: Dear Modiji, why should everyone get to say 'Bharat Mata ki Jai'?
She was speaking on the occasion of the 125th birth anniversary of Bhimrao Ambedkar, and in her more-than-an-hour-long speech, she unofficially started her campaign for the upcoming elections to the Uttar Pradesh Assembly.
The highly charged speech condemned attempts by other political parties to appropriate the legacy of Ambedkar and was loaded with claims of forming the government in the state next year.
Some highlights:
'Modi is enacting a drama'
Mayawati attacked Narendra Modi and his government for being anti-Dalit. "Modi and his government can do as much drama as they want to in their attempts of appeasing Dalits. They are not going to succeed, because we know why they are doing it," she said.
The BJP was desperate to eat into Dalit votes, but its anti-Dalit conducts keep exposing the party, she said: "There ideology of hatred towards other castes and religions has not changed at all."
'Rahul Gandhi is no different'
The BSP boss didn't speak spare the Congress. Rahul Gandhi's attempts to appease Dalits and his visit to Hyderabad Central University after Rohith Vemula's suicide are merely drama, she said.
Once upon a time, pre-Mayawati, Dalits voted the Congress. And now the party is desperately trying to win back that traditional vote bank.
Also read- Nobody needs to be forced to chant 'Bharat Mata Ki Jai': RSS chief Mohan Bhagawat
For Mayawati, it is the Congress which is a potential threat, not the BJP. When it comes to Dalits, both were the same, she said.
'Bharat Mata ki Jai a trick'
The former UP chief minister attacked the BJP and its ideological fountainhead the Rashtriya Swayamsevak Sangh (RSS) for attempts to divide people. Some incidents during Modi's government were completely against Dalit rights, Mayawati said.
According to her, they were trying to divide minorities and Dalits. The latest attacks on Aligarh Muslim University and Jamia University were clear indicators of that.
Also, 'Bharat Mata ki Jai' is a slogan for dividing people. "This slogan is not the proof of anyone's deshbhakti (patriotism), which can be expressed in other ways as well. We, at BSP, say 'Jai Bheem, Jai Bharat'. some people say 'Jai Hind'," she said.
The Ram Mandir issue was being brought back because the BJP and the Modi government haven't delivered on election promises to people. They now want to divert the focus, instead of doing something for the masses, Mayawati said.
'Mullahs, Owaisi help BJP'
The protege of Kanshi Ram said All India Majlis-e-Ittehadul Muslimeen leader Asaduddin Owaisi was helping the BJP in its attempt to divide Dalit votes and break the consolidation of Dalits and minorities in UP.
Owaisi, who will field candidates next year, is actually going to the people with his slogan 'Jai Bheem, Jai mim'. Small dents in the core vote made by the Congress, Owaisi and others could be a crucial factor for her winnability and this keeps the BSP leader worried.
'No more statues and parks, only development'
Mayawati is confident that her party will form the government in UP, where people are regretting voting Samajwadi Party to power.
"This would be a year of inaugurations, stone laying and announcements of popular schemes by the Centre and the state government as they want to appease people. Don't fall into their traps. I will investigate all economic decisions taken by this government," she said.
Read more: 'Bharat Mata ki Jai' resonates in the Rajya Sabha as Javed Akhtar takes on Asaduddin Owaisi
The BSP leader also said whatever parks and statues she wanted to built were done in her previous tenure: "Now no more parks. The focus will be on finishing goondaraj in the state, on good law-and-order and on development."
She, however, justified installing statues, including that of her own along with Ambedkar and Kanshi Ram: "Those who oppose my statues are actually against the ideology of Kanshi Ram. He wanted me to make these parks and statues because it's a matter of Dalit pride. He insisted on my statues because he was a man with modern ideology. He wished his successor's statue, being a Dalit and a woman, should also be installed."
'Sarvajan Hitaay and Bachcha Bachcha Bhim ka'
Those who remember the days of the Ram Mandir movement in UP remember the slogan "Bachcha Bachcha Ram Ka, Janmbhoomi ke kaam ka" (Every kid for Ram, for his birthplace). Now the BSP has a counter-slogan. Mayawati finished her speech with "Bachcha Bachcha Bhim ka, BSP ki team ka" (Every kid for Bhim, and for Team BSP).
No doubt, she is focussing on the core vote. At the same time she doesn't want other sections to go away. There was also the slogan, "Sarvajan Hitaay, Sarvajan Sukhaay" (For the good of all, the prosperity of all".
In her concluding remarks, Mayawati specially thanked two party leaders: Naseemuddin, a Muslim, and Satish Mishra, a Brahmin.
With Thursday's adsress, Mayawati kick-started her election campaign - Every line she said had a political meaning and a message for her voters. If it goes down to most of them, it would spell bad news for others - be it Modi, Gandhi or CM Yadav.
Edited by Joyjeet Das
More in Catch:
IPL games can be shifted. But it's BCCI's attitude that needs a paradigm shift
Forget Wonder Woman's jet, Japan is set for invisible trains
Great that Modi went to Kollam. Here are 13 other places he should've visited
Obama hyphenates India & Pakistan. Why this is bad news for India