Off with your head: Chandrababu's son Lokesh is sick of trolls and may act against them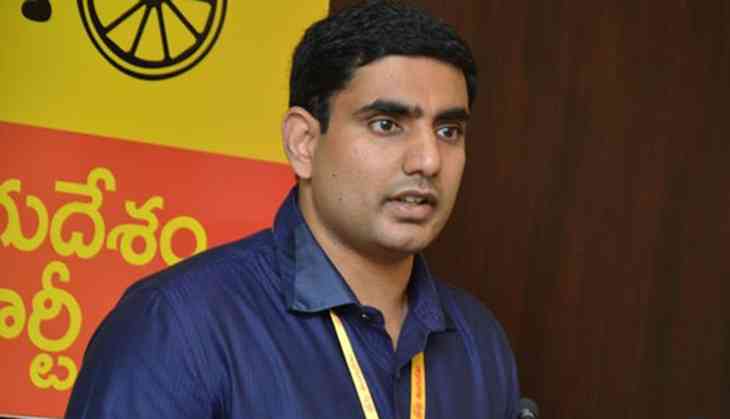 Search for "Andhra Pradesh Pappu" on Google and see what suggestions it throws. Especially, images.
Nara Lokesh, Andhra's minister for panchayati raj, rural development and information technology, has apparently indicated at a closed-door meeting of the Telugu Desam Party think-tank that he is contemplating action against those passing disparaging comments and making caustic posts against the government, the party and the leaders, individually and severally.
Lokesh, the only son of Telugu Desam supremo and AP Chief Minister N Chandrababu Naidu, has been the butt of jokes, ridicule and criticism on social media by his detractors – who are naturally the supporters of the Opposition YSR Congress.
The trigger
The idea of initiating criminal proceedings against those making derisive remarks might have been triggered by the video of Nara Lokesh's swearing-in ceremony as a member of the State Legislative Council. Lokesh fumbled terribly while pronouncing certain words in Telugu, videos were made and shared and the rest, is troll history.
He, however, made sure he practised the oath well before the swearing-in ceremony as a minister, that was held earlier this month.
Since the advent of social media, political warfare amongst sympathisers of different parties has become too common. The morphing of photographs denigrating the dignity or certain leaders and portraying them in poor light has become commonplace.
The Telugu Desam Party (TDP), which is now contemplating action, however, is not exactly above this either.
The party has a brigade which goes beyond the limits of decency, making provocative posts against Telangana Rashtra Samithi, Telangana Chief Minister KCR, his son and IT Minister KTR and many others. The TDP social media squadron packs a punch when it comes to taking on YSR Congress and Leader of Opposition YS Jaganmohan Reddy.
Very objectionable comments have been made against Reddy's mother YS Vijayamma and his sister YS Sharmila.
The YSR Congress brigade, which is no less in making libellous comments, have also hit the TDP below the belt with their nasty social media posts. They target Chandrababu Naidu, the episode in which NTR was dethroned, NTR's sons and the TDP senior leaders.
However, the social media focus shifted to Balakrishna (actor son of NTR and Lokesh's father-in-law) and Lokesh in the recent past. The remarks made by both sides are in bad taste and criticism has crossed all reasonable limits of decency.
Commenting on Lokesh's intended escapades of acting against critics on social media, a senior Telangana government functionary, who did not want to be named, told Catch: "No IT minister would commence his work with an idea of initiating action against social media participants. This is not a good augury for Lokesh. In fact, social media is highlighting the weaknesses which enables him to rectify his follies."
The officer, however, said the derisive remarks being made against leaders on the social media are definitely incorrect and in bad taste.
Going viral
Lokesh's faux pas in "greeting" the people on Ambedkar's 'death anniversary' (as he uttered) instead of 'birth anniversary' went viral far more than his swearing-in fumble with concocted spoofs and doctored videos.
His election campaign videos where he mistakenly said the "TDP was replete with casteism, communalism and corruption" and "voting for the TDP was tantamount to hanging ourselves" also went viral on YouTube and the same was shared across social media.
The latest video, uploaded on Tuesday (18 April), has the minister asserting that "the government will make every effort to ensure drinking water problem in villages (sic)" has exposed his absolute infirmity in speeches.
It is not that other politicians do not utter things by mistake, but Lokesh has been specially targeted.
Recently, Chandrababu Naidu, while speaking in the AP Legislative Assembly, emphatically stated that AP was "No.1 in development and corruption," sending every one into peals of laughter. Of course, Naidu corrected himself.
The remarks of Assembly Speaker Kodela Sivaprasada Rao drawing a parallel between women and vehicles parked in garages and vehicles moving on the roads drew a lot of flak forcing Rao to explain what he meant quite a few times.
Media matters
The TDP leadership is of the strong opinion that the traditional media is largely in its favour, including TV and print, but the digital media and social media are going tangential and abrasive. And therefore, action must be initiated against those spreading canards and bringing disrepute to the party and leadership.
Andhra Information & Public Relations Minister Kalva Srinivasulu was quoted by a PTI report stating that the government was studying the cyber laws and working out the modalities on restricting social media activists from going overboard.
While Lokesh's intention of acting against the smear campaign on social media has been criticised by many as "growing intolerance against freedom of expression guaranteed in the Constitution", support came from a very surprising quarter.
From YSR Congress.
Rajya Sabha member and senior YSR Congress leader V Vijaya Sai Reddy told Catch: "We welcome action against those making disparaging remarks on social media if an aggrieved person lodges a complaint with a competent authority."
He went on to add: "Self-restraint is required for traditional media and outside agencies should not regulate them. When it comes to expressing views on social media platforms, several people are making abusive and unparliamentary remarks. There is no control mechanism. The social media may have to work out algorithms to automatically change foul words or prevent them from getting posted. However, implied words cannot be handled. It is difficult."
Edited by Jhinuk Sen