Not just Indira, here are 6 times Modi blamed others to defend himself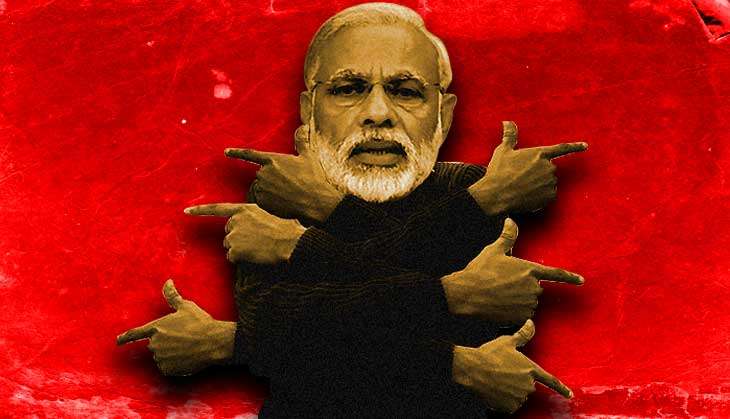 Yes, you heard it right. Prime Minister Narendra Modi has actually blamed the opposition for all the trouble the country has been going through because of demonetisation. To be specific, he has blamed the Congress. Indira Gandhi, to be even more specific.
Why? Because the former prime minister didn't implement anything similar 45 years ago.
Not a new tactic
It's not really unthinkable, if you look at Modi's graph and are familiar with his ways. Ever since he launched his electoral campaign for 2014, his core pitch to voters has been an appeal to give a chance to BJP, and him, after 60 years of 'misrule' by other parties. Even after coming to power in 2014, Modi and other BJP leaders have maintained this line, trying to send out a message that nothing happened in the country since Independence till now and they will change the situation.
Indeed, they have tried to hide behind this argument even when questions were raised about non-fulfillment of their promises halfway into their tenure. You gave others 60 years, don't question us in just one or two, is their kindergarten-logic.
In the case of demonetisation too, Modi has now resorted to this argument. Saying that a former PM didn't do it decades ago essentially amounts to laying the blame on previous governments' doors.
Modi had made a similar reference last month too, just 6 days after announcing the demonetisation move. Referring to the Emergency, Modi sought to argue that the 50 days he has asked for were nothing as compared to the 19 months for which Indira Gandhi had "turned the entire country into a jail".But there is a silver lining. Putting the blame on somebody else is often a half-admission of guilt. One wouldn't attribute an outcome to somebody else if it was a success, would one?
So, with this statement Modi is essentially saying that he admits that things have gone wrong. He is only trying to hide this admission by saying that it is because other governments did not do it so far.
Interestingly, this statement came after reports emerged of several BJP MPs having told party chief Amit Shah that demonetisation was not working and people were getting angry masses over the continuing cash crunch.
Also read - Currency ban backlash? Modi loses 3 lakh Twitter followers in 1 day
Here are 6 other issues on which Modi has consistently lamented inaction in 'last 60 years' and has blamed previous governments for it.
1. Achhe din
The nation was looted for 60 years, Modi said while presenting his report card of the first year of his government in May 2015. He asserted that those who were complaining that the promised 'achhe din' hadn't come, were those who had a monopoly over 'Delhi's political corridors' for, guess what, '60 years'.
2. Farmers' distress
"Farmers need protection. For 60 years very little attention was paid to their welfare. We want to change this approach," Modi said in his second Independence Day address in 2015.
Farm distress has continued to intensify under him, with farmer suicides still being reported in large numbers and no major reforms having been announced. In fact, it is feared that demonetisation may have hit farmers especially hard and the real impact may start tumbling out a couple of months later.
3. Soldiers' welfare
Previous governments had duped the ex-servicemen and only his government had fulfilled the promise of One-Rank, One-Pension, Modi said in October while making an embarrassingly boastful speech on the purported 'surgical strikes'.
It is of course irrelevant to his government that the same ex-servicemen are still complaining that OROP has not been implemented.
4. The differently-abled
Modi has maintained that previous governments also did nothing for the differently-abled in the previous decades.
Only 56 programmes were organised for them by the government between 1992-2014 while his government had already organised 4,500 programmes, he said. He also coined a new term for the differently-abled and went ahead with it, much to their chagrin.
5. Development in Uttar Pradesh
Previous governments and leaders take turns in becoming idols on some occasions and objects of ridicule in some others, in Modi's imagination. At a function in Uttar Pradesh on former prime minister Jawaharlal Nehru's birth anniversary, Modi said last month that nobody else bothered to fulfill the latter's "unfulfilled desire for the development of people" of the state. "Nobody would have offered such a tribute to you (Nehru), which an MP from Uttar Pradesh is giving", he said in Lucknow.
6. Godhra riots
Ironically, Modi had also sought to blame others for the darkest blot on his own political career, the Godhra riots of 2002. That very year, he had said the Congress, Muslims and Pakistan were responsible for the riots.
Edited by Aleesha Matharu
More in Catch - Note ban is not demonetisation. And Modi was aware of the demon it unleashed
Twitterati react to Rahul Gandhi's corruption charges against PM Modi