No NDA gharwapsi for Nitish Kumar: He's just trying to survive in Modi-fied India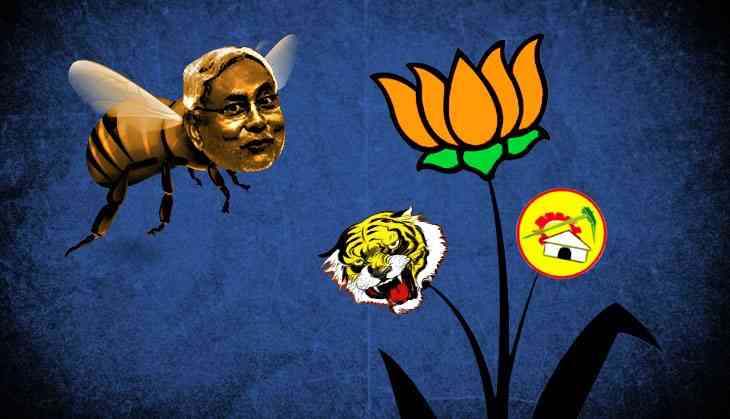 It is a testimony to the unpredictability of Nitish Kumar's politics that every step he takes triggers speculation over his future move. First it was his support to demonetisation and now some "dinner-diplomacy" in Patna that has made observers question his commitment to the governing-alliance in Bihar. Is the Bihar chief minister finally all set to burn all differences with the BJP and go back to NDA?
The latest indication of this possibility came from a dinner that Kumar hosted at his residence in Patna on 27 March. The dinner, held almost customarily towards the end of the budget session of the state Assembly every year, was attended by BJP MLAs for the first time after Kumar ended JD(U)'s alliance with BJP in 2013. Coming soon after the CM's vocal support for the demonetisation move, the gesture is being seen as a signal of growing camaraderie between JD(U) and BJP.
But is that really the case? The BJP would of course love to have Kumar by its side, but is the CM ready to jeopardise his government by shaking hands with the BJP, which sits in the Opposition in Bihar? Are the other two alliance partners ready to allow Kumar to do so? A close look at several political developments in the state indicates otherwise.
Old speculation
Since their split in 2013, JD(U) has two fought bitter rounds of elections against the BJP, losing miserably in the Lok Sabha polls of 2014 and winning on the back of a JD(U)-RJD-Congress alliance in the Assembly polls of 2015. Just about six months into the tenure of the Grand Alliance government, power corridors in Patna were abuzz with talks of Kumar feeling irritated with RJD supremo Lalu Yadav and thinking about going back to BJP.
The reason were a spate of murders, thefts and rapes that were portrayed as a signal of the return of the "jungle-raj" of the 1990s, when RJD ruled the state.
Even though some of those cases are still hanging, the high-tide of crime that appeared to have overtaken the state at that time has ebbed considerably. Kumar has launched several programmes and undertaken several journeys to the hinterland, in a bid to bring back the focus on a governance agenda.
Prohibition is a tricky item on the list since it has largely been criticised as a regressive measure by media and political analysts. However, Kumar claims it to be among his biggest achievements till date and his supporters claim it resonates with the masses.
Key ministers in the state government repeatedly make gestures to signal unity and absence of any rift whatsoever among alliance partners.
उप मुख्यमंत्री श्री तेजस्वी प्रसाद यादव जी ने BSRDCL की ओर से मुख्यमंत्री राहत कोष के लिए 7 करोड़ का चेक सौंपाhttps://t.co/Y2PR0CpZKW pic.twitter.com/IBs8r7Sy0r

— Nitish Kumar (@NitishKumar) March 28, 2017
सूचना प्रावैधिकी मंत्री श्री अशोक चौधरी जी ने मुख्यमंत्री राहत कोष के लिए 1 करोड़ रू. का चेक सौंपाhttps://t.co/C8nqwZVBZK pic.twitter.com/2RzQ1CTyS9

— Nitish Kumar (@NitishKumar) March 28, 2017
Lalu Yadav, on his part, appears keenly interested in promotion of the political careers of his sons Tejaswi and Tej Pratap, Deputy CM and Health Minister, respectively, in Kumar's Cabinet. He recently said he and Samajwadi Party patriarch Mulayam Singh Yadav had turned old and it was time for both their sons to be CMs.
His comment has also been misinterpreted by many as an indication of his desire to unseat Nitish Kumar and install Tejaswi there. However, it must not be ignored that the RJD chief hastened to add in the same breath that there is no vacancy for CM's position in Bihar right now. Recently, Lalu also reaffirmed the unity of the alliance in Bihar while inviting SP and BSP to join them and forge a rainbow coalition against the BJP.
यूपी में मायावती और मुलायम एक हो जाएं। बिहार में हमलोग एक हैं, BJP का सारा तमाशा खत्म हो जाएगा। अब ये विकास की बात नही करते।

— Lalu Prasad Yadav (@laluprasadrjd) March 26, 2017
Demonetisation support puzzling
Amidst all these developments, it can not be denied that Kumar's support for demonetisation is indeed puzzling. He backed the note-ban when not just his allies in Bihar but many other parties like BSP and Trinamool Congress were vehemently opposing it from the Parliament to the streets. He once again conveyed his support for the move by chiding non-BJP parties after the Uttar Pradesh Assembly polls verdict, telling them they lost because they opposed a pro-poor initiative.
It is not entirely impossible for Kumar to be evaluating newer options day by day. With his support for the note-ban, he has ruled himself out of the race for the pivot of an anti-BJP alliance for 2019, because he is now seen as somebody who broke ranks.
Maybe, Kumar, unlike other non-BJP leaders like Mamata Banerjee or Arvind Kejriwal, realised that criticising the note ban could prove counterproductive. By being guarded in his criticism of PM Narendra Modi, Kumar has managed to avoid invoking the ire of BJP's massive propaganda machinery. In that sense, the Bihar CM's cautious approach is more similar to his counterparts in Orissa and Telangana – Naveen Patnaik and K Chandrashekhar Rao respectively.
However, Kumar can not be expected to sacrifice his government in Bihar right now for an elusive chase for power at the centre in the future. Nor can Lalu Yadav be expected to endanger the career of his sons by pulling the plug on the Grand Alliance or rocking its boat. Whatever be the case, Nitish Kumar is not revealing his cards yet.