No berth for son in Yogi's UP cabinet: is BJP sidelining Rajnath?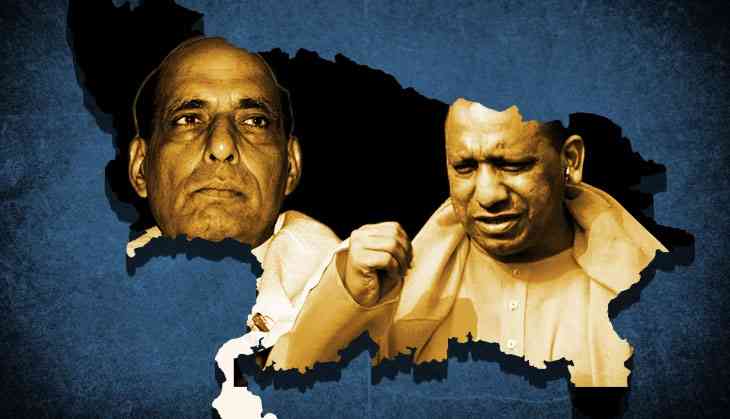 The swearing-in ceremony of Yogi Adityanath, the cowl-wearing Chief Minister of Uttar Pradesh, and his ministers set tongues wagging about the standing of Rajnath Singh in the Bharatiya Janata Party.
As legislator after legislator took oath of office, two names stood out – Sandeep Singh, the 26-year-old MLA from Atrauli, and Ashutosh Tandon, who won from Lucknow East constituency.
Sandeep is a first-time MLA, while Tandon retained his seat. The former is the grandson of Kalyan Singh, the former Chief Minister of UP and the present Rajasthan Governor. Tandon is carrying forward the legacy of his father Lalji Tandon, former Urban Development Minister, known for his proximity to former PM Atal Bihari Vajpayee.
The one name missing from the list was that of Pankaj Singh, the son of Union Home Minister Rajnath. The message that the stalwart from UP had been belittled was not lost on political watchers.
Sources in the BJP said Pankaj was kept out to avoid the tag of nepotism. Rajnath also did not want Pankaj to be a part of the ministry.
Rajnath himself was said to be a contender for the Chief Minister's post, amid speculation that the Lucknow MP may be eased out of the Centre to nip any challenge to Narendra Modi and Amit Shah.
Rajnath, it was also said, was not keen on leaving Delhi, as he would not have been able to induct Pankaj in the ministry on becoming CM.
Another argument was that UP was too important a state, and the Modi-Shah combine was not ready to leave it under Rajnath's helmsmanship in view of 2019 elections.
But at the end of the day, Rajnath has been left wringing his hands and, possibly, simmering.
Rajnath vs Kalyan Singh
During his stint in UP, Kalyan Singh was Rajnath's bête noire. The architect of the Babri Masjid demolition, who challenged former Prime Minister Vajpayee's authority, wields far greater clout than Rajnath.
Even after breaking away from the BJP to form his own party and contesting elections in alliance with the Samajwadi Party, the tall Lodh leader allegedly arm-twisted the party leadership into giving him a gubernatorial assignment and a Lok Sabha ticket for his son Rajvir in 2014.
Sandeep is Rajvir's son. The first-time MLA from his grandfather's constituency has been made a minister of state. His anointment throws the nepotism argument out of the window, and only proves that Rajnath faces the risk of being marginalised further.
Rajnath vs Lalji Tandon
Ashutosh's father Lalji Tandon, too, has been a Rajnath critic. The son has been rewarded with a cabinet berth.
Unlike Kalyan Singh and other state BJP leaders like Keshari Nath Tripathi, Tandon senior was not made a governor after the Modi government came to power.
In 2014, Tandon wanted to contest the Lok Sabha polls, but Rajnath was preferred over him. This made Tandon sulk, and he had to be placated to ensure Rajnath's win.
A cabinet berth for Ashutosh was still a snub for Rajnath, whose son's political career may well be under cloud.
A former bureaucrat said that Kalyan's clout among the Lodhs is what mattered more, while Ashutosh was accommodated because Tandon was virtually ignored by the party.
To add to Rajnath's discomfiture, Adityanath, a Thakur, has been appointed CM to dent his image of a Thakur leader. How the Yogi performs in 2019 would determine Rajnath's place in Modi and Shah's scheme of things.
With Modi expected to continue in the PM's office for at least one more term, Rajnath will have to keep his prime ministerial ambitions under wraps for a while. A strong showing in 2019 by Yogi would deal a blow to his aspirations, and lead to his further marginalisation in the party.
One is given to understand that Rajnath believes in astrology but it is not known what his stars foretell. As another Thakur leader has risen in the most populous state, the signs are certainly not happy ones for Rajnath.