Nitish was CM, Nitish is CM. Here's what has changed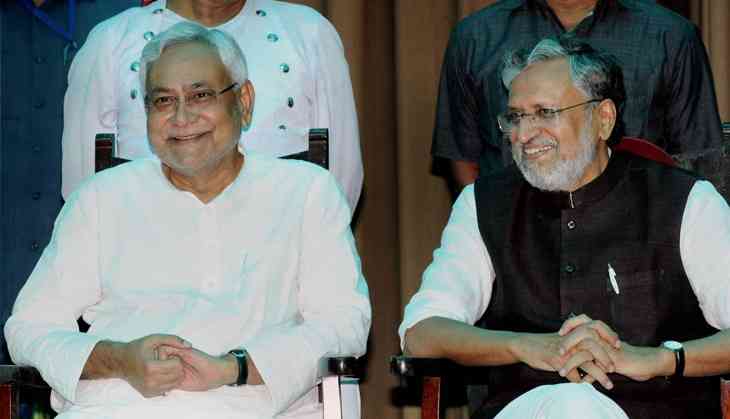 Nitish Kumar with senior BJP leader Sushil Kumar Modi at an oath ceremony function, at Raj Bhawan in Patna on Thursday. Kumar was sworn-in as the Chief Minister of Bihar while Modi as the Deputy Chief Minister. (PTI)
It all seems to be a rather strange game of throne in Bihar: Last evening Janata Dal (United) – JD(U) – President Nitish Kumar dramatically resigned as chief minister; only to take oath as the CM again this morning.
What he changed, meanwhile, is his team: from leading a Cabinet of the Mahagathbandhan – the Grand Alliance of JD(U), Rashtriya Janata Dal and Congress – he is now backed by rival National Democratic Alliance (NDA), led by the Bharatiya Janata Party (BJP).
To put a stamp on that, Sushil Modi from the BJP was sworn in as the deputy CM by caretaker-Governor Kamla Nath Tripathi in a brief nine-minute ceremony. Kumar will take the floor test Friday, 28 July.
Recounting the drama
Wednesday evening Kumar ended his 20-month-old association with the RJD and Congress, only to join hands with the NDA from which he split almost four years ago.
The wily CM resigned citing the call of his conscience over a Central Bureau of Investigation case against his deputy, Tejashwi Yadav, son of RJD supremo Lalu Prasad Yadav.
Soon after Nitish met Governor Tripathi and resigned, Modi rushed to the Raj Bhawan in Patna to showcase the support of 132 legislators in the House of 243.
Which side are you on?!
Thursday's swearing-in makes Kumar Bihar's CM for the sixth time in 12 years.
In his long career, Nitish has been known for his opportunist brand of politics: splitting and re-embracing other leaders /parties/fronts.
Congress Vice-president Rahul Gandhi did not mince his words when he said Thursday that the Bihar CM has betrayed Congress and the people of Bihar.
While speaking to the media, the Gandhi scion called Nitish "opportunist" and "unprincipled" – someone who would do anything for personal gains.
"The people of Bihar gave the mandate to Nitish for the anti-communal fight, but he embraced the same people for his personal politics," Gandhi said.
He went on to add that he was aware of Nitish's plans to break the alliance for the last few months and that his move was a symptom of the larger problem with Indian politics where decisions are made based on self-interest.
बिहार ने नितीशजी को anti communal लड़ाई लड़ने के लिए mandate दी, लेकिन नितीशजी अपनी personal politics के लिए उन्हीं लोगों से गले लग गए

— Office of RG (@OfficeOfRG) July 27, 2017
अपने स्वार्थ के लिए आदमी कुछ भी कर जाता है- कोई नियम नहीं है, कोई credibility नहीं है, सत्ता के लिए कुछ भी कर देते हैं

— Office of RG (@OfficeOfRG) July 27, 2017
Responding to this, the Bihar CM said that he would reply at an opportune time.
Lalu launched a scathing attack on the BJP and its top leadership.
"This a was match fixed by the BJP and the RSS. The timing was fixed. BJP is fooling the nation. The mandate was for Nitish and Lalu and not Narendra Modi," he said while questioning the timing of BJP's Parliamentary Board meeting which took place just hours after Nitish's resignation.
Taking digs at the JD(U) chief, Lalu questioned how Nitish would face the people of Bihar considering he had repeatedly claimed that he would never return to the BJP. According to Lalu, this was a huge betrayal for the people of Bihar and the RJD.
The RJD leader also said his party would move the top court against the governor's decision to not invite the largest party to form the government.
Questioning Nitish's decision to seek clarification on charges levelled by the CBI, Lalu said – "Who are you to interfere? Are you the police? Why should we give any explanation to you?"
Even Tejashwi attacked Nitish with the barb of an opportunist and said he had entered the government with a clean slate and a desire to write a positive story for people of Bihar.
I entered in govt with a clean slate with a keen desire of writing a positive story for people of Bihar, only to find an opportunist rival!

— Tejashwi Yadav (@yadavtejashwi) July 27, 2017
Vicious greed for power of opportunism will spell it's own doom. People are not fools that they digest their penchant for wicked power grab

— Tejashwi Yadav (@yadavtejashwi) July 27, 2017
On Wednesday, soon after Tripathi invited Nitish for the swearing-in ceremony, Tejashwi marched towards Raj Bhawan in protest of not being allowed to form the government despite being the largest party in the Assembly.
Many other politicians from the Opposition camp took to Twitter to express their angst against Nitish's decision to form the government with the support of the BJP.
ना ना करते, प्यार तुम्हीं से कर बैठे
करना था इंकार मगर इक़रार तुम्हीं से कर बैठे
Bihar Today

— Akhilesh Yadav (@yadavakhilesh) July 27, 2017
Rishta mubarak. Khush raho, aabaad raho, ab saat raho. pic.twitter.com/PmNe4jWHfo

— Omar Abdullah (@abdullah_omar) July 26, 2017
Anyone who supports BJP now backs lynching of minorities, atrocities against Dalits, pushing farmers to suicide & making our youth jobless.

— Sitaram Yechury (@SitaramYechury) July 26, 2017
The guys who gained
Away from the angst and anger, the NDA camp had a lot to celebrate. BJP leaders, including the prime minister and BJP President Amit Shah, sent congratulatory messages to Nitish and Sushil Modi after the swearing in ceremony.
Congratulations to @NitishKumar ji & @SushilModi ji. Looking forward to working together for Bihar's progress & prosperity.

— Narendra Modi (@narendramodi) July 27, 2017
Congrats to CM @NitishKumar ji & Dy CM @SushilModi ji for unitedly standing against corruption & putting Bihar back on the path of progress. pic.twitter.com/q4GYNU9k2O

— Amit Shah (@AmitShah) July 27, 2017
Congratulations to @NitishKumar & @SushilModi on formation of NDA govt. Under leadership of @NarendraModi development era starts in Bihar. pic.twitter.com/v8XOW0NAvc

— Ravi Shankar Prasad (@rsprasad) July 27, 2017
Congrats @NitishKumar Ji on being sworn in as CM of Bihar. Best wishes for a successful tenure. NDA Govt will work for development of State.

— ShivrajSingh Chouhan (@ChouhanShivraj) July 27, 2017
Best wishes to @NitishKumar Ji & @SushilModi Ji on taking oath as CM & Dy CM of Bihar. May they succeed in bringing prosperity to the state.

— N Chandrababu Naidu (@ncbn) July 27, 2017
Trouble in the ranks
Meanwhile, fault lines have emerged in the JD(U) over Nitish's decision to join hands with the BJP. Apparently, Sharad Yadav is not too pleased with Nitish's decision and neither is the party's Rajya Sabha MP Ali Anwar who categorically said he didn't support the decision.
"Nitish Kumar listened to his soul and made the decision to join BJP. If given a chance, I would propose my point of view to the party. I think the reasons why we separated from the BJP are very much evident in the present situation. The one thing we did not like about Nitish Kumar's vision – BJP is one step ahead of that," Anwar said speaking to ANI.
Rumour has it that many Muslim legislators of the JD(U), who won on the anti-BJP plank, are also not happy with the decision and this is expected to reflect in Friday's floor test.
A total of nine Muslim legislators represent JD(U) in the State Assembly and it remains to be seen how many of them will stick around with the party under the present circumstances.
The drama in Bihar is far from over and political observers have set their sights on Friday's vote of confidence which is expected to throw up some surprises.
At least, the RJD chief would be hoping to garner the support of disgruntled JD(U) legislators and if that happens, Lalu is most certain to have the last laugh.
Edited by Jhinuk Sen