New party 'under consideration' for Mulayam, Shivpal as Netaji overcomes 'putra moh' for Akhilesh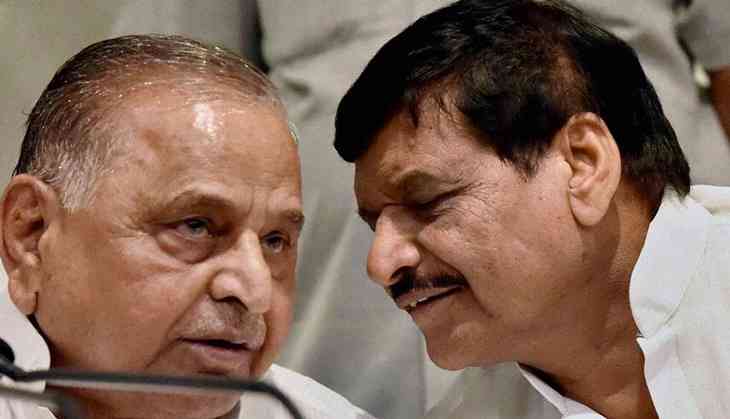 Talk of Mulayam Singh Yadav and Shivpal Yadav floating a new political party has resurfaced after the former Samajwadi Party supremo's first public expression of angst against Akhilesh at an event on 1 April.
Mulayam spoke up about how his first born has treated him and slammed him for the Assembly poll defeat.
Speaking to his supporters at the event in Mainpuri, Mulayam blamed Akhilesh for giving the prime minister the opportunity to publicly mock him by saying – "Jo beta baap kaa nahin hua wo aapkaa kya hoga (One who is disloyal to his father cannot be loyal to you)".
The fact that he has been pained and humiliated by how Akhilesh has treated him showed when Mulayam said, "Humne Akhilesh ko mukhya mantra banaayaa. Hum party ke hit me apmaan kaa ghoont peete rahe. Hamara bahut apmaan hua (I made Akhilesh the chief minister. I tolerated insults in the interest of the party. I was badly humiliated)."
Mulayam then told his supporters, "Jo merey saath hua wo sabke saamne hai. Jitna mera apmaan hua utna pehle kabhi nahi hua. Humse kisne kya kya nahee bola…Hum doosree party banaayenge, hum ye karenge, hum wo karenge. Humne kahaa hum kuchh nahee karenge, hum dekhenge hamaare log kya chahte hain (What happened to me is there for all to see. I was never insulted like this before. People said I will set up a new party, will do this and that…I said I won't do anything. I will see what my people want)."
Brother vs the son
Standing by his brother, Mulayam attacked Akhilesh for "sacking Shivpal as a minister". He has repeatedly stated that Shivpal was hard-working and, on an earlier occasion, had forewarned that antagonising Shivpal would be disastrous for the party. He also blamed SP's Assembly poll defeat on the fact that Shivpal was sidelined and the electoral alliance with the Congress.
Although Netaji kept the party formation idea under wraps, Shivpal said on Sunday that "Netaji was consulting his supporters about his next move". He claimed that a large number of Samajwadis were unhappy with Akhilesh's behaviour.
He also said, "Netaji has a huge following. We will soon take a big decision about our future course."
Earlier on 1 February, Shivpal had said that he will float a new party after the announcement of poll results.
"After the results are announced …you (Akhilesh) form the government, we will set up a new party after 11 March," Shivpal had said after filing his nomination from Jaswantnagar as a Samajwadi Party candidate.
Sources in Shivpal's camp said that formation of the party was very much under consideration as Akhilesh remains "arrogant and unrepentant" and "was not ready to learn any lessons" from the party's poll debacle.
With his second wife wanting to see her son in politics, the new political outfit could include Prateek Yadav and his politically ambitious wife Aparna Bisht Yadav.
Aparna, who unsuccessfully contested against Rita Bahuguna Joshi (BJP) from the Lucknow Cantt seat, toed Shivpal's line in attacking the SP's leadership for her defeat. "I was defeated by my own people and not the EVMs," she told the media.
However, at the swearing-in ceremony of Adityanath Yogi's ministers, Mulayam was seen whispering into Narendra Modi's ear and then talking to him while holding Akhilesh's hand. These actions raised doubts if Mulayam's "putra moh" (fondness for his son) would ever let him form a new party.
Mulayam's recent attack on Akhilesh, however, has removed all doubts about which side of the fence he is on and has cleared the decks for a new party that would take on his son.