New low in Punjab politics: AAP Delhi MLA was framed for Quran desecration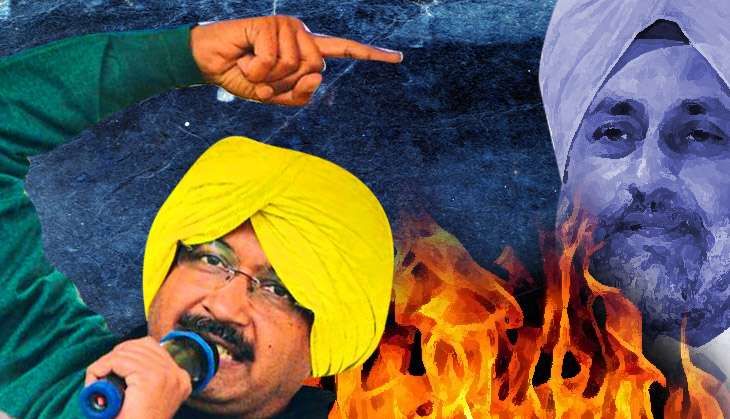 It has been four months since an incident of the desecration of the Quran was reported from Malerkotla, the lone Muslim-dominated pocket of Punjab. And the latest developments in the case show that politics in the state has hit a new low.
The main accused in the case, Delhi businessman Vijay Kumar, has made a public proclamation that he was compelled by the Punjab Police to name Delhi Aam Aadmi Party MLA Naresh Yadav in the case.
Kumar reportedly made the statement in a Sangrur court, and later, before the media.
AAP taking legal recourse
On the basis of his statement, the AAP leadership has trained its guns on Deputy Chief Minister Sukhbir Singh Badal, who holds the Home portfolio which controls the police. AAP leaders have demanded Sukhbir's resignation on moral grounds, as well as action against police officials who allegedly framed Yadav, the MLA from Mehrauli.
Himmat Singh Shergil, head of AAP's legal wing in Punjab, said: "We are contemplating how to take the matter forward legally. Once in power, we will take executive action against Sukhbir and the guilty officials. Till then, our legal team will also see what legal course is to be adopted.
"This is a clear case of abuse of power on the part of Sukhbir. This was a strange case where Yadav was arrested without any evidence, just on the basis of a statement given by Kumar. This is nothing but miscarriage of justice. Who is going to take the responsibility for Yadav spending six days in prison?"
Shergil said this was a much bigger issue, as several AAP MLAs have been targeted by the Central government in Delhi too. "In Punjab, the scenario is worse, as the ruling Shiromani Akali Dal's (SAD) leaders have been threatening people. People are so scared that they are not willing to come out and say anything in public, till the Election Commission of India (ECI) imposes the model code of conduct," he said.
On the case involving Yadav, Shergil told Catch: "We will take it forward. We are now procuring all the statements of witnesses recorded in the case under Section 164 of CrPC. We have also asked for telephone records of Kumar and Yadav, as claimed as evidence by the police in the case. The two had been together at a coaching institute for a brief while, and are said to have talked over the phone. We are going to place all this before the court on 1 December, which is the next date of hearing."
What went down in Malerkotla
It was on the night of 24 June that torn pages of the Quran were found by the road side in the Jarg Chowk area of Malerkotla in Sangrur district. This was followed by arson and violence in the town by an angry mob.
Later, the police had arrested Kumar, along with one Nand Kishore and his son Gaurav from Pathankot. Kumar then reportedly told the police that Yadav had offered him Rs 1 crore for the desecration, but he had not received the amount.
After the court hearing on Thursday, Kumar told mediapersons that he was innocent, and had proof of it. He also said that he had named Yadav under pressure from the police, which had threatened to implicate him in cases of murder and attempt to murder. Yadav had been arrested on 25 July and released on bail six days later.
'Police under Akali control'
One question that continues to rankle is: why was Yadav targeted?
"They were looking for a soft target. A person who is low profile. It could have been anyone," said AAP's state convener Gurpreet Singh Waraich (Ghuggi).
Yadav himself added: "My stand is vindicated. I have been saying from day one that I was not involved. This is nothing but a political conspiracy aimed at inflaming communal passions. I want to ask Sukhbir to resign. I also want to ask him what is he going to do about the police officials who have done this."
Yadav later told Catch: "They (Akalis and BJP) wanted to defame and discredit AAP among the minorities, not only in Punjab, but in Delhi and other places as well."
Waraich has also drawn parallels between the arrests made for the desecration of holy books at Bargari village last year, and that of Yadav. Rupinder Singh and Jaswinder Singh of Panjgrain village of Faridkot were arrested for the incident of sacrilege in Bargari.
"The police had falsely implicated the two persons, who had to be let off. These developments have raised a major question mark over policing and governance in the state," Waraich added.
Waraich said the AAP leadership has decided to approach Governor Kaptan Singh Solanki with the request that it be ensured that Kumar is not forced to retract again from his statement.
"There is no guarantee, they might force him to change his statement again. There is a actually a reign of terror unleashed by the Akalis in Punjab. In the border villages, Akali leaders go with vehicles and threaten people that they have both Chitta (synthetic drugs) and Siropa (scarf of honour). It is for the villagers to decide what they want," he added.
Arshad Dali, an AAP leader from Malerkotla, said it needed to be understood that the state police was totally under Akali control. "The issue goes beyond Punjab. Is this the achhe din that were promised to us?" he asked.
State on tenterhooks
Punjab continues to be on tenterhooks over growing instances of religious violence. There have been instances of sacrilege of holy texts of various religions. There have hardly been any arrests in these cases.
There have also been instances of heads of religious cults being targeted.
While Congress president Captain Amarinder Singh has accused the ruling SAD-BJP combine of preferring some kind of controlled insurgency in the state, the Akalis have been dilly-dallying on the issue at times, blaming Pakistani agency ISI for fostering trouble.
Observers say there may be more such instances ahead of the forthcoming polls.
Edited by Shreyas Sharma
More in Catch
Malerkotla Quran sacrilege: BJP-turned-AAP leader Naresh Yadav booked
How a 'Muslim hater' failed to instigate a communal riot in Malerkotla
Punjab simmers after torn pages of the Holy Quran found in Malerkotla