New battlefront: why are Punjab's parties wooing the NRIs?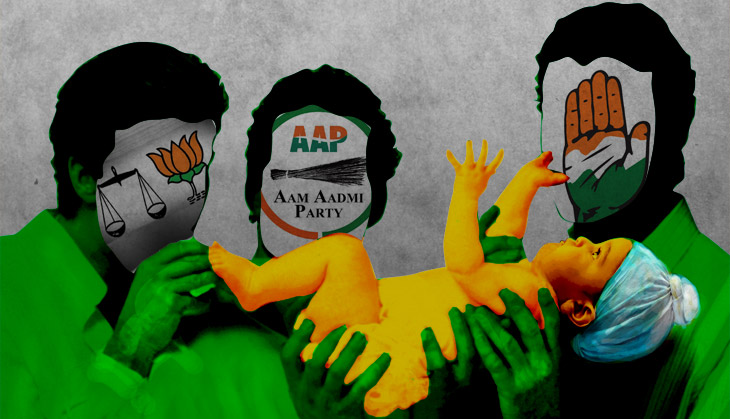 A key part of Punjab's battle for the ballot is being fought overseas. The leaders of the main political parties - the Congress, SAD and AAP - are going out of their way to win over the Punjabi diaspora in Australia, New Zealand, the US, Canada, and Europe.
The NRIs, observers say, have always played a key role in Punjab's polity, but they have especially influential since the parliamentary election in 2014, when they loosened their purse strings for AAP, and quite generously. It was in no small part due to their support that the AAP did impressively on its debut in the state, winning four of the 13 Lok Sabha seats.
Also read - Is Arvind Kejriwal primed to be the next CM of Punjab?
Nearly 80% of Punjab's diaspora is from the four districts of Doaba region, Jalandhar, Nawanshahr, Kapurthala and Hoshiarpur. The NRI community is also said to be influential in Ludhiana, Anandpur Sahib, Patiala and Sangrur. In these parts, it's quite common to find residential addresses such as "Milan House", "White House", "Italian Court", "Paris Residency".
But why do the NRIs wield such influence on Punjab's politics? The key reason is that they have retained close links with their native places. They visit regularly and contribute generously to local development – organising sports events, helping build playgrounds, gymnasiums, community centres, dispensaries. So, when they ask their village folk to vote for a particular person or party, their word carries weight.
In fact, it's a practice in several villages that the NRIs arrive a month before the polls and then go door to door seeking votes for their chosen candidates.
Money matters
But why would the diaspora have any interest in local elections at all? The NRIs have a whole lot of issues they have been lobbying governments about, no least the security of their properties here. "Usurping of their properties by caretakers, mostly siblings of their relatives, has been a common issue with the NRIs. Getting such properties freed is one of the most cumbersome tasks. That's why the projection of Arvind Kejriwal as an anti-corruption crusader has drawn a large number of the NRIs towards AAP. Whether he delivers or not remains to be seen," explains Manjit Singh, a sociologist.
Many NRIs have been trying to set up businesses back home, only to see their efforts frustrated by bureaucratic red tape. They would back any party that promises speedy clearances without them having to pay bribes - in this case, AAP.
Then, there's the issue of matrimonial disputes. A number of people have been duped into marriage with the promise of a good life abroad, and the NRIs have been demanding a crackdown on this practice. "We have been constantly trying to get the successive governments to start fast-track NRI courts in the state. Of all NRIs, a third are from Punjab, but so far we have been able to get only one separate NRI court in Jalandhar, not a fast-track one," says SK Chopra, president of the Jalandhar chapter of NRI Sabha.
"Most of the cases involving NRIs pertain to property matters as the NRIs often come back to find their properties being occupied by those whom they had taken to be caretakers."
Building support
To curry favour with the diaspora, all parties are sending their top leaders abroad. The Congress has sent Preneet Kaur, wife of the party's state chief Amarinder Singh, along with her fellow MLA Karan Kaur Brar to Australia and New Zealand. Their pitch: Punjab has suffered so terribly under the rule of the Akalis that it "cannot afford any new experiment in 2017". In other words, support the Congress, not AAP.
It isn't an easy sell. At a dinner in Sydney, the NRIs reportedly confronted Preneet over her party's stand on issues such as the sharing of river waters with Haryana and reservation for women in Parliament. She assured them there was "no tension" between Punjab and Haryana. As for the reservation, she said, "We are committed to it and we will certainly endeavour to ensure it, for the empowerment of women would ensure their safety and security."
Preneet also assured her audience that if voted to power, the Congress "will do away with the drug menace in Punjab". "Our vision is Drug Free, Debt Free Punjab," she added.
Amarinder is scheduled to visit the US and Canada from 19 April, meeting the Punjabi diaspora in Chicago, Los Angeles, San Francisco, Toronto, and Vancouver.
AAP has been sending emissaries to the diaspora for over a year now. Most recently, HS Phoolka toured Canada, and got a good reception there. He was following up on visits by Sanjay Singh and Bhagwant Mann last year. Succha Singh Chhotepur has just returned from a tour of Europe. The party has been so successful at organising fundraising events with the NRIs that its rivals are visibly rattled. The SAD has gone to the extent of accusing AAP leaders of "deceiving Punjabis" by organising such events.
Losing out?
Not that the Akalis themselves are sparing any effort in wooing the NRIs, despite their leaders getting a hostile reception in the US and Canada last year. Just a few days ago, Deputy Chief Minister Sukhbir Badal announced names of office-bearers of the party's NRI wings in Australia, New Zealand and Canada, and urged them to propagate the achievements of the SAD-BJP regime among the diaspora.
"The NRIs want a government with Western efficiency in Punjab. A lot of political leaders have been able to address the diaspora through radio and TV stations abroad. Similarly, the NRIs have been reaching out to people back home through social media, and they can generate and sway opinion here," says the sociologist Manjit Singh.
And, as of now, most of them seem to prefer the opposition to the ruling parties. Gurpreet Singh, a journalist based in Vancouver, says, "AAP has made great inroads among the diaspora if Phoolka and Bhagwant Mann's visits are any indication. When Amarinder Singh came here the last time, then too the reception was impressive. Not so for the BJP leaders and the Akalis though."
He added, "Since Punjabis dominate the South Asian diaspora in Vancouver, one can make a quick judgement about the poor impact of the Akali-BJP alliance on Punjabis in general."
That very few of the NRIs are enlisted as voters in Punjab does not matter. It is their influence on the voters that is going to count, and it's only growing by the day.