Naveen Patnaik's Odisha Cabinet revamp leads to revolt within BJD's ranks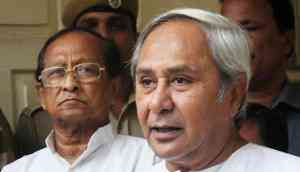 Soon after the new ministers had administered oath in Odisha, several regional leaders raised the banner of revolt against the party for non-representation of their districts in the new Cabinet.
Amid these protests, senior Biju Janata Dal leader Amar Nayak from Jajpur district joined the BJP with thousands of his supporters.
A big upset
Reports from Sundargarh district suggest that several party members have threatened to quit over non-representation of the district in Chief Minister Naveen Patnaik's cabinet and could join the BJP if their demands are not met. The workers from the district are upset that former minister and senior BJD leader Mangala Kishan was overlooked by Patnaik.
Similarly, leaders from Sambalpur district too are upset with the Chief Minister for not accommodating a face from their district in the cabinet.
This is a major boost for the saffron party that has set its sight on ending Naveen Patnaik's 17-year rule in the state. Earlier this year, BJP witnessed a massive surge in support during the panchayat elections when it dethroned the Congress to emerge as the second largest party in the state. BJP delivered a stellar performance in the coastal state, registering an improvement of 850% compared to the 2012 civic polls.
It was these results that forced the Chief Minister to ask 10 of his ministers to resign and then induct 11 new faces in his Cabinet. "Yes, the results of the panchayat elections were certainly one of the reasons for this exercise. It is normal for a political party to review its performance after any elections and we too thought that certain changes needed to be made to strengthen the party. Moreover, this is a normal exercise and not much should be made out of it," said BJD spokesperson Amar Prasad Sathpathy.
On the issue of rebellion within its ranks, Sathpathy said that it is normal for local level leaders to have aspirations and if these are not fulfilled they "get angry".
Satpathy added, "But it is not much of a concern and we will talk to these leaders and I am certain they would be fine. Moreover, the elections are still far away and we will ensure that we can convince these leaders."
He, however, dismissed BJP's rise in popularity in the state to be threatening and said, "BJP once had no presence in the state and has occupied the second spot because of the Congress that is slowly losing relevance in the state. Congress is witnessing a significant erosion in its vote bank which is working to BJP's advantage, but we still are in a strong position."
BJD's strategy
Earlier on 6 May, 10 ministers tendered their resignations to pave way for Patnaik to carry out his first cabinet reshuffle half way through his fourth term as chief minister. A day later, 11 faces were included in the council of ministers including six of those who have been made ministers for the first time. Moreover, the ministers who have resigned were assigned the role of observers in different. districts to ensure party's revival in some districts where BJD fared badly.
Party strategists believe that senior leaders should camp in their respective districts are reconnect with the people and supporters. In fact, soon after these ministers resigned, Patnaik said that he is grateful to those who have resigned voluntarily to work for the party and that this would help the BJD in serving the people better.
The question of a third front
Meanwhile, BJD remains non-committal in extending any support for the growing chorus for opposition unity to take on the BJP in 2019. BJD's support will remain crucial to the opposition unity if it intends to stop the BJP aggressive push for a second term for Prime Minister Narendra Modi. The upcoming Presidential polls would be a litmus test for opposition parties to convince BJD to share a common platform of secular forces. Reports suggest that West Bengal chief minister Mamata Banerjee has been in touch with Patnaik for the same.
However, Sathpathy said that BJD is equidistant from NDA and UPA parties and that their support is very much issue based. "As far as Odisha is concerned we are a force to reckon with and can take on the BJP on our own. National political parties work on different agendas while we are more concerned about the development and well being of Odisha," Sathpathy said, while adding, "Only time will tell whether we join hands with other parties, but at present we have no such plans."