Multitasker-in-Chief: Akhilesh holds 57 portfolios in his own cabinet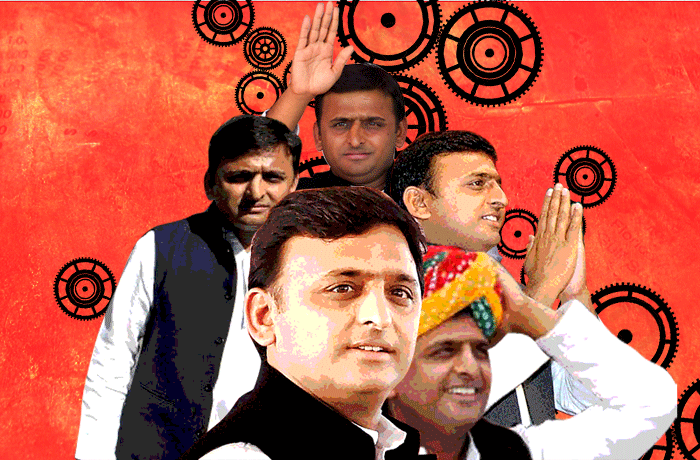 Jumbo portfolio
Akhilesh Yadav has his hands full with 57 ministries
The UP CM runs important departments like home finance, education and law
Questions have been raised about whether it is possible to do justice to many portfolios
The Opposition has raised the issue of UP\'s deteriorating law-and-order situation
Update: CM Akhilesh Yadav today dropped 8 ministers - 5 cabinet ministers and 3 ministers of state, in what is being seen as an attempt to clean-up his cabinet in preparation for the 2017 UP elections
Akhilesh Yadav is the chief minister of Uttar Pradesh. He is also the state's home minister, finance minister and law minister.
That's not all: Akhilesh is the minister for civil aviation, forest, power, environment, medical education, higher education, vigilance, agriculture, child development and nutrition, youth welfare and sports... the list goes on.
In all, the youngest CM of Uttar Pradesh holds a staggering 57 portfolios. At one point, it seems farcical - how can the same person be the excise minister as well as the liquor prohibition minister!
When a new government is formed, senior leaders of the party in power generally look after several portfolios but divest them after a while. Clearly, that has not happened in Uttar Pradesh.
Compare Yadav with others CMs, and the full impact of this bizarre administrative idea sinks in: In neighbouring Madhya Pradesh, Shivraj Singh Chouhan holds only five portfolios - general administration, Narmada Valley development, culture, tourism and civil aviation.
Oomen Chandy, the chief minister of Kerala, manages 11 departments, among the most. Tamil Nadu CM looks after six while in Odisha, Naveen Patnaik has just four portfolios.
So why does Yadav hold so many departments?Does he not trust other Samajwadi Party leaders? Are they inexperienced?
"The chief minister is overburdened. Departments like home, education, law and finance are too important, and should be divested," says Kaushal Kishore Mishra, head of the political science department at Benares Hindu University.
"Akhilesh Yadav can't do justice to so many departments. The results are showing - the law and order situation, the state's finance, education are all in a mess."
According to Mishra, Yadav holds so many portfolios so that he can keep his vote bank in good humour: "As the finance minister he can implementing vote-grabbing schemes, as the home minister he can ensure that the police never troubles his supporters... in the process development has come to a standstill in Uttar Pradesh."
Jayalalitha runs 6 ministries, Shivraj 5, Naveen 4; @yadavakhilesh runs 57!
"It has been alleged time and again that both the Samajwadi Party and the state are being run by one family. The important portfolios that Yadav could not keep with him went either to his uncle Shivpal Singh Yadav or to Azam Khan, the party's only Muslim face," says Manoj Tripathi, an independent political observer.
"Yadav heading 57 departments shows that he wants a complete hold over the governance in the state. He is running the state according to his whims and fancies."
"This shows his dictatorial attitude," says Shailendra Dixit, general secretary of the Uttar Pradesh Congress Committee. "But more importantly, he does not trust other leaders."
"There is a shortage of good leaders in the Samajwadi Party. Only a handful have any experience. But Akhilesh has sidelined them," UP BJP president Lakshmi Kant Bajpai told Catch. Agitated over UP's deteriorating law-and-order situation, the BJP recently demanded that Yadav give up the home department.
"He is holding portfolios like home, finance and sugar that are directly linked to the common man. The law-and-order situation in the state is in doldrums, finance is in a mess, sugar prices are rising. The government has failed on all fronts," says Bajpai.
Normally, the most important leader after the chief minister is given the home portfolio. But in UP, the CM has been retained the portfolio for about 25 years, points out the state's former DGP, Brij Lal.
Most of the party leaders are inexperienced. But more importantly, many MLAs have criminal records. "Yadav can't take a chance with them,"says Badri Narayan Tiwari, a professor at the G.B. Pant Social Science Institute, Allahabad.
National Election Watch, an independent watchdog, has found that 26 out out UP's 56 ministers have criminal records.
"The Samajwadi Party government is in a mess," Narayan sums up.