Modi, Akhilesh strive to cut poor-friendly image on May Day
On a day Prime Minister Narendra Modi launched the Ujjwala scheme by distributing free connections of liquified petroleum gas to women in Ballia and lamented the level of poverty in Uttar Pradesh, Chief Minister Akhilesh Yadav inaugurated a subsidised food canteen for construction workers.
Planned on the lines of Tamil Nadu Chief Minister Jayalalitha's Amma canteens, the Samajwadi Canteen would provide a meal for Rs 10 to labourers.
While breaking bread with some workers to mark May Day, the CM rued that he could not provide free meals to workers as he had promised earlier.
Akhilesh also announced a Rs 1,000 pension scheme for construction workers aged 60 years and above. There are 27.4 lakh construction workers registered with the government in the state.
Incidentally, PM Modi gave a detailed account of how he had increased the minimum pension amount from a pitiable Rs 15-20 per month to Rs 1,000.
Read- Multitasker-in-Chief: Akhilesh holds 57 portfolios in his own cabinet
Akhilesh also chose the occasion to distribute 1,000 bicycles to daily wage labourers. Some time ago he distributed e-rickshaws in Kannauj, the parliamentary constituency of his wife Dimple.
This wasn't the first time that Akhilesh was being a copycat CM, though for a good cause. He had earlier started 'Mann ki Baat' for villagers in Saifai, on the lines of the PM's 'Mann ki Baat' radio programme.
When the prime minister spoke of a paperless office, the UP government began constructing a new office for the chief minister which would be paperless.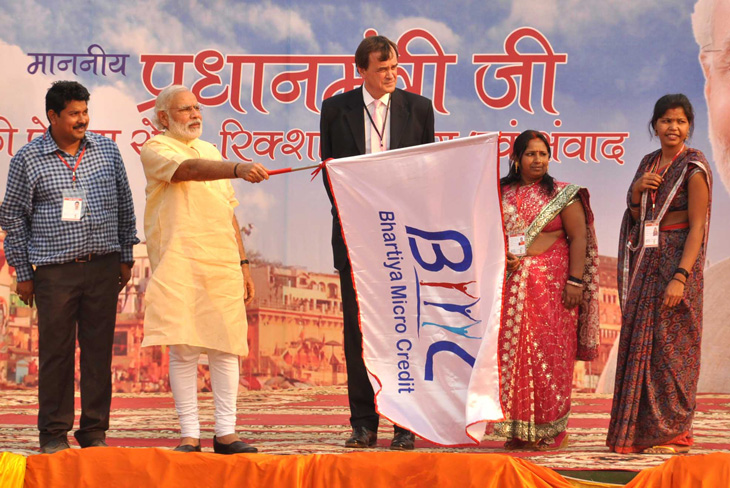 Modi flags-off before distributing 1000 e-rickshaws on the occasion of Labour Day in Varanasi. Photo: Rajesh Kumar/ Hindustan Times via Getty Images
While Akhilesh was copying Amma in the election year to woo labourers with subsidised meals, pension for construction workers and distribution of cycles to them, the prime minister was hitting at the level of poverty in the state.
"It is unfortunate that Uttar Pradesh, which has given so many PMs to the country has continued to slip on the poverty front even as a lot had been said about eradicating poverty," Modi said.
Chiding those for insinuating that he chose Ballia to launch the free cooking gas scheme for political reasons, Modi said he did so as it had the lowest percentage of households with gas connections.
Political overtures, though, were visible in his speech.
In the presence of state minister Ram Govind Chaudhary, a legislator from Bansdih, the PM said connectivity in the region, whether railway tacks or bridges, was ignored by successive governments.
He complimented all BJP MPs from the region for pressing him to sanction a Ballia, Ghazipur and Mau railway link, the recommendation for which had been made 55 years ago, and a bridge over the Ganga.
Also read: Thousands of litres of water used for Akhilesh Yadav's visit to drought-hit Bundelkhand
Ballia, which ranks among the poorest districts of UP, was represented by former prime minister Chandra Shekhar.
In Ballia, the prime minister spoke of the pro-poor thrust of his government's policies. In Lucknow, Akhilesh Yadav claimed that his government had done tremendous amount of work for the welfare of the poor. He counted distribution of over four lakh cycles as one of the measures.
Despite the SP government's development agenda, UP ranks among India's poorest states with a per capita income of Rs 40,373 -- placed just above Bihar, which has a per capita income of Rs 36,143. Nearly 22% of the state's population lives below the poverty line.
The state's poverty was highlighted in a study by the Oxford University, which said the number of poor in eight states of India, Uttar Pradesh being one of them, equalled those in 25 African countries.
Edited by Joyjeet Das
More in Catch:
The property Priyanka Gandhi doesn't want you to know about
Odd-Even no solution: Pollution actually increased from last year
Unwritten law: Justice eludes most Indians. Here's why
10 Cloverfield Lane review: a smart, suspenseful and satisfying sci-fi thriller