MLA arrests: AAP ignored warnings about 'tainted' leaders. Now it's paying for it
Catch Team
| Updated on: 11 February 2017, 7:52 IST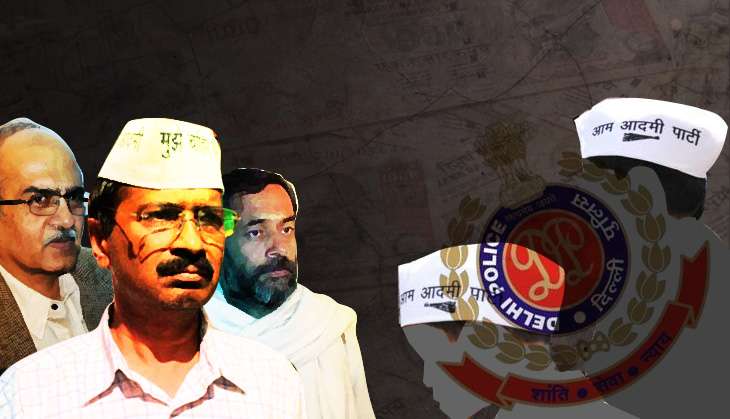 Name: Amanatullah Khan
Charges: Assaulting or using criminal force to deter a public servant from discharging his duty under IPC Section 353; putting up communal posters; possessing disproportionate assets worth more than Rs 2 crore.
Name: Naresh Yadav
Charges: Possessing assets worth more than Rs 20 crore.
Name: Prakash Jarwal
Charges: Voluntarily causing hurt to deter a public servant from doing his duty under IPC section 332.
What's common to these individuals arrested by the Delhi police? They are all AAP legislators. In the year and a half years since AAP took power in the capital, a sixth of its MLAs - 12 in all - have been arrested. At this rate, by the time the party completes its 5-year term - if it does, that's - over half of Arvind Kejriwal's MLAs would have seen the inside of a police lock-up or jail.
Also Read: It requires great confidence to fool people on Jan Lokpal: Yogendra Yadav #EkSaalKejriwal
Thought experiments aside, even if such a scenario were to come to pass, there's a good number of people who may claim no surprise, rather even a little schadenfreude every time another AAP legislator is picked up. Back when Prashant Bhushan, Yogendra Yadav and Anand Kumar were with AAP, they had alleged that people were being given tickets for the 2015 assembly election in haste and desperation.
Bhushan, then a member of AAP's national executive, had even submitted a list of 12 such candidates, against whom he said there was enough evidence of wrongdoing. Among them was Amanatullah, now the MLA from Okhla, who was arrested on 23 July for allegedly trying to mow down a woman. The woman had earlier alleged to have been abused and threatened by a young man at the MLA's residence for raising an issue about power supply. Khan was booked under IPC section 308 (attempt to commit culpable homicide), which is a non-bailable offence.
Casting a wide net
He was the 10th AAP legislator to be arrested. Reacting to the arrest, Kejriwal had tweeted: "Modi ji arrests one more AAP MLA".
Ironically this was the same person against whom Kejriwal had demanded action once. According to the complaint that Bhushan had submitted to the then party Lokpal, retired admiral Laxminarayan Ramdas, Khan had been found responsible for releasing a controversial communal poster. And it was none other than Kejriwal who had then tweeted demanding action against Khan.
Several of the other candidates Bhushan and his colleagues had objected to are AAP MLAs as well. Pramila Tokas, RK Puram MLA, stands accused of assaulting a scheduled caste woman, along with her husband Dheeraj Tokas, a BSP member.
Also Read: Arvind Kejriwal is 'unscrupulous', will join hands with PM Modi when it suits him: Prashant Bhushan
Or take the case of Kartar Singh Tanwar, MLA from Chhattarpur, a former municipal corporation chairman from the BJP. According to the complaint filed by Bhushan, he had risen from junior engineer to a man worth over Rs 1,000 crore and was reportedly part of the builder mafia in outer Delhi villages.
So, have the chickens come home to roost for AAP?
Self-inflicted wound
Yogendra Yadav, who co-founded Swaraj Abhiyan with Bhushan after being expelled from AAP, and is now busy working on setting up his own political outfit with Bhushan and Anand Kumar, says while some of the cases against the AAP legislators seem trivial, some charges are serious. "The manner in which the police and the CBI have gone after AAP is unprecedented. They have devoted disproportionate resources to going after them. I haven't seen anything of this sort ever. But then if a party takes on the Centre with all its force, it must expect nothing short of this."
He, however, adds, "But you cannot hide behind the bogey of persecution when you are shielding people like Jitender Singh Tomar or Sharad Chauhan or Amanatullah. Yes, we had objected to the candidature of these people. There should be a deep sense of shame running through the party. Clearly, some cases are cooked up but charges against people like Sharad Chauhan and Somnath Bharti are not cooked up."
According to Anand Kumar, another former AAP national executive member, most of the losses the party is taking now are self-inflicted. "It is sad that the warning of Prashant Bhushan has turned out to be true. Blaming everything on Modi is no good now. Kejriwal had become so afraid of losing elections that he ignored all warnings. This is a result of the arrogance that has crept into Kejriwal. And, frankly he doesn't need enemies, he is doomed to fail."
Also Read: From misbehaving with women to rioting, here's why AAP leaders keep going to jail