Mind that edge! No rallies with sharp weapons on Bijoya Dashami: Mamata instructs cops to take action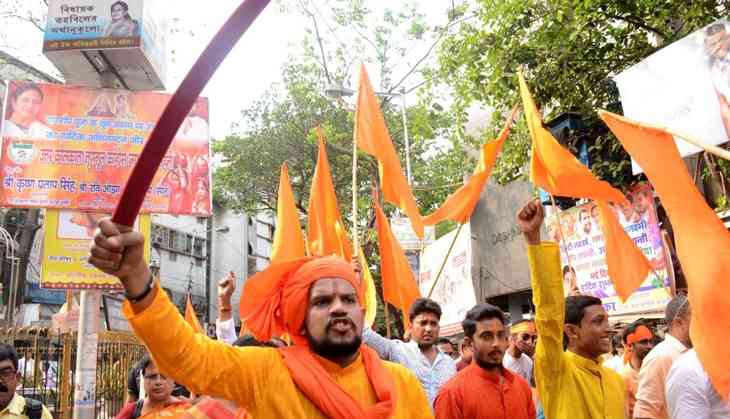 Indian Hindu devotees shouts slogans with sword during the rally on the eve of Ram Navami festival in Kolkata , India on Wednesday, 5 April 2017. (Sonali Pal Chaudhury/ NurPhoto via Getty Images)
After Chief Minister Mamata Banerjee instructed the state police to take action against any person (or organisation) taking out rallies with sharp weapons during Bijoya Dashami, various Hindu outfits have spoken up against it.
These Hindu organisations demanded that Banerjee should not make any discrimination between Hindus and Muslims while taking action to make sure law and order is maintained in this festive season.
"It is good that Chief Minister Mamata Banerjee has taken a decision to take action against the persons or organisations who will carry weapons during rallies in religious programmes. But she should also take action against the Muslim outfits that carry out rallies during Muharram with sharp weapons. We do not want any discrimination between Hindus and Muslims in the state," Debtanu Bhattacharya, secretary of Hindu Sanhati, said.
According to members of the Vishwa Hindu Parishad (VHP), no organisations or Hindu outfits carry weapons on Bijoya Dashami rallies. Such is not our tradition, VHP said, and it has never happened.
Badal Das, a member of the VHP, said, "Generally during Muharram, we see that various Muslim outfits carrying weapons during their rallies (tazia). No Hindu outfits carry any weapons during Bijoy Dashami. Banerjee is trying to divert the real issue as she has already said that no idols will be immersed during Bijoy Dashami as Muharram processions will take place. She is still continuing with the very appeasement politics we opposed."
The RSS also echoed the VHP statement on there being no tradition of Hindus carrying weapons during rallies. The outfit blamed Mamata's appeasement politics as well.
"Ram Navami and Bijoy Dashami celebrations are different and we feel that the chief minister is trying to divert the real issue. She believes in appeasement politics which we opposed. We are not afraid of her decision and we will try to uphold the rights of the Hindus, even if we were tortured by the ruling government," Jishnu Bose, general secretary of West Bengal RSS, said
During an administrative meeting on Monday, Mamta said that she has received information that some organisations will carry out rallies with sharp weapons during Bijoy Dashami and she strictly mentioned that this won't be tolerated.
The Opposition parties, however, welcomed Banerjee's decision. During Ram Navami when several Hindu outfits carried out rallies with sharp weapons, the state government had failed to take any action as they did not have any prior intimidation about the event, the parties said.
"We welcomed the move of the state government, but it needs to be seen that law and order situation does not deteriorate if such actions were taken up by the state government. We do not want any communal disharmony during Pujas and Muharram," CPI(M) leader Sujan Chakraborty said.
"We feel that the state government should look at all the aspects and take action against the accused, be it Hindus or Muslims, if any untoward incidents takes place during Pujas and Muharram," Congress leader Abdul Mannan said.