Meet the saffron women trying to spread BJP's message in the Valley
Riyaz Wani
| Updated on: 24 January 2018, 17:15 IST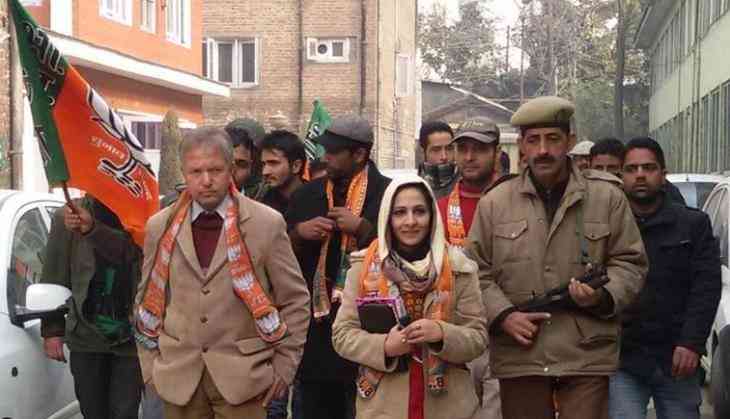 She says she is a feminist and won't cover her head to make a statement. She refuses to be a part of the National Conference, Peoples Democratic Party (PDP), or even the Congress which "ask their women leaders to hide their hair to play to a stereotype of a Muslim woman." Meet Neelam Gash, the incharge of the Bharatiya Janata Party's (BJP) women's wing in Kashmir.

Ever since she joined the saffron party during the 2014 Assembly elections, Gash has been busy building the BJP's support base among Kashmiri women. She's supported in her endeavours by two prominent colleagues – Hina Bhat and Darakhshan Andrabi.

It might seem like an uphill task in the politically and communally polarised region, but they have had a decent measure of success. According to Gash, the BJP has now more than 25,000 women members in the Valley, including in the militancy-ridden districts of South Kashmir.

"In each district we have a district president. Our district women wings have offices adjacent to our district offices," Gash said. "Meetings are held at the offices of our district presidents, where we rally our womenfolk and also solve their issues."
Working in secret
But how does one recruit women, when joining the BJP in the Valley entails a degree of risk, more so, in militancy-affected South where a BJP worker was recently killed? "We don't actively and visibly seek membership of women. We do small works of the women, address their issues, and then they happily join us. In some places, more than a hundred women have joined us at one time," Gash explains.

However, North Kashmir's Baramulla and South Kashmir's Anantnag districts have seen the highest number of women recruits.

But secrecy is the key. "We ensure that our members are not publicly identified, lest it create any security problems for them," Gash said. "They register themselves online as BJP members. All they have to do is to give a call to a BJP number".

This, however, is not a paid recruitment drive. "Not at all," Gash assures, adding, "But being a part of the BJP empowers them. Their grievances and issues are easily addressed," she said. "We ensure that the administration takes their issues seriously. I personally visit offices to sort the issues and more often than not it is done on priority."
Joining the BJP
Gash's own entry into the party was accidental. "It was just a few weeks before the 2014 Assembly elections that I received a call from a senior BJP leader that I have been selected as a candidate for Srinagar's Zadibal constituency," Gash recounts. "They gave me a night to decide. I talked to my father, who gave a go-ahead," she said. "I jumped into the fray right away. I held many public meetings in the short time that I had".

But Gash polled just 360 votes. The seat was won by PDP leader Aabid Ansari. Still, Gash takes pride in her belief that she is "the first Shia woman who has contested an election in the past 70 years of the democratic history in India."

Failure in the polls didn't stop her. Ever since, she has worked hard to build her base in the constituency, and also enlist more women recruits for the BJP across the Valley. She claims to have around 15,000 members in Zadibal constituency alone, including around 2,000 women.
A dangerous job
Gash, however, acknowledges that it's tough being a BJP leader in the state, more so a woman leader. She still remembers the South Kashmir youth who was killed by militants soon after attending a BJP meeting in Srinagar. He was abducted, and his body was later recovered some distance from his home. His throat had been slit.

"I had met him several times. He was a good worker and had helped mobilize some support for the BJP," Gash said.

Does this make her apprehensive about her own security? It does. But Gash has sought refuge in fatalism. She believes that the death comes only "at an appointed time," so she doesn't worry.

For now, she is focused on building a sufficient support base for the BJP among women to give the party a boost in the next Assembly elections in 2020, or even earlier in the 2019 Lok Sabha polls. "We hope that the BJP opens its score in the Kashmir Valley in the next election," Gash says. "And we are confident that our efforts will bear fruit".
A conflicted ideology
But her pitch to potential recruits and voters steers clear of the BJP's contentious ideological position on the state, especially its attempt to fiddle with the special position enjoyed by the state under the constitution. She also skirts the cases of lynchings of Muslims in the country. Her pitch is strictly development.

"You can't blame the BJP for the atrocities on Muslims. No government would want to cause violence in the society and get a bad name for it," says Gash. "In Kashmir, the BJP is for development. We are not much into ideology".

Does she agree with the BJP's position on the repeal of Article 35A, which forbids outsiders to settle in Kashmir? "No comment," she said, before adding cryptically, "I am in favour of what is good for Kashmir. And if Article 35A is good for Kashmir's development, it should remain. Otherwise, it should go."