Meet SN Dhingra: the judge giving Robert Vadra sleepless nights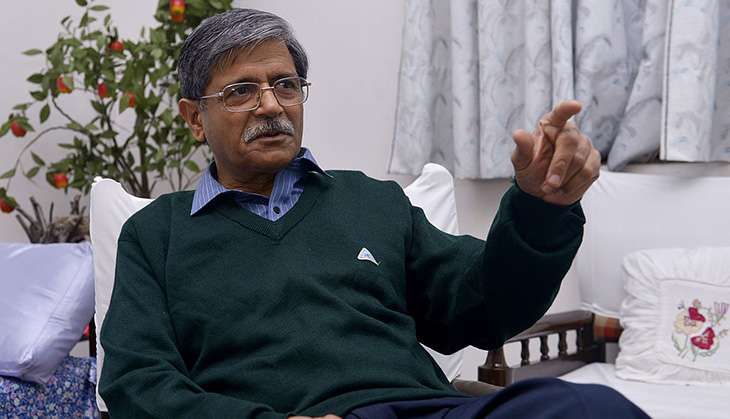 The judge
Justice SN Dhingra is probing the land deals between Robert Vadra and DLF
Congress wants the probe disbanded alleging that Dhingra took favours from BJP govt in Haryana
The background
Dhingra has sent Congress leaders like Kalpnath Rai & HKL Bhagat to prison
He erred in sentencing SAR Geelani to death in the Parliament Attack case. He was later acquitted
More in the story
What is Dhingra\'s reputation?
Why is Congress gunning for him?
Justice SN Dhingra is all over the news for heading a one man panel that is looking into the controversial land deals between Congress President Sonia Gandhi's son in law Robert Vadra and realty giant DLF.
Considering how sensitive Congress is on anything related to Vadra, the party has launched an offensive against Dhingra and accused him of taking favours from the BJP ruled Haryana government. The grand old party has asked the former Delhi High Court justice to recuse himself from the probe and requested that the panel be disbanded since Dhingra has "compromised his position".
Also read - Vadra land deal case: Justice Dhingra inquiry commission gets extension to submit report
Grabbing headlines is not something new for the retired High Court judge who has the habit of shooting from the hip and raking up controversies. For a career spanning more than two decades, Dhingra has been described as a torchbearer of speedy justice by some and a loudmouth and biased by others. But never has he been accused of corruption.
The Congress' criticism of Dhingra is understandable considering how he took on two of its former ministers. Back then such was his reputation that politicians would dread to have a confrontation with Dhingra.
Dhingra versus Congress
In fact, it was he who made former Union minister HKL Bhagat run from pillar to post to secure bail for his role in the 1984 anti-Sikh riots. Before Dhingra took over, the case had not moved for 11 years and it was he who recorded statement of a widow that led to Bhagat being sent to jail. Concerned that the minister could influence eye witnesses, Dhingra refused bail and sent him to prison only to be released after multiple visits to courts.
Once during the hearing on Bhagat's bail application, the Congress leader complained of chest pain and was rushed to hospital, but Dhingra still denied him bail and sought medical reports from the doctor. Once the doctors confirmed that Bhagat could be shifted back to jail, Dhingra shifted him back.
Since Dhingra dealt in cases from worst affected East Delhi, he didn't disappoint those awaiting justice. In 1994-95, when he was a trial court judge, he clubbed close to 100 FIRs into one case to avoid unnecessary delay and eventually sentenced 97 for their role. It was this that led to him being hailed as "conscientious judge" by Manoj Mitta and HS Phoolka in their book When a Tree Shook Delhi.
While passing the verdict, he said: "The manner in which the trial of the riot cases proceeded is unthinkable in any civilised country. In fact, the inordinate delay in trial of the rioters legitimised the violence and the criminality. A system which permits legitimised violence and criminals through the instrumentalities of the state to stifle the investigation cannot be relied upon to dispense basic justice uniformly to the people. It amounts to a total wiping out of the rule of law."
Known for his disdain for politics and politicians, he took on one of the most powerful Congress ministers of the Narasimha Rao government - Kalpnath Rai. The senior Congress leader couldn't escape Dhingra's wrath after he sentenced and the then Minister of state for food to jail for his role in the sugar scam. Rai was later acquitted with no charge.
But, Dhingra wasn't done with Rai. In 1997, the Terrorist And Disruptive Activities (Prevention) Act court led by Dhingra sentenced Rai for 10 years for harbouring underworld criminals. Rai was yet again acquitted but those who knew him say that after his stay in Tihar, Rai was never the same again.
In 1996, during Rai's trial Dhingra refused permission to the minister to attend Parliament and called it a "fish market" which led to treasury and opposition benches condemning his words. Despite a sharp rebuke by the Delhi High Court, Dhingra remained unfazed and was ready to face the parliamentarians who wanted to summon him for his comments.
Known for his penchant for speedy justice, he was also responsible for fast tracking the evidence of witnesses in the high profile Nitish Katara murder case earning him praises from jurists across the country. The other case of national prominence that he handled was the cash for query scam wherein he quashed charges against two journalists - Anirudh Bahal and Suhasini Raj - for conducting the sting operation.
Controversies
However, he has a dark past too. In 2006, he told Navratna Chaudhary that he knew how women lawyers make it. When Chaudhary hit back saying that he should not be outraging her modesty, Dhingra said, "You have no modesty to outrage." Women activists were livid with his remarks which led to him being apparently summoned by the Delhi High Court chief justice.
The darkest chapter in his otherwise illustrious career was the capital punishment given to Parliament Attack accused Afzal Guru, SAR Geelani and others. As a special judge in the POTA court, he sent the accused to the gallows in December 2002 and was criticised for displaying "hostility with prejudice" against the accused. SAR Geelani was later acquitted in the case.
Extremely criticial of Dhingra's judgment, Nandita Haksar in an article in Seminar Weekly wrote, "...S.N. Dhingra who showed his hostility and prejudice against the accused by routinely denying their counsel the right to cross-examine the prosecution witnesses. Further, he behaved like the prosecution by cross-examining defence witnesses and the accused when they gave their statements to the court." The death sentence was also the first verdict in the now revoked POTA Act.
His detractors claim that Dhingra was easily influenced by anyone which often smacks of biases in many of his judgments. In fact, in 1996, the Bar Council of India passed a resolution against him when two lawyers accused him of attempting to involve them in the 1984 riots case. But Dhingra's route to Delhi High Court was not an easy one.
Personal background
Born in 1949, Dhingra was born in a family with limited means. His father was a migrant labourer, Karamchand from Punjab and the family survived on his meager income. It was his mother who forced him to attend school after which he took admission in municipal schools across Delhi. His father's income was not enough to feed the family of nine which led to Dhingra taking up odd jobs at an early age.
A bright student, he went to do a Engineering diploma after the family pawned off the gold. He also started pursuing Bachelor in Science degree from Delhi University after which he enrolled for LLB from the university in 1979. During this period, he was a practicing lawyer and edited Matrimonial Law Reporter for 10 years. He was also a part time lecturer in Delhi University teaching law from 1985 to 1987 after which he became the Additional District & Sessions judge on 6 January, 1988.
Dhingra must have had his biases but he had never been accused of corruption. When Congress launched an attack on him, former chief justice of Delhi High Court Markandey Katju rushed to his defence and tweeted, "Shame on a section of the Indian media which has been attacking Justice SN Dhingra, one of the most honest judges I have known." Katju even wrote a blog and vouched for Dhingra's "highest reputation of integrity and competence".
More in Catch - BJP's own Robert Vadra? Anandiben's daughter Anar caught in land row
Was Vadra real owner of arms dealer Bhandari's London mansion?