Meet Shahid Ali Khan: BJP's terrorist-turned-friend in Bihar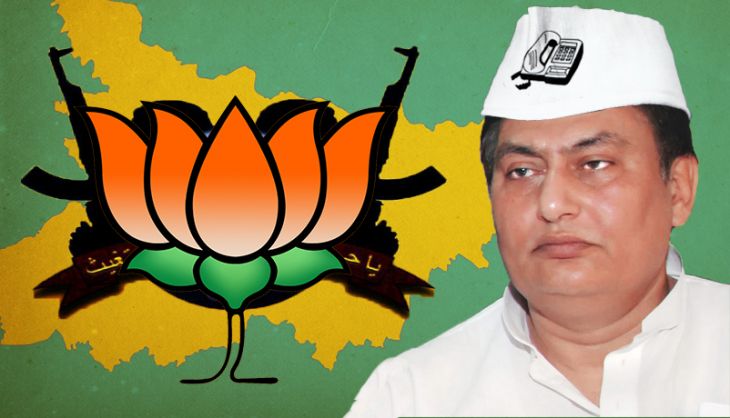 Terrorist minister
In 2014, the SSB sought probe into Shahid Ali\'s "terror links"
BJP labelled him a "terrorist minister" and demanded his head
The police investigated the charge and gave Khan a clean chit
Trusted friend
Early this year, Khan left JD(U) with Jitan Ram Manjhi
Now, BJP workers are campaigning for him in Sursand
What about his "terror links"? It was just politics, they say
On 29 October, the BJP issued a vicious ad in every major Hindi newspaper in Bihar, accusing Nitish Kumar and Lalu Prasad of "shielding terrorists".
It alleged that districts like Darbhanga, Purnea, Saharsa and Madhubani have become "breeding grounds" for terror outfits because of Nitish and Lalu's "favours" to terrorists.
BJP president Amit Shah went a step further, saying if the Grand Alliance wins the election, "fire crackers will be burst in Pakistan".
The problem with the BJP is that it doesn't take its own words seriously. Even the most serious charges and the most earnest promises can later be dismissed as a jumla.
Meet Shahid Ali Khan, a victim of the BJP's jumla terror charges. Nitish's former minister for minority welfare was accused by the BJP of having links with terrorists. Today, he is an ally of the party.
My name is Khan and I'm not a terrorist
In February 2014, the Sashastra Seema Bal wrote to the Bihar police's Special Task Force that it suspected Khan to have links with the Indian Mujahideen and Pakistan's ISI.
The BJP, which had left Nitish's coalition government in 2013, pounced on the opportunity and launched a campaign against Khan, calling him a terrorist.
The STF investigated the allegation and gave Khan a clean chit. But that didn't stop the BJP from calling for the ouster of the "terrorist minister".
The BJP, in fact, raised such a hue and cry that a helpless Khan had to invoke Shah Rukh Khan's punchline from My Name is Khan. "My name is Shahid Ali Khan and I am not a terrorist." The line became famous across Bihar.
Khan added, for good measure, "If I am found guilty then I deserve the strictest punishment. But if I'm not found guilty, then the people hurling such accusations should be punished."
From terrorist to Modi bhakt
Predictably, neither was punished.
Today, Khan is seeking votes in the name of Narendra Modi as the NDA candidate from Sursand in Sitamarhi district. And the BJP workers are toiling to ensure his victory.
Obviously, his alleged terror links are no longer spoken about.
He is contesting on the ticket of Jitan Ram Manjhi's HAM (Secular). One of the prominent Muslim faces in the Nitish government, Khan left the JD(U) with Manjhi earlier this year.
Many of his supporters in Sursand believe that the "secular" in the party's name is because of Khan.
It was just politics. People say all kinds of things about their opponents: Shahid Ali's brother
Sursand is located next to the border with Nepal. Muslims are estimated to be about 30% of the constituency's population.
The BJP workers here believe that Khan is a changed man who has shed his "bad company" to come into Modi's fold.
Embarrassing the ally
Catch spoke with Khan's brother Dr Sajid Ali Khan, who is supervising his campaign in Sursand.
"It was deeply upsetting that such allegations were made. Their sole aim was to tarnish my brother's reputation," he said, recalling the BJP's campaign against Khan
"But then that is politics. People say all kinds of things about their opponents," he added.
However, he does feel that once Khan was given a clean chit, those who accused him of having terrorist links should have taken their words back.
Shahid Ali Khan left JD(U) with Jitan Ram Manjhi. And he, supporters say, suffixed 'secular' to HAM
Now that Khan is dependent on the BJP for his victory, the blame has conveniently been shifted to the SSB. "The input came from the SSB. They too must answer," the brother said.
When we showed Sajid Ali Khan the newspaper ad issued by the BJP, he shook his head in disapproval.
"This is wrong. I condemn this. It is clear that when they mention terrorists repeatedly, their main target is the Muslim community. This becomes very embarrassing for Muslims like us," he said.
Is patriotism subject to your politics?
But the BJP workers in Sursand feel no such embarrassment in campaigning for a man their party had accused of having terrorist links.
"Why should the party apologise? They said it in a different context," said Vishal Tiwari, a BJP worker from Sitamarhi, who is working day and night to ensure Khan's victory.
"It was just politics. Nothing else," he added.
"Just politics" is the new jumla, it seems.
Of course, the contradictions in the alliance haven't been lost on the people in Sursand.
"First you call him a terrorist, then you align with him. Is someone's patriotism subject to his political allegiances?" asked Ismail, a resident.
Mohammad Alamgir, an RJD worker, said this has always been the BJP's modus operandi. "The BJP called Sabir Ali an agent of Dawood Ibrahim and now he is with them. They accused Shahid Ali Khan of being an ISI agent and now they are campaigning for him," he said.