Media Culpa: Rajat Sharma backs Arun Jaitley, stakes credibility of India TV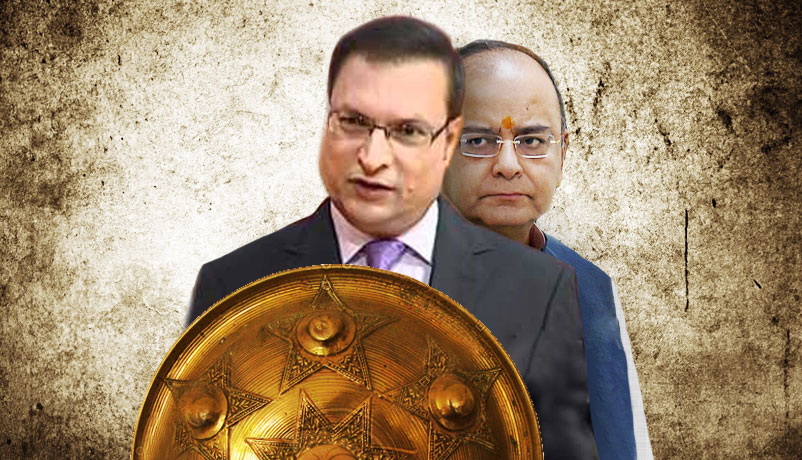 The issue
India TV boss Rajat Sharma vouched for Arun Jaitley in court
The two have been friends for decades
The problem
Sharma played the part of a good friend. But what about being a good editor?
His action may now affect the way viewers look at India TV
More in the story
Have journalists shown political bias in the past?
How should the relation between media and power be?
What should be the relation between journalists and politicians? The long-standing question is back in currency after India TV Editor-in-Chief Rajat Sharma backed Arun Jaitley's honesty and integrity through an affidavit in a court of law hearing the finance minister's defamation suit against Arvind Kejriwal.
Should journalists have such deep ties with politicians? Does it befit journalistic ethics?
Before we discuss this question in detail, it is important to know the relationship between Jaitley and Sharma. They are old friends. Sharma was a senior office bearer of the Akhil Bharatiya Vidyarthi Parishad (ABVP) when Jaitley was the President of the Delhi University Students' Union in 1974-75.
Read: The miracle that is the DDCA. Or why Kejriwal is going after Jaitley
Jaitley was jailed during Emergency while Sharma went underground. It is perhaps this old camaraderie that has prompted Sharma to overlook journalistic propriety and come out in support of the minister.
New things are happening now in Indian politics. Never before did a central minister take his political battle against a chief minister to the court. Most politicians move ahead, refuting the allegations by Opposition leaders.
A journalist pitching in for the honesty of a politician was also unheard off in this country. The practice is fraught with danger since leaders face corruption allegations every other day.
At a personal level, Rajat Sharma has rightly shown gumption to chose friendship over professional obligations in this case. But does this action conform to journalistic traditions? Sharma heads one of the leading Hindi News channels of India. He has staked the credibility of his channel, sacrificing objectivity for personal relations. This move is bound to influence the opinion of the viewers towards India TV.
In the past
However, this is not the first incident of its kind. Many Indian journalists have shown political leanings in the past. Former Jansatta Editor Prabhash Joshi is one such example. He was sympathetic towards the Bharatiya Janata Party until the Babri Mosque demolition, after which he turned into a vocal critic of the party.
Joshi summoned his entire staff to clarify his line, but gave them the freedom to disagree and told them to continue working as usual. He had the rectitude to declare his ideological moorings. However, it may not always work on the ground.
Ex-Jansatta editor Prabhas Joshi opposed BJP after Babri demolition. But told his journalists to stay independent
If the editor-in-chief stands against an ideology, it is hard for subordinate journalists to differ. They are bound to follow suit for practical reasons.
The same principle applies in the case of Sharma. The neutrality of his channel will now be under scanner and viewers may evaluate its editorial line through the prism of Sharma's relation with Jaitley.
According to the autobiography of K Ramarao, the founding editor of National Herald, Prime Minister Jawaharlal Nehru penned the reports of his own visits on several occasions.
If you ask me anything related to journalistic ethic, I'd ask you to decide according to your conscience. But if you seek my opinion, I'd say journalists should refrain from cosying up to politicians. Otherwise, journalism may become a tool in the hands of the political class.
Journalism has the power to show politicians the right path. It should be ahead of the politics of the day. Journalists should be particularly cautious while dealing with politicians in power. It is our duty to criticise the ruling establishment.
Indian journalism has a distinct form. The 200-250-year-old history is witness to the fact that profound political ideas have inspired our journalism. It has continuously took on the ruling class, raised questions and stood up to it whenever need be. This is what distinguished Indian journalism.
As told to Atul Chaurasia
More in Catch:
DDCA corruption: Sehwag, Gambhir bat for Arun Jaitley on Twitter
Some words deserve death. Here are 13
R.I.P #MuftiSayeed. What will the transfer to Mehbooba mean for J&K
BRICS economies are in a rut. Is it time for India to go it alone?