MCD polls: BJP wave, Congress revival stop AAP at 46 seats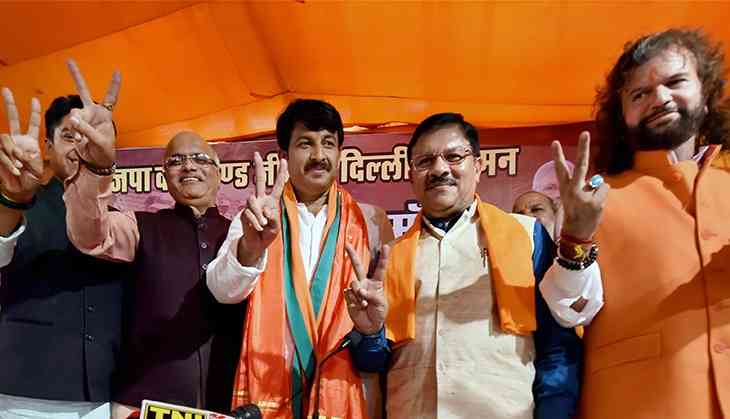 The Bharatiya Janata Party (BJP) romped home to a massive victory in elections to Delhi's three municipal bodies on Wednesday. The party did not just comfortably cross the half-way mark in all three councils, it improved upon its previous tally, picking up 182 seats out of the total 272. It had won 138 in 2012.
Congress managed a mere 30 seats, down from last time's 77. AAP made a 47-seat debut in the councils, but the fact that it did not win majority is being construed as a referendum on its performance in government.
BJP's new faces win, but vote share dips
BJP's win is accentuated by the fact that the party had not made any of its sitting councillors contest again and had fielded only fresh faces. Thanking voters in the national capital, BJP chief Amit Shah said this mandate was their rejection of the politics of excuses and accusations.
दिल्ली की जनता ने बहानों एवं आरोपों की राजनीति को नकार कर प्रधानमंत्री मोदी जी के नेतृत्व वाली विकासशील राजनीति में विश्वास व्यक्त किया है।

— Amit Shah (@AmitShah) April 26, 2017
BJP won 38.05% vote share in the North Delhi Municipal Corporation, 38.26% in the South and 43.65 in the East. There has been a dip in the party's vote share from 2012, when the party had won 40.58% in the North, 33.84% in the South and 35.02% in the East. But this is only to be expected as 2012 was a largely two-cornered contest.
Congress unsatisfied, leaders quit
Congress too registered a significant decline in vote share as compared to its performance in 2012. It could manage only 21.06% in the North, 20.83% in the South and 21.13% in the East, as against 31.96%, 29.19% and 30.34% in 2012. Delhi Congress chief Ajay Maken resigned following the verdict, saying the party has shown a revival as compared to 2015 assembly polls but it was expecting a better performance.
We have made a reasonable comeback, but I had hoped to do better in #DelhiMcdElection2017 : Ajay Maken, Congress pic.twitter.com/wsskXjEfor

— ANI (@ANI_news) April 26, 2017
The party's in-charge for Delh,i PC Chacko, too offered to resign from his position.
Both of us(Me&Maken) in a way failed in our responsibility,party should have opportunity to put things in order&improve situation: PC Chacko pic.twitter.com/2qIkBoTlDB

— ANI (@ANI_news) April 26, 2017
AAP claims EVM-tampering, again
This was a high-stakes battle for AAP as the party went into the polls straight after its disappointing run in the latest round of Assembly polls in Goa and Punjab. Being in power in the state, it was expected to bag a majority or at least emerge as single largest party. However, the Delhi voter stuck to his preference of BJP for the civic polls, continuing a decade-old trend that prevailed even when Congress was in power at state level and at the Centre.
AAP bagged vote shares of 27.25% in the North, 25.01% in the South and 22.32% in the East. The party responded to the failure in meeting expectations of a victory by claiming EVM-tampering, once again.
बीजेपी ने 2009 का चुनाव हारने के बाद 5 साल ईवीएम पर रिसर्च कर महारत हासिल की और आज उसी रिसर्च और महारत के दम पर चुनाव जीत रही है।1/3

— Manish Sisodia (@msisodia) April 26, 2017
ईवीएम टेम्परिंग देश के लोकतंत्र की ऐसी कड़वी सच्चाई है जिसका शुरू में मज़ाक उड़ सकता है। लेकिन मज़ाक के डर से हम सच बोलना नहीं छोड़ सकते।3/3

— Manish Sisodia (@msisodia) April 26, 2017
It was only late in the afternoon that Delhi Chief Minister Arvind Kejriwal congratulated the BJP.
I congratulate BJP on their victory in all 3 MCDs. My govt looks forward to working wid MCDs for the betterment of Delhi

— Arvind Kejriwal (@ArvindKejriwal) April 26, 2017
Comparison with 2015
The entire picture looks very different if you compare it with the performance of all 3 parties in the Assembly polls of 2015, which were swept by AAP. Its vote share then was 54.3%, which appears to have dipped to around 27%. BJP can be said to have moved up from 32.2% in 2015 to around 38%. Congress emerged as the biggest gainer from this perspective, climbing up to about 22% from a mere 9.7% in 2015.
Many have used this comparison to present it as the evidence of Congress's revival in Delhi.
Congratulations to @BJP4India on MCD win, & congrats also to @INCIndia for vast improvement from 9.6% in 2015. Revival has begun @ajaymaken

— Shashi Tharoor (@ShashiTharoor) April 26, 2017
If that indeed is the case, then it would mean that the Congress's traditional vote-bank, which had left the party overnight for AAP, appears to be switching back to the grand old party. However, these are mere assumptions at this point of time and in no way indicate which way will the same voter go if Assembly elections were to be held in the capital right now. For AAP, the elections themselves, much more than the verdict, carry a message.
The party ran a lacklustre campaign, evidently missing out on matching the BJP in rallies and advertisements. Sources say that was because of a financial crunch affecting the party, but they also say that the bigger problem was a demoralisation in the ranks. The party suffered from a volunteer-crunch too, as several candidates are said to have hired volunteers for campaigns. AAP leadership also appears to be developing a disconnect with the voters on the ground.