Manohar Parrikar's US visit: Here are 6 things to watch out for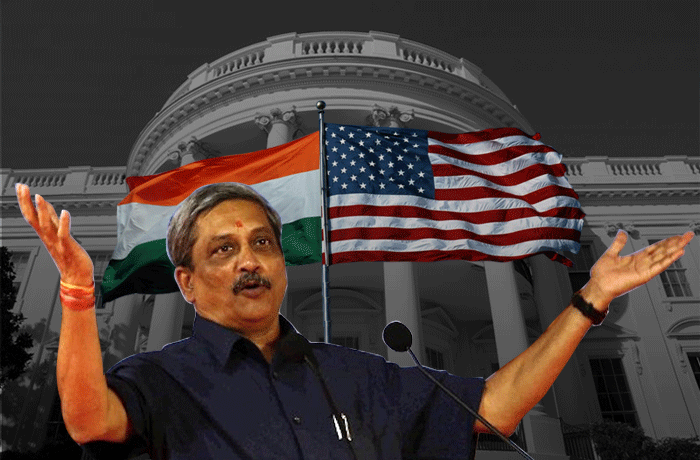 In four days, India's defence minister will begin his tour to the country's biggest arms supplier - the United States. India has already inked defence deals worth $13 billion with US since 2007.
The meeting Manohar Parrikar will hold with his counterpart Ashton Carter, and other officials will be important because, among other things, it will come right after US's decision to sell F-16s to Pakistan.
And then there are multi-billion dollar defence deals that India will be looking forward to ink with US during Parrikar's visit that begins from 4 December. Apart from seeking state-of-the-art defence machinery, Parrikar's visit will also look to bolster maritime security, counter-terrorism and intelligence-sharing between the two countries.
Catch gives you a lowdown on defence minister's visit to the US.
There are three big defence deals worth around $ 3.4 billion that have been cleared by Indian defence ministry, which are waiting to be finally signed. It may finally happen during Parrikar's visit to the US.
The first is a $700 million deal with BAE to procure 145 M777 howitzer guns. This procurement is not only important because of the firepower this will lend to the defence forces. The terms of this deal include BAE shifting its assembly integration and testing AIT facility in India.
This deal has the potential of making India the global hub for the M777 howitzer, with BAE planning to export the guns to customers in South America, Africa and Europe. This would provide the biggest fillip to Modi's Make in India campaign. The scope of this deal is expected to grow way more than the initial order of 145 artillery pieces, in time.
The other big deal which, if Parrikar is able to see through, will boost Modi's Make in India campaign is the big transport aircraft deal.
American Airbus is basically looking at tying up with Tata to produce 56 new series of transport planes for the Indian Air Force. Again, the terms of the deal need Airbus to create a production line in India. The final number of transport aircraft is expected to grow to around 64.
03
Extensions of earlier deals
Besides these two there are several other deals in the pipeline, which are extensions of earlier deals that have been concluded. There is the $1 billion worth of P 81 maritime patrol aircraft (of which Indian navy has eight aircraft already) and the $1.2 billion worth of 3 Globemasters (of which air force has procured 10 aircraft already).
04
Joint deals and exercises
India and US have also actively begun working on developing defence technology and conducting military exercises together under the bilateral Defence Technology and Trade Initiative. Parrikar, in his visit to the US, will be looking to identify more military technologies for co-development and production under this initiative.
As for now, there are plans to jointly work on developing advanced drones. And to conduct at least 50 joint military exercises each year, which includes counter-terror 'Vajra Prahar' exercises for the army, and a 'Red Flag' joint exercise with Indian air force in Alaska in 2016.
One of Parrikar's objectives in this tour will be to raise his voice against the US handing over advanced weaponry and technology to Pakistan. US's recent decision to provide advanced F-16 raptors and 15 Bell AH 1Z Viper attack helicopters to Pakistan hasn't gone down well with India.
Pakistan has also, reportedly, expanded its nuclear arsenal from 110 to 130 warheads. Pakistan foreign secretary Aizaz Ahmad Chaudhary recently said his country had developed tactical nuclear weapons to counter any Indian aggression.
The other threat India is looking to counter is China's aggressive behaviour in South China sea, for which it has found a fitting partner in the US.
While India has made all efforts to come across as neutral in the ongoing power play in the Asia Pacific, it has repeated its right to free passage, freedom of navigation, access to resources and unimpeded commerce in international waters. These objectives have also found mention in Modi-Obama summits.