Listen: Naseemuddin Siddiqui's explosive allegation against Mayawati after expulsion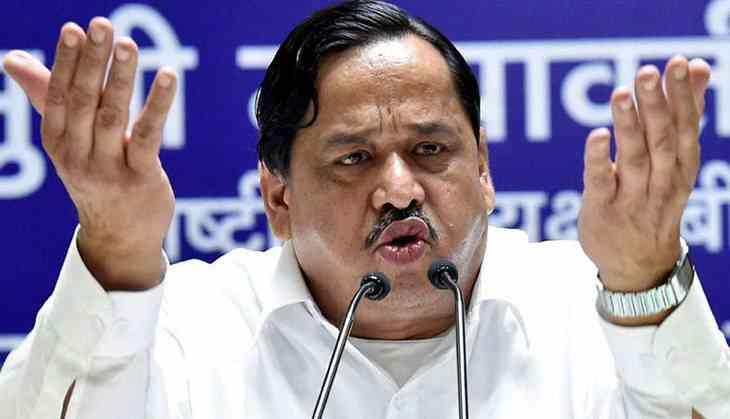 After a string of desertions by several senior Bahujan Samaj Party leaders who accused Mayawati of selling party tickets and positions for crores, it may just be the former Uttar Pradesh chief minister's most trusted lieutenant Naseemudddin Siddiqui who may orchestrate her downfall.
Siddiqui has not only charged her with asking for Rs 50 crore, but has also Managed to substantiate his point to some extent by releasing a series of conversations he had with the BSP chief.
Sidddiqui has said that Mayawati and Satish Chandra Mishra were plotting to finish the BSP so that Mayawati could go down in history as the only three-time Dalit chief minister of Uttar Pradesh.
The proof is in the pudding
Late Akhilesh Das, Swami Prasad Maurya, RK Chowdhary and national secretary Paramdev had all quit the party alleging that Mayawati's exorbitant demands for money could not be met. But none of these leaders went beyond accusations.
Not Naseemuddin. "I have around 150 audio tapes" of conversation, he says, between him and the BSP supremo, including one in which "she can be heard plotting someone's murder".
He alleged that Mayawati has a gang that kills or indulges in arson at Behenji's bidding. Naseemuddin has said that he will release the tape at an appropriate time.
The arson at former UP Congress Rita Bahuguna Joshi's residence by BSP goons in which an IPS officer was also complicit could partly validate Siddiqui's charge.
Siddiqui, who claimed that he had been cleared in the disproportionate case of 2012, said that the demand for money was made in the party's Delhi office after the elections. "When I expressed my inability to pay the amount she asked me to sell all my property to raise the money," Siddiqui said adding that he still said yes although it was very difficult to get even one-fourth of the amount due to demonetisation.
The recordings
In some of the seven purported audio tapes which Siddiqui released after playing them for the media, Mayawati can be heard pressing Siddiqui to do the "work" (raising of money) urgently. Neither refers to the amount or sale of immovable property.
Unaware that her own trusted lieutenant was recording the conversation, in one of the tapes, Mayawati purportedly can be heard cautioning Siddiqui not to talk much on phone as her phone was "being tapped".
So cautious was Mayawati about what she was saying on phone that in one tape she can be heard abruptly disconnecting the phone the moment Siddiqui reminds her of how he was once "tortured". Siddiqui himself did not give details but from the conversation it was clear that he was avoiding going to meet Mayawati alone even as she was insistent.
The only Muslim face of the BSP, Siddiqui, who was expelled on 10 May, said that Mayawati not only used derogatory language for Muslims, but at one meeting, she also spoke of Kanshiram in unflattering words for having failed to win the Punjab elections.
She was upset that Muslims did not vote for her party in the assembly elections and no amount of explaining could convince her that the Congress-Samajwadi Party alliance had led to a split of the community's vote. Out of anger, she insulted the community and blamed Siddiqui for failing to mobilise the voters.
On the charge that he had taken money from people on the promise of doing their work and that he owned two illegal abattoirs in western UP, Siddiqui challenged Satish Chandra Mishra, the party's Rajya Sabha MP, to name even one of the slaughter houses or the person who gave me money.
In the purported taped conversation Mayawati is only worried about the money which some of those who had been given tickets were supposed to collect through membership drive. "I want the receipt books back," says a voice resembling Mayawati's.
The corruption charge against him was a case of pot calling kettle black. In the Taj Corridor case while "I got a clean chit from the CBI, Mayawati had to face the charges," Siddiqui claimed.
Even the party's national secretary Paramdev had said that the BSP was like a "grocery store" where money could buy anything from tickets to party posts.