LG vs Kejriwal fight enters court: 'Who authorised CM's Dharna?' asks Delhi HC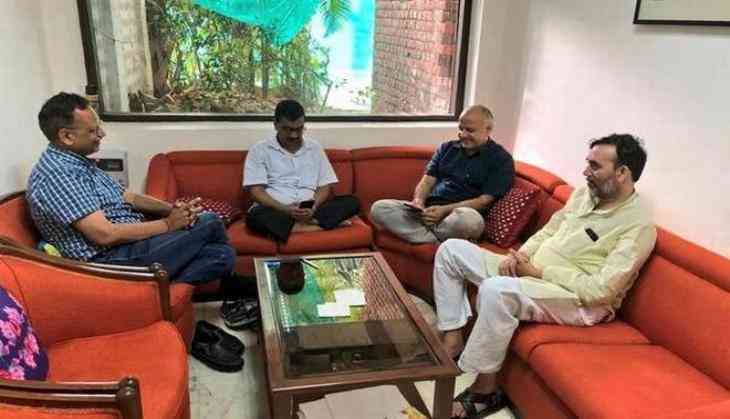 The conflict in Delhi between Lt. Governor Anil Baijal and Chief Minister Arvind Kejriwal has now reached the legal corridors with two petitions being filed before the Delhi High Court.
While one petition sought the sit-in protests by the ruling Aam Aadmi Party (AAP) to be declared un-constitutional and illegal, a counter petition wants the court to order the informal strike by IAS officers to be called off and administrative action taken against them for violating IAS rules of conduct.
On a sit-in demonstration at the Raj Niwas since 11 June, CM Kejriwal and his colleagues have been demanding that Lt. Governor directs IAS officers to end their "strike". Both health minister Satyendar Jain and Deputy Chief Minister Manish Sisodia are on hunger strike and have been hospitalised.
On the other hand, bureaucrats in the national capital are allegedly on strike to protest the "assault" on chief secretary Anshu Prakash in February at Kejriwal's residence and have "not been attending" meetings called by state ministers.
'Dharna can't be inside an office/residence'
Hearing the twin petitions, a HC bench of Justices AK Chawla and Navin Chawla questioned as to who authorised the "dharna" by Kejriwal and his Cabinet colleagues.
The bench observed that in case of a strike or demonstration, it has to be outside an office.
"You cannot hold a strike inside someone's office or residence," the court said.
Replying to the court's query, the counsel for the AAP government said that Kejriwal and the ministers were sitting on the dharna in their personal capacity and they were constitutionally empowered to do so.
He also informed the bench that the IAS officers have gone on an undeclared strike and not attending crucial meetings thereby bringing urgent public works to a grinding halt.
Pointing to an IAS officers' association admitting they have not been attending meetings called by ministers, the counsel pleaded the court to order the 'undeclared strike' be ended.
Countering the Delhi government's arguments, the Centre informed the court that IAS officers were not on strike and requested the court to direct Kejriwal and others to vacate the Lt. Governor's office.
After hearing the briefs from both the parties in the two petitions, the bench posted the matters for hearing on 22 June.
The petitions
The petition against Kejriwal's sit-in has been filed by a Delhi based advocate and has BJP MP Parvesh Singh Sahib and rebel AAP MLA Kapil Mishra among others as petitioners.
It contends that the demonstration is "un-constitutional and illegal" and has brought the government machinery to a standstill.
"Politicians are required to be upholders of the Constitution. They should not be the breakers of constitutional law. The instant circumstances are the illustration of chaotic administrative paralysis which urgently requires to be streamlined," reads the petition.
The petition seeks the court to direct Kejriwal to discharge chief ministerial obligations and responsibilities as the "entire functioning of the Chief Minister Office of Delhi has been brought to a standstill since the strike was called". It also sought framing of comprehensive guidelines to ensure legislators "do not indulge in un-constitutional acts".
In a counter petition by advocate activist Umesh Gupta, a direction to end the informal strike by the bureaucrats is sought along with strict action against the IAS officers for violating Central Civil Services (Conduct) Rules which prohibit officers from going on strike.
Citing media reports and letters by Kejriwal and Co, the petition said that over the past three-four months, the IAS officers holding key departments, have been openly refusing to attend meetings called by the ministers.
He said the strike has paralysed urgent public work and issues of preparation for prevention of monsoon-related illness, mohalla clinics, pollution, along with other public works which require urgent attention.
The petition also cites letters written by Kejriwal and his deputy Manish Sisodia to the LG in February explaining the gravity of situation asking him to intervene.
Political slug-fest
The issue has also become an 'Opposition versus BJP' battle. As many as four non-BJP Chief Ministers – West Bengal's Mamata Banerjee, Kerala's Pinarayi Vijayan, Karnataka's HD Kumaraswamy and Andhra Pradesh's N Chandrababu Naidu have extended support to AAP.
Expressing his solidarity with Kejriwal, Communist Party of India-Marxist General Secretary Sitaram Yechury, participated in a protest march by AAP.
Joining the protest rally to the Prime Minister's residence today to
express serious condemnation over the manner in which federalism, a
fundamental feature of our Constitution, is being undermined by this BJP Central government. (1/n)

— Sitaram Yechury (@SitaramYechury) June 17, 2018
Using office of Governors and LGs, BJP seeks to destabilise non-BJP democratically elected state govts. This is happening with democratically elected govts
in Delhi & Puducherry. Governor's office was used to try & hijack people's mandate in Karnataka, but this was thwarted (2/n)

— Sitaram Yechury (@SitaramYechury) June 17, 2018
The four chief ministers led by Mamata Banerjee sought Prime Minister Narendra Modi's intervention to resolve the issue.
"Work has been disrupted for four months; there can be nothing more unfortunate than this. Lt. Governor is the appointed leader, if not he then to whom will one to go to seek time and talk? This is a democracy and that is how a democracy functions," said Banerjee.
While the BJP too since 15 June has launched a counter-protest against Kejriwal over his dharna, BJP rebel Shatrugan Sinha and ally Shiv Sena have come out in support of AAP.
The type of movement Arvind Kejriwal has started is a unique one. Uddhav Thackeray had a conversation with him & said that Kejriwal has the right to work for Delhi because they are the elected govt. Whatever is happening to them, it's not good for democracy:Sanjay Raut, Shiv Sena pic.twitter.com/HicE0nSDI5

— ANI (@ANI) June 18, 2018
Our dear friend, dynamic & most talked about Chief Minister of Delhi @ArvindKejriwal has certainly shown statesmanship & has appealed the officers to get back to work. He has moved two steps. Hope the so called strike of the bureaucrats ends now. Jai Hind!

— Shatrughan Sinha (@ShatruganSinha) June 18, 2018
AAP has also received the support of other Opposition parties like Dravida Munnetra Kazhagam, Samajwadi Party and Rashtriya Janata Dal, in addition to independent politicians Jignesh Mevani, Kamal Haasan and Hardik Patel.