Why Sushma Swaraj's self-defence doesn't wash with Congress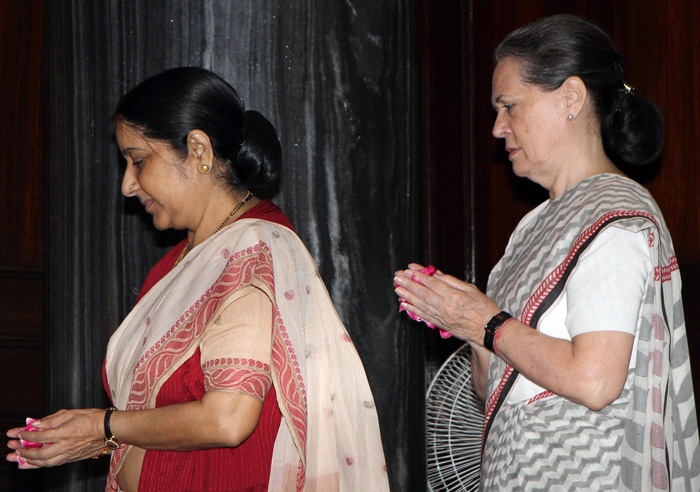 The attack
The Congress wants Sushma Swaraj to quit over the Lalit Modi row
The party has deadlocked parliament, refused to let Swaraj speak
With the opposition boycotting, Swaraj spoke in Lok Sabha
The defence
She didn\'t do anything wrong by helping Lalit Modi
She did it on humanitarian grounds to help his sick wife
The breach
Why didn\'t her ministry appeal the SC order lifting ban on Modi\'s passport?
Why didn\'t she consult PM, Arun Jaitley before approaching the British?
Why didn\'t she reveal before what she told the Lok Sabha on 6 August?
When she was caught in the swirl of the Lalit Modi saga, Sushma Swaraj decided to brazen it out. The strategy isn't working.
The Congress, as ever, is demanding the foreign minister's head, along with those of Chief Ministers Vasundhara Raje of Rajasthan and Shivraj Singh Chouhan of Madhya Pradesh.
The party has, in fact, deadlocked the parliament's monsoon session to press its demands. The government tried to bully it into submission by suspending 25 MPs, but the move backfired. It only emboldened the Congress and united other opposition parties behind it.
On 6 August, the BJP tried to go about its business in the Lok Sabha as if nothing was amiss. The House convened on time and Swaraj got up to make a statement.
There were no Congress MPs to object and shout her down - they were outside protesting, for the third straight day - so she said her piece.
On thin ground
She began by bemoaning that her stars were not aligned at the moment and "that is why people who are always humble towards me are behaving like this". "Mujhe vishwas hai ki yeh grah talega aur sadbhaav vaapas lautega (But I know even this will pass)," she said.
Then came the inevitable self-defence. She had never recommended or requested British travel documents for Lalit Modi, she said, and challenged anyone to produce a mail, letter or chit to prove otherwise.
@SushmaSwaraj says her stars aren't aligned at the moment and that is why people are criticising her
She had only conveyed to the British high commissioner that his "government should examine the request of Lalit Modi as per British rules and regulations".
"If the British government chooses to give travel documents to Lalit Modi, that will not spoil our bilateral relations."
And all this was done on purely humanitarian grounds, she added. To support her claim, Swaraj referred to a bunch of documents in Parliament.
One of the documents is a letter issued on 14 July, 2014 by Champalimaud Foundation, Lisbon, and signed by Professor Carlo Greco, Director of Clinical Research.
"I further confirm that since November 2012 I have been involved in the care and treatment of Mr Lalit Modi's wife, Mrs Minal Lalit Modi," the letter reads. "We will continue to deliver further treatments as deemed necessary, pending consent from the patient and immediate family members."
"There is evidence of disease which is potentially life threatening," it continues. "A therapeutic procedure has been already scheduled for 4 August... The presence of Mrs Modi and her husband will be required before this date."
Another letter from Prof Greco dated 13 June, 2015 certifies that "Mrs Minalini is under the institution's care and treatment".
Swaraj also produced a news report which quoted the British home department as saying that the question of issuing travel documents to Modi "was determined in accordance with the appropriate rules".
Why didn't @SushmaSwaraj reveal in the past 2 months what she told the Lok Sabha on 6 August?
"I helped a woman, a wife who is also a citizen of India and there is no allegation against her," Swaraj said in her brief statement.
"Meri jagah aap hoti ya Sonia Gandhi hoti to kya karti (If you or Sonia Gandhi had been in my place, what would you have done)?" she asked, addressing Speaker Sumitra Mahajan.
"If this help is a crime," Swaraj continued, "I accept it and I am ready to accept whatever the parliament decides about it."
Hard questions
As self-defences by politicians go, that didn't rate badly. But it wasn't what Swaraj said that was significant for the Congress and the Opposition, but what she didn't say.
The Congress has raised several questions that remain unanswered:
Modi's first request for travel papers was rejected by the British authorities on 3 July, 2014. But the decision was later reversed. Why? Was it due to Swaraj's intervention?
On 16 June, 2015, Finance Minister Arun Jaitley said Modi was wanted by the Directorate of Revenue Intelligence and would be arrested if he returned to India.
Jaitley also said the Enforcement Directorate had filed 16 cases against Modi, in 15 of which, notices and proceedings have been initiated. The cases are related to laundering of black money and other crimes involving over Rs 2,500 crore.
So, why did Swaraj help a man wanted by the law to get travel documents instead of asking the British to repatriate him? Why didn't she consult the finance ministry, ED, DRI or even her own ministry before weighing in for Modi?
Why didn't her ministry appeal against the Supreme Court's 27 August 2014 judgment against the confiscation of Modi's passport?
Why didn't she consult even the prime minister before approaching the British high commissioner on Lalit Modi's behalf?
Lastly, why didn't she reveal in the past 50 days since the row began what she told the Lok Sabha on 6 August?
Following her statement, Congress spokesperson Anand Sharma said Swaraj had again misled the nation "shamelessly and unabashedly".
"By her own admission contained in her tweets dated 14 June, 2015, Sushma Swaraj admitted that she enabled the British government to give Lalit Modi travel documents," he said.