Lal Singh's mega rally: Long political shadow of Kathua rape and murder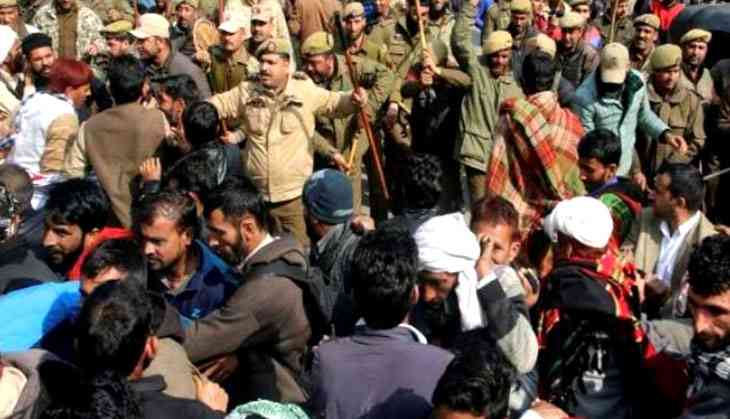 Just when we expected the campaign for Central Bureau of India (CBI) probe into the Kathua rape and murder to fizzle out after the Supreme Court ruled it out, the demand for it has only gotten stronger in Jammu. Ousted Bharatiya Janata Party (BJP) minister Lal Singh's continuing public rallies in support for it have seen crowd growing. The latest rally on Sunday drew an estimated 25,000 people.
The rally christened 'Dogra Swabhiman Rally' (rally for Dogra self-esteem) started at Lakhanpur, bordering Punjab and went to Londi Morh Kootah. A large number of protesters, including Singh walked the 36-kilometre stretch. Others accompanied on buses, cars and bikes.
In his address to a charged-up crowd Singh made a case for a CBI probe by framing argument in terms of quest for the justice for the eight-year-old victim, calling her "a daughter of Dogras". At the same time he played to the local sentiment and made the issue a larger battle for restoring the "dignity and honour" of Dogras.
"This rally is an answer to all those who labelled the Dogras of Jammu as pro-rapist, hate-mongers and communal people with bigoted mindset and accused us of creating hurdles in delivering justice," Singh said and the crowd nodded in approval. "Dogras are facing the worst-ever onslaught on their dignity and honour. We have to launch a decisive battle," he added.
The campaign has come a long way since Singh launched it soon after resigning as the state forest minister last month. He and former industries and commerce minister Chander Prakash Ganga were ousted from the Cabinet for participating in a rally of the Hindu Ekta Manch in support of the accused.
Now it is less about the CBI probe and more about reconfiguring the political landscape in Jammu in the run-up to the next year's General Election, to be followed by state Assembly polls in 2020.
What has also changed is its bitterly polarising nature. Singh has tried to avert it by recruiting some Jammu Muslims and pitting them against Kashmiri Muslims.
"Gone are the days when the Kashmir-centric parties could gag our voice through oppressive means. Now Dogras have decided to fight," 59-year-old Singh said. "We don't want any lessons on secularism and brotherhood from Kashmir-centric parties, which lack guts to speak against fundamentalists. Since times immemorial Dogras have accommodated people of all religion and regions."
There were slogans against Kashmiri parties. Singh's brother Rajinder even called Chief Minister Mehbooba Mufti a "dog".
What was not lost on political observers is that Singh could draw massive crowds in Kathua and Sambha districts. This has worried the BJP, which is looking to improve upon its electoral tally in Jammu. The party won 25 of the 37 seats in the province.
BJP leaders from the area – Assembly Speaker Nirmal Singh and newly inducted ministers Rajiv Jasrotia and Devendra Kumar Manyal – are fast losing confidence of their voters.
Tempers run so high that earlier this month protesters stoned the cavalcade of another BJP minister Sham Lal Choudhary's on the Jammu-Pathankot highway. The disaffection could only further spread in the province, with a growing number of thepeople certain about the false implication of the accused by a Crime Branch team which though headed by a Hindu has Muslim investigators as its members. And should the campaign crystallise into an anti-BJP mood and rebel Singh succeed in harvesting it for his personal political glory, it could signal deeper trouble for the BJP.
In the rest of the country outrage against the rape and murder was more or less uniform. So, the BJP didn't feel the need to acquiesce in to the demand for a CBI probe. In Jammu, it still has time to conrol the situation. Besides, Singh remains a BJP leader and will be a challenge only once he quits.
The party has adopted the line that while it is not against the CBI probe, it can do little after the Supreme Court ruled it out.
But the danger inherent in Singh's campaign, despite his belated secularisation bid, is its possible communal turn – if not against Jammu Muslims then certainly against their Kashmiri counterparts. And should that happen, its political fallout will not remain limited to the state.