Key contest: Baby gives sleepless nights to Dalit veterans in Bochaha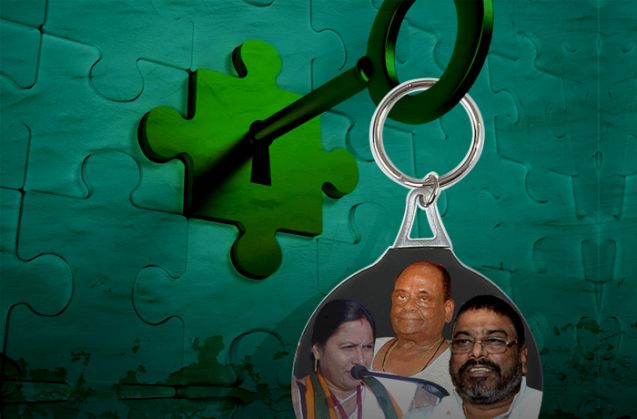 The leader
As per the NDA\'s seat-sharing arrangement, the LJP got Muzaffarpur\'s Bochaha constituency
BJP\'s Baby Kumari joined the LJP and was named the party\'s candidate
The betrayal
In order to quell a revolt by his son-in-law Anil Sadhu, Paswan withdrew Baby and gave him a ticket
Baby is now contesting as an independent, taking on the Paswans and JD(U) minister Ramai Ram
More in the story
Why Baby is giving the heavyweight leaders sleepless nights
Which party is backing her implicitly
At first, it seems there's a DJ party going on in Bochaha's main market. Loudspeakers are blaring Yo Yo Honey Singh's song "Baby" on full blast. The song, which is the title track of the Akshay Kumar-starrer movie Baby, has come in handy for an independent candidate from Bochaha, Baby Kumari.
In this reserved constituency in the Muzaffarpur district, Baby is giving sleepless nights to two veteran Dalit leaders: Lok Janshakti Party supremo Ram Vilas Paswan, whose son-in-law is contesting from the seat, and eight-time MLA Ramai Ram of the Janata Dal (United).
Her campaign squarely targets the two leaders. But her prime target is Paswan.
Paswan's mistake
Baby was earlier with the BJP, and she had been working hard in the constituency for the past few years. But in the NDA's seat-sharing arrangement, Bochaha fell into the LJP's lap.
Luckily for Baby, the LJP decided to field her from the seat.
In the meantime, Paswan and his son-in-law, Anil Kumar Sadhu, fell out after the latter was denied a ticket. He formed the Dalit Sena and threatened to put up candidates against the NDA across the state.
Fearing a split the the Dalit vote, Paswan wooed him back, and as a consolation, decided to field Sadhu from Bochaha, withdrawing Baby's candidature.
Paswan believed it wouldn't make much of a difference, since Baby had only recently joined the LJP.
This has misfired.
Baby Kumari was the LJP candidate, till she was dropped in favour of Paswan's son-in-law Anil Sadhu
Baby has made it an emotive issue. Her supporters are playing recorded messages saying: "An injustice has been done to Baby Kumari. She was given a ticket, and then it was snatched away from her."
Tough battle for "outsider" Sadhu
What has made matters worse for Paswan and his son-in-law is that Baby happens to be a Mahadalit. She is making it a point to assert how Paswan insulted a Mahadalit to benefit his son-in-law. Paswans are considered an elite sub-caste among Dalits.
The "outsider" tag is also working against Sadhu. "He hails from Khagaria. Why should I vote for someone who has been imported? He will come third or fourth," says Jagannath Sah, a paan-vendor.
Making matters worse for Sadhu, many of the BJP workers and supporters are rallying behind Baby.
"We are all with Baby. She will definitely win the seat, defeating both Sadhu and Ramai Ram. There are winds of change across Bihar and Baby represents this in Bochaha," says Jeetendra Sahni, who is working on her campaign.
Interestingly, most of Baby's supporters are backing the NDA in rest of the state. "On 8 November, an NDA government will be formed in Bihar. We are sure of it," Sahni says.
Aware that his son-in-law is on a sticky wicket, Paswan is sparing no effort. The senior leader addressed a rally at Sarfuddinpur in the constituency on 29 October. He was accompanied by BJP leader and Union minister Giriraj Singh, who warned BJP workers against working for the rebel candidate.
Singh's presence was also Paswan's way of preventing upper-caste votes from drifting towards Baby.
The Dalit feudal lord
The direct beneficiary of this split is JD(U) candidate Ramai Ram.
"Baby was giving Ramai Ram a tough fight. They (Paswan and the LJP leadership) felt that the seat is now winnable, so they gave it to Sadhu," Sahni says.
Ram has been undefeated from Bochaha since 1980. The minister for transport and SC/ST welfare in Nitish Kumar's government, Ramai Ram has been one of the most prominent Dalit faces of the JD(U). Even though he has had his differences with Nitish in the past, he remained with the party.
There is a significant deal of resentment against the veteran in Bochaha. What has irked people most is Ram's imperious way of dealing with people. Many people complain that despite being a Dalit leader, Ram behaves more like a feudal lord.
"When we go to him to get some work done, he shoos us away," says Surendra Kumar.
Baby's campaign has used this against Ram. "Why has no progress taken place in Bochaha? What did you do for Bochaha when you were minister for all these years? Ramai Ram must answer," says a recorded announcement played out across the constituency on loudspeakers.
Besides a split in the NDA votes, Ram is backing on the solid support of the Yadavs and Muslims, as a result of the alliance with the RJD. The main contest is for the Dalit and EBC votes.
But the key question remains: can Baby put one over the two veterans?