Kejriwal's apology: Why it's a smart move for AAP to turn a new leaf with maafinamas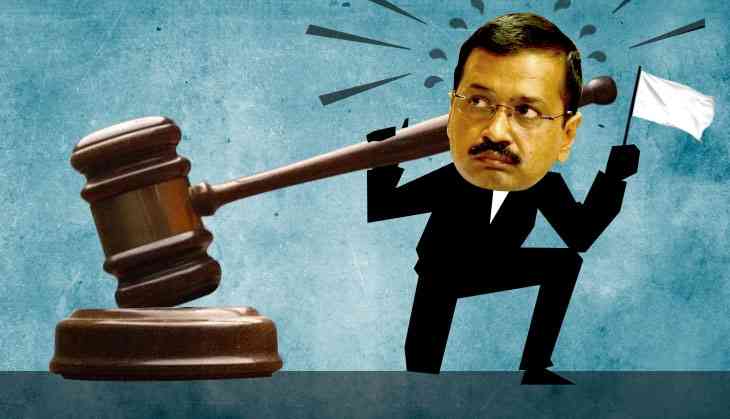 AAP convenor Arvind Kejriwal's sudden decision to apologise to Shiromani Akali Dal leader Bikram Singh Majithia may not have found support with the party's Punjab leadership, but the move suggests a sound strategy.
Kejriwal sent a letter of apology to Majithia on 15 March, withdrawing all allegations of the latter's involvement in the drug trade in Punjab.
CM @ArvindKejriwal has tendered an apology to me in the court,for all the baseless&false allegations he & his party levelled against me in drug https://t.co/Fl679yeKHW mother suffered the most due to all this&this apology is vindication of her faith in Waheguru's power of justice pic.twitter.com/YXs3f710eu

— Bikram Majithia (@bsmajithia) March 15, 2018
AAP leaders said the move was aimed at saving precious time and limited resources that were being spent in dealing with the multiple legal cases in courts across the country.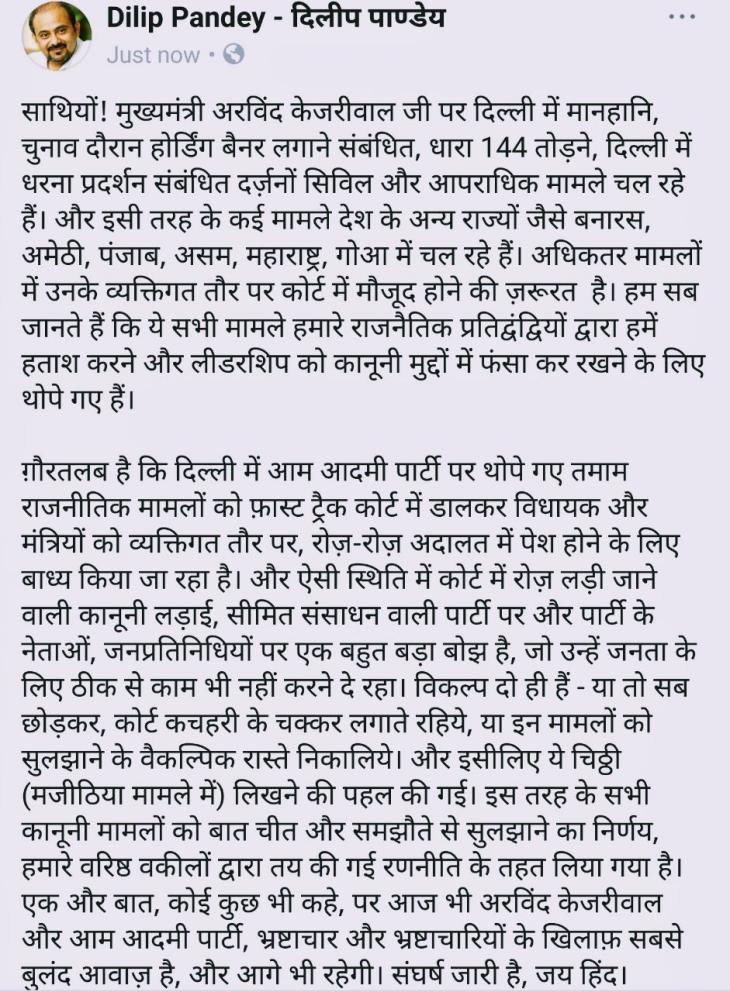 Dilip Pandey's Facebook post
Kejriwal's tryst with defamation
Kejriwal was just an activist when he caught the nation's fancy for his ability to point out wrong-doers without any inhibitions. He carried that approach into politics and launched attacks on politicians, political parties, bureaucrats and industrialists.
This became his USP and possibly the biggest factor behind his quick transformation from activist to chief minister. In fact, in 2012, it was his audacity to openly level corruption charges against the man who is arguably the country's wealthiest and most powerful industrialist, Mukesh Ambani, that made many sit up and take notice of Kejriwal.
In those says, he slammed Congress and BJP for corruption with equal brutality, leading many to believe that his politics will bring a break from the narrative carried forward by the mainstream parties for a long time.
With this belief, the people of Delhi sent him to power not just once but twice and with a thumping majority the second time. This was the aura that got him over 2 lakh votes in the Lok Sabha elections from Varanasi, which he eventually lost to the BJP's then prime ministerial candidate, Narendra Modi.
As AAP rose in stature, Kejriwal became a threat for the status quo and thus began the campaign to corner him and his party. Between 2013, the year AAP first came to power in Delhi, and 2016, at least 10 defamation cases were filed against Kejriwal by a host of politicians in various courts in multiple cities.
These include Majithia, Nitin Gadkari, Arun Jaitley, Pawan Khera, Ramesh Bidhuri, Amit Sibal and many others. These cases often require personal presence of the accused for hearings, besides regular maintenance of a team of lawyers. Majithia, for example, filed defamation cases against Kejriwal as well as other AAP leaders in courts in Ludhiana and Amritsar, requiring them to travel to Punjab often.
AAP is still a small party with limited funds and can hardly afford to keep filling the bottomless pit that these legal cases have become. If apologies can ensure withdrawal of these cases, this will be in the party's best interest.
A lesson for Kejriwal?
This will also be a lesson for Kejriwal to design newer strategies that will take AAP ahead in the next leg of its journey. The party is already 5 years old, in power in one state, in opposition in another and has just debuted in the Rajya Sabha as well.
The next Lok Sabha polls are just round the corner and AAP is not even figuring in the Congress party's designs to stitch up a coalition to take on the BJP. If AAP wants to become a part of the national discourse, it will have to pump up its game. Slander can not be its tool anymore. AAP will have to think of newer ways to evolve into AAP 2.0.
Having said that, Kejriwal will have to remember that apologising to get the defamation cases shut must not mean adoption of silence against his opponents in Delhi, Punjab and elsewhere.
Will AAP's image be hit?
AAP's Punjab unit is in a major fix now as it risks facing ridicule for chickening out. It is doing the right thing in protesting against Kejriwal's apology, in order to deflect allegations of diluting its stand in the fight against political patronage of the drug trade in the state.
This protest will help AAP's Punjab leadership in conveying to the local electorate that it is still committed to that fight. Further, if any evidence comes up against any political leader in the future, AAP will have to take care not to ignore it and call for judicial action with utmost sincerity.