Kejriwal in Punjab: entices youth with manifesto, crosses swords with Akalis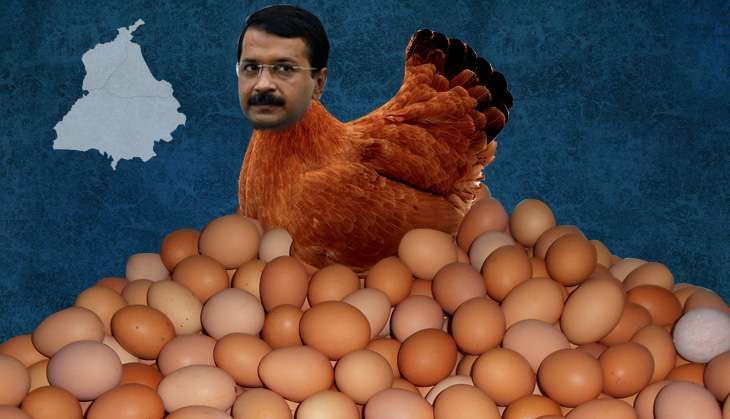 Big plans
AAP has released a 51-point youth manifesto in Punjab
The party is focusing on the disgruntled youth in the state
Promises
AAP has promised to expand employment oppurtunities to the youth
They have also promised effective drug rehabilitation for addicts
More in the story
What are the opponents saying?
AAP clashes with SAD on Quran desecration issue
Pushing Punjab's politics into top gear, Delhi Chief Minister and Aam Aadmi Party leader Arvind Kejriwal has set out to entice the youth with an elaborate programme.
His party has rolled out a 51-point youth manifesto that focuses on tackling the drug menace and generating employment in the state. AAP is depending heavily on the disgruntled youth of the state in its endeavour to emerge victorious in the forthcoming state Assembly polls.
Also Read: What's making AAP click in Punjab? It's not just anger against Badals
Kejriwal has promised that if AAP forms the government, the drugs supply chain in Punjab will be annihilated within one month's time. As per his plans, a special Drug Task Force will be created within Punjab Police to crackdown on sale and supply of drugs and high-level investigations will be launched to uncover the involvement of politicians and police officers in the drug trade. The guilty will be sent to jail and their properties will be confiscated, Kejriwal has promised.
Addressing a rally in Amritsar after releasing the youth manifesto, Kejriwal promised to send Akali minister Bikram Singh Majithia to jail within one month. Majithia and AAP leaders have been at loggerheads on the issue of drugs in the state.
While the latter has been accusing Majithia of being involved in the drug trade and has been referring to him as 'Drug Lord', the former has taken APP to court for defaming him.
AAP has also promised that the false cases including those under the NDPS Act foisted on the people by the Shiromani Akali Dal (SAD)-BJP combine will be withdrawn.
Plans on paper
The party wants to set up a round-the-clock toll-free anti-drug number where people can call in with information and reports on drug dealers to the government. This will make every person of Punjab an anti-drug vigilante and put fear in the drug supply chain.
AAP has also called for enactment of a special law providing life imprisonment till death for drug dealers while their assets are to be seized and auctioned.
With a view to facilitate post-treatment rehabilitation of drug users to prevent relapse, the party intends to give incentives to business houses and industries to encourage them to give jobs to rehabilitated drug addicts.
Similarly, AAP has promised that all rehabilitated victims will be guaranteed admissions in government educational institutions and sports academies according to their eligibility.
The youth manifesto also promises free treatment in all government de-addiction and rehabilitation centres under regulated and standardised methods with the help of trained psychiatrists.
Adding the political dimension to the issue, the AAP said that all candidates contesting local body and panchayat elections will have to compulsorily sign an affidavit declaring themselves to be drug-free.
"We will also campaign for appropriate changes in the Representation of People's Act (Central Government legislation) to make it mandatory for the Assembly and Parliamentary election candidates to also sign similar affidavits," the manifesto reads.
"Random mandatory drug tests of blood and urine samples for election candidates will be conducted at the time of filing of nominations in the presence of district commissioner or chief medical officer so that elected representatives lead by example in creating a statewide anti-addiction temperament and environment," it further states.
Banking on anti-graft message
The party intends to set up 'Modern Pendu Sehat Clinics' in every village on the lines of Mohalla Clinics in Delhi. It also wants to set up a School of Addiction Studies that would be a first in Asia and will be modelled on the lines of Hazelden Graduate School of Addiction Studies, USA.
The issue that has become its USP of sorts, AAP has promised Punjab's youth a Jan Lokpal Bill to crack down on corruption.
Kejriwal has said that his party would create 25 lakh jobs after restoring faith of the industry in the state and its government. His party wants to dismantle the 'Theka System' controlled by politicians and mafias to award contracts to the youth on merit. It also wants to set up a 'Foreign Employment Youth Board' for youth aspiring to study and work abroad.
Among other things, AAP wants to set up Kanshi Ram Youth Skill University in Doaba region that has a concentration of Dalits of Punjab. This university will also have regional campuses in the Malwa and Majha regions.
The party has conveyed to the youth that it will stop the current system of employing doctors, teachers and other professionals in government services on basic pay only.
Instead, employment will be as per grade pay and probation period will be rolled back to the earlier system of two years besides filling up the 1.25 lakh vacant government jobs.
Facing fire
AAP's youth-centric agenda has come under scathing criticism by the Congress president Captain Amarinder Singh. He said, "This is not even the old wine in new bottles, but stolen wine in stolen bottles."
Amarinder has challenged AAP to prove that its manifesto is not a carbon copy of the Congress announcements made in the recent past.
Also Read: Politics over 1984 intensifies in Punjab, AAP leads the way
"Sounds strange that they did not even make an attempt to hide their theft. The AAP has simply copy-pasted our ideas of drug-free and corruption free Punjab, besides generating employment and cancelling all the false cases, which we promised under oath at the Badlaav Rally in Bathinda on 15 December," he said.
The Akalis, for now, are harping on their 'steady' agenda attacking both the AAP and the Congress for defaming Punjab.
Deputy Chief Minister Sukhbir Badal while speaking at a programme in Delhi to mark 300th Martyrdom Day of Baba Banda Bahadur lambasted the two parties for hatching conspiracies to defame Punjab and bring disrepute to the state just to bolster their poll prospects in the upcoming 2017 Assembly Polls. Sukhbir called these parties anti-Punjab and anti-Sikh.
Chinks in the armour
Meanwhile, the politics over Punjab Police booking AAP MLA Naresh Yadav, from Mehrauli in Delhi, in the Quran desecration case in Malerkotla on 24 June last week, heated up with Kejriwal terming it a deep-rooted conspiracy to malign his party.
"From 24 June onwards the Punjab Police kept saying that the holy Quran was desecrated by the members of Vishwa Hindu Parishad (VHP) but on 2 July suddenly they began to accuse AAP of the same. It was done with an intention to scuttle my three-day visit to Punjab which was to begin from 3 July," he said while addressing the rally in Amritsar.
"There are hundreds of other ways to malign us. But that they had to tear the pages of holy Quran gives proof of their nefarious intentions." Kejriwal said.
Pointing at VHP functionary Vijay Kumar, who is a prime accused in the case, he said, "Vijay Garg is just a pawn. When AAP will form the government in Punjab we will also bring his baap (mastermind) and put him in jail for desecrating the holy Quran."
Kumar has reportedly told the police that he had committed the act at the behest of Yadav.
Meanwhile, Amarinder while advising caution and restraint, has sought an independent and credible probe into the allegations in the matter. "Since the needle of suspicion now points towards both, the Akali-BJP as well as the AAP, it is important that there be a credible probe to find out the actual truth," he said.
Meanwhile, the AAP leadership is taking up the matter with the top brass of the state police as well as the judiciary.
Edited by Jhinuk Sen
Also Read: Campaign season: how AAP is trying to win over Punjab's voters