Kejriwal apologises to Majithia: AAP crisis result of tussle between Delhi & Punjab units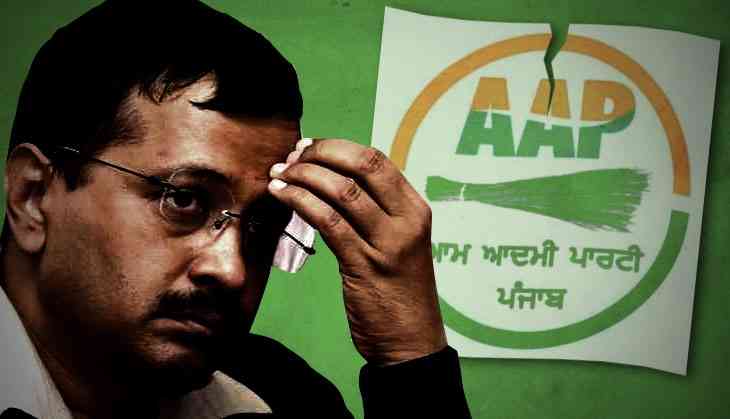 For the Aam Aadmi Party (AAP), the sordid tale of total distrust, lack of cohesion and confidence between its Delhi and Punjab units continues. The party that had arrived on the scene ahead of the 2014 Lok Sabha polls as an alternative to the Congress and Shiromani Akali Dal (SAD)-Bharatiya Janata Party (BJP), today stands a pale shadow of itself.
The latest episode of its national convener and Delhi Chief Minister Arvind Kejriwal tendering a written apology to Akali leader Bikram Singh Majithia for leveling drug trade allegations against him has placed the Punjab unit in a tight spot in public domain. The Punjab unit of the party and its local ally Lok Insaf Party (LIP) have condemned the move by Kejriwal saying that they were never consulted on the issue of tendering an apology on the issue. While the top leaders have tweeted their disagreement over Kejriwal's step, the state unit chief in Punjab who is also a Lok Sabha MP from Sangrur, Bhagwant Mann resigned from his post on Friday morning. The party's co-president in Punjab, Sunam MLA Aman Arora, also resigned from his post.
The party MLAs along with those from the LIP held a series of meetings on Friday to chalk out their strategy. After the first meeting, Leader of Opposition in Punjab Assembly Sukhpal Singh Khaira said that Kejriwal has shown short-sightedness and signs of 'mental weakness' by surrendering before Majithia.
"We have unanimously condemned the apology. Two days back our leaders had gone for a meeting with Punjab in-charge Manish Sisodia and were not given any indication on this step. The apology is not in Punjab's interest and we will stand by the people of Punjab," he said.
Kejriwal's apology has led to a major loss of face and credibility crisis for the local leadership. What is being talked about and even Khaira mentioned in his briefing was the posters and banners that had come up in more than 13,000 villages of Punjab ahead of the Assembly polls last year where there was a picture of the local leaders asserting that Majithia was involved in drug trade and people were asked to call on the numbers of these leaders if they had any complaints to make with regards to the drug abuse.
The party unit in Punjab has indeed become a laughing stock on the social media right from the time Kejriwal's apology went public and Majithia came out saying, "It is indeed a historical moment that a sitting chief minister has submitted a written apology in court withdrawing all statements he made against me besides regretting the damage caused to my esteem as well as hurt caused to my family, friends and well wishers. In today's day and age we are bound to commit mistakes. It is human nature. Kejriwal has displayed great courage to admit his mistake and move on. I thank him for this gesture. However I want all politicians who seek votes on the basis of lies to realise what they are doing. This is not good for our society."
In Punjab the party had functioned as a two horse drawn unit right from the beginning where the horses were not running in tandem. First came the departure of senior leaders like Sumail Sidhu and Professor Manjit Singh along with that of those at the central level like Prashant Bhushan and Yogendra Yadav after the party had won four seats in 2014 Lok Sabha polls. AAP leadership even suspended two of these four MPs Dr Dharamvira Gandhi and Harinder Singh Khalsa. They remain suspended till date even as their term comes to an end in a few months.
The party got yet another jolt when the Punjab convener and party's Sikh face Succha Singh Chhotepur was shown the door following a sting operation that could not be substantiated. Chhotepur had accused leaders sent to Punjab from Delhi for conspiring against him. This was the time when the party was riding a high horse and was threatening to romp home victorious in the Assembly polls.
The Punjab leadership had started raising its head accusing the central leadership of not consulting them on major issues including ticket distribution and not showing confidence in them. "Do they think that Punjabis cannot run the party in their state," was a common refrain.
The local cadres and leaders were never told about the party's chief ministerial candidate. The bickering between the state and central units also prevented the arrival of cricketer turned BJP politician Navjot Singh Sidhu into the party
The allegations of money changing hands in ticket distribution, lack of trust and frequent rebellions along with a section of leadership hobnobbing with hardline Sikh elements at the local level proved to be the nemesis of AAP in the polls.
But the slide since then has not stopped. Soon after the Punjab elections, AAP's Punjab convenor Gurpreet "Ghuggi" Warraich quit the party.
Changes in the top leadership at the state level and party in-charge have failed to stem the fall. For those who have quit the party in the process, Kejriwal's apology is nothing short of 'political suicide'.
Meanwhile as the Akalis and Majithia bask in glory, the Congress leadership has once again found an opportunity to take potshots at AAP. Congress president Sunil Jakhar has come out saying that Kejriwal owes an apology to people of Punjab for not only misleading them but also cheating them.
"Instead of tendering an apology to Bikram Majithia, you should have apologised to people of Punjab for consistently and continuously lying to them," he said while pointing that Kejriwal's apology to Majithia only establishes that AAP and SAD had a secret understanding to divide the anti-incumbency votes against the Akalis.
"Their political posturing of criticising each other was only aimed at hoodwinking the people and dividing the anti-incumbency vote to benefit Akalis," he added.