Karnataka resonates in Goa, Bihar, Manipur. Why it matters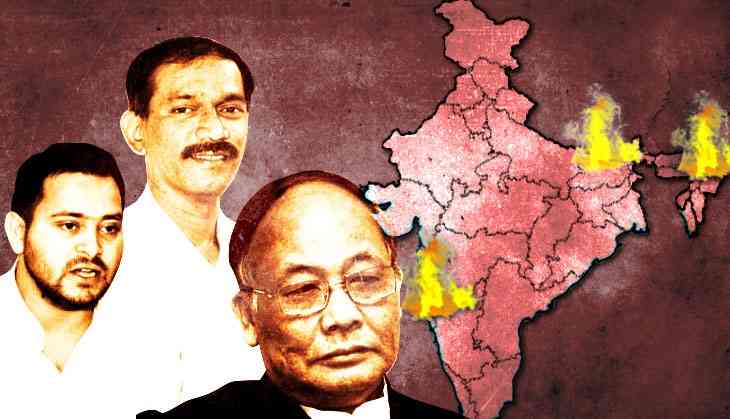 (Arya Sharma / Catch News)
The 'difference' of the 'party with a difference' now threatens to spoil its party. Ever since Narendra Modi and Amit Shah took the reins of the Bharatiya Janata Party, it has been on a roll electorally. In several states even electoral failure couldn't stop it from assuming power. But its desperation for an encore, in Karnataka, has boomeranged.
After Governor Vajubhai Vala appointed BS Yeddyurappa chief minister despite the BJP not having a majority in the legislative assembly, a large section of the political spectrum cried foul. So intense was the bitterness that demands were raised to follow the same principle and bring down BJP governments in Goa, Bihar and Manipur.
After a night-long drama, when the Supreme Court did not stay the morning swearing-in, the anger was palpable in Opposition parties. If the BJP could get a chance for being the single-largest party (SLP) in Karnataka, the Congress should also get the same chance in Goa and Manipur, the Grand Old Party claimed. Tejaswi Yadav demanded the same for Rashtriya Janata Dal in Bihar.
Their claims found considerable support from other parties. On the other hand, not even its allies came out vocally in support of the BJP.
Past imperfect
The BJP had drawn considerable flak March last year after it scooped away Goa and Manipur despite the Congress being the SLP.
In Goa, Governor Mridula Sinha accepted the BJP's claim that it enjoyed majority support though it managed to win only 13 of the 40 Assembly seats, and invited it to form the government. The Congress, on the other hand, was at 17 – closer to the majority mark of 21.
The then Defence Minister Manohar Parrikar flew back to his native state to become CM with the support of the Maharashtravadi Gomantak Party, the Goa Forward Party, the Nationalist Congress Party and Independent members.
Manipur followed the same pattern: The Congress was not invited despite having 28 members – three short of majority. And the BJP, with 21 MLAs, cobbled an alliance with the Naga People's Front, the National People's Party (NPP), the Lok Janshakti Party and a renegade Trinamool Congress MLA.
Aspersions were cast that the BJP could pull these off thanks to faithful governors and rampant horse-trading.
A few months later, last July, Bihar Chief Minister Nitish Kumar put in his papers citing differences with ally Rashtriya Janata Dal (RJD). The BJP swooped right in with its 53 MLAs to back the 71 of his Janata Dal (United). Again, the SLP – in this case RJD with 80 MLAs – didn't get a chance.
Earlier this year, the Congress again missed the bus in Meghalaya bus. In this case, however, it was tied with the NPP with 20 seats each in the 60-member House. But the later got support from the BJP and others to form the government.
These inctances came back to haunt the BJP Thursday when the Congress and the RJD raised demanded that either the principle of Karnataka should now be levied in such states or the Congress-JD(S) alliance be given a chance to prove its majority there.
Goa Pradesh Congress President Girish Chodankar sought time from the Governor to lay claim over the government there. He later tweeted that the party has got a Friday noon appointment with her.
H.E. Governor of Goa has given appointment to our CLP Leader Chandrakant Kavlekar & other MLAs at 12noon. Our party office bearers will accompany them. https://t.co/JjcMkkEB1X

— Girish Chodankar (@girishgoa) May 17, 2018
Manipur Congress leader and former CM Okram Ibobi Singh said he too would meet Governor Najma Heptulla for Friday.
Bihar Opposition Leader and former deputy CM Tejashwi Yadav also talked about meeting Governor SP Malik. He also called for Opposition leaders from across the country to go and campaign in Karnataka capital Bengaluru.
How will BJP prove majority? Amit Shah has only one formula, horse-trading or sending agencies like IT, CBI & ED behind MLAs of other parties. It's dictatorship by BJP. If we aren't united today then it was Bihar y'day, Karnataka today, can be MP, Chhattisgarh or Rajasthan tom

— Tejashwi Yadav (@yadavtejashwi) May 17, 2018
"Yesterday it was Bihar. Today it is Karnataka. Tomorrow it can be any other state. This dictatorship will continue. I earnestly appeal to all opposition parties to get united to save constitution and democracy"

— Tejashwi Yadav (@yadavtejashwi) May 17, 2018
We are not only single largest party but single largest block of pre poll alliance in Bihar.

Then why should we not be called to form government in Bihar?

Tomorrow at 1 PM will meet Bihar Governor.

— Tejashwi Yadav (@yadavtejashwi) May 17, 2018
I will meet Honourable Governor of Bihar along with MLAs as we are single largest party of Bihar.

— Tejashwi Yadav (@yadavtejashwi) May 17, 2018
United Opposition
The Congress and the RJD did not stand alone. Bahujan Samaj Party supremo came down heavily on the BJP:
It is a conspiracy to destroy the constitution made by Baba Saheb Ambedkar, since they (BJP) came to power they have been misusing govt machinery, thereby attacking democracy: #Mayawati #BSP #KarnatakaCMRace #UnconstitutionalCMYeddy #Yeddyurappa pic.twitter.com/bweIargd6h

— Bahujan Samaj Party (@BSP4Bharat) May 17, 2018
West Bengal CM and Trinamool chief Mamata Banerjee threw in her support:
I endorse the views of MayawatiJi. We must give full respect to the maker of our Constitution, Dr Babasaheb Ambedkar

— Mamata Banerjee (@MamataOfficial) May 17, 2018
Dravida Munnetra Khazagam leader MK Stalin also joined in:
All of us saw how PM Modi misused the office of Governor in Tamil Nadu. The same has been done in Karnataka. This is totally against democracy and rule of law. We condemn it: MK Stalin, DMK pic.twitter.com/FbSn1Aec3Z

— ANI (@ANI) May 17, 2018
Communist Party of India (Marxist) General Secretary Sitaram Yechury had already criticised the Karnataka move Wednesday. As did National Conference leader and former Jammu and Kashmir CM Omar Abdullah:
Modi is wilfully destroying principles and norms of democracy. Will elections be done away with next? Who needs mandates if this can be done so brazenly? #Karnataka pic.twitter.com/QbQ6YjoTzz

— Sitaram Yechury (@SitaramYechury) May 16, 2018
Once more an occupant of a Raj Bhavan allows himself to be used as a rubber stamp. BJP announces (& then deletes) the details of #Yeddyurappa swearing in slated for tomorrow before it can be officially communicated.

— Omar Abdullah (@OmarAbdullah) May 16, 2018
On the other hand, the few major allies that the BJP are left with – the People's Democratic Party, the Shiromani Akali Dal and the Lok Janshakti Party – did not come out in any major way to back the saffron party.
Realistically perhaps the Congress and the RJD do not stand much of a chance even if they get appointments with the state governors: An elected governmet can only be brought down on the floor of the House. But the grandstanding in the three states managed to generate a lot of political buzz which will only add to the BJP's pressure over the ongoing Karnataka imbroglio.