Karnataka polls: Uneven silence among voters as evenly poised Cong, BJP make last ditch efforts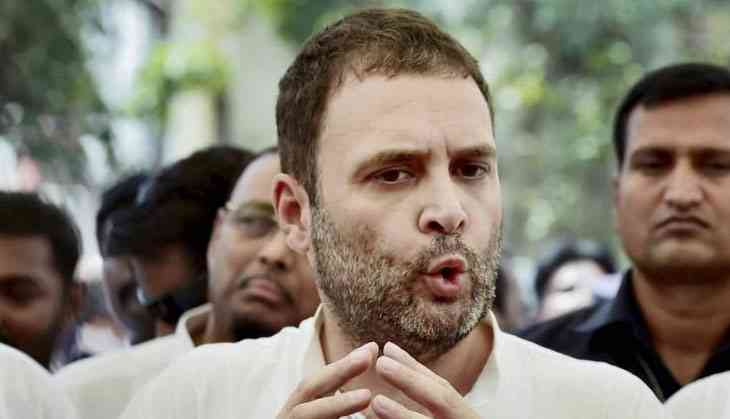 Bangalore came across unusually calm for the capital of a state going to polls in two days: citizens going on about with their day-to-day life, techies swarming into their respective 'tech parks', magnum size posters promoting this Friday's big releases, shoppers milling around ignoring the afternoon sun – none of them caring to discuss too much about which party will take hold of the state's reins for the next five years, even over the countless tumblers of filter 'kaapi' exchanging hands.
It seems a little strange, especially after the hurly-burly of elections in many other states. Take West Bengal, for example, which has been a bundle of nerves for more than a month now over a pack of Panchayat elections.
Is this indifference? It may come across as so. That perhaps kept the big parties on their toes on the last day of campaining. The presidents of both the Indian National Congress and the Bharatiya Janata Party (BJP) in fact decided to meet the press presumably to make their points one last time and to "happily" take questions. Yes, the Janata Dal (Secular) didn't look that active, but anybody writing it off at this stage will do so at own peril.
If Gujarat was a good start, Rahul Gandhi's Karnataka campaign has seen him mature. It was about time too, considering he now heads the Grand Ol' Party. Thursday saw more of that mature Gandhi who went for his bete noire from the word go and didn't lose composure even in the face of googlies from seasoned journalists.
"We have a manifesto" he said, "that Mr Veerappa Moily has made after talking to thousands of people and taking the essence of what they want. The BJP, on the other hand, did a closed-door excercise and copied half of what we said."
In effect he laid down a trap in which Amit Shah, the saffron party's national president, walked straight into later in the day when he filled his speech with promises from the BJP's manifesto – smartphones, free laptops, a 'Valmiki scheme' for the scheduled tribes (ST) or a 'Babu Jagjivan' scheme for the scheduled castes (SC), schemes for betel nut growers, coconut planters, an annual international coffee meet at Chikkamagaluru, etc.
Rahul Gandhi actually became recorrent at Amit Shah's press meet, even while physically absent, thanks to a volley of questions. Shah played most of them down, but the irritation was palpable – the show of nonchalance was coming at an effort, and at times the nonchalance was bordering on arrogance.
The emotion is not new when you talk of the man who Prime Minister Narendra Modi perhaps trusts the most. A day earlier his irritation and arrogance was in full public view at a campaign rally in Shanthinagara constituency. Over enthusistic organisers had hired a group of drummers, another troupe of dancing kettle drummers dressed in indigineous costumes plus a DJ. Needless to say, all that in a narrow lane of Jogupalya created considerable din.
"Twice he said 'DJ bandh karo' (stop the DJ) after starting his speech atop his campaign bus. When the noise didn't stop he simply stopped his speech, palmed off the mic to the candidate standing next to him and walked way to inside the bus. When someone approached him with a garland he just brushed it aside," said an eye witness.
Arrogance probably does seep in with success. And Amit Shah has been successful, at least going by his track records in elections which he has won one after the other for his party. Of late though that chariot of victory has hit a few speedbreakers – 'humps' as they call them in Namma City. Rahul Gandhi threatens to make Karnataka a big such hump, going by his recent form.
Thursday morning he alleged that the BJP is interested in personal attacks alone and then launched into a scathing attack of his own:
* The Rafale deal has benefitted the PM and his 'friends' at the cost of jobs for the youth of Karnataka.
* Dalits are at a risk under BJP regimes, as are women.
* PM Modi loves discussing sea-planes and bullet trains, not debt wiavers for farmers (in respnse, Shah ended up promising waiver of up to Rs 1 lakh within 10 days of forming a government if voted to power).
* The corrupt image of BJP's CM candidate BS Yeddyurappa and others like the Reddy Bros and B Sreeramulu (again, Shah had to come in defence of BSY)
* India's foreign policy being "decimatd" – cases in point being China, Nepal and Maldives; Russian arms for Pakistan – thanks to Modi's "one-man show"
* Ever-increasing fuel prices despite falling crude prices (when this reporter tried to get a response from Piyush Goyal, a visibly irritated Union Minister for Railways and Coal asked "Why can't Mr Siddaramaiah reduce tax?")
When questions threatened to veer into his personal space too, he tackled them with elan and then turned them onto Modi. "My mother is Italian by birth, but has lived here for most of her life and is more Indian than many Indians I know," he said. On his recent 'temple run', he said he has been visiting places of worship of all faiths for 15 years and it always make BJP uncomfortable.
The man, who just a couple of days ago said he could be the next PM, said the current one has anger for everybody. "I am a lightening rod of that anger. I attract that anger because he sees a threat from me. But his anger is his problem," said Gandhi – a far cry from his listless self in the face of Modi's diatribe five years ago in the same city this correspondent had seen.
This time 'round, while being respectful respectful to his chief minister Siddaramaiah, Gandhi tried to set the agenda – not respond to it: "It is a fight between the spirit of Karnataka and the RSS," he said in an unusual departure, drawing the Rashtriya Swayamsevak Sangh – the BJP's ideological fountainhead – right into the middle of the hubbub.
"The RSS is trying to take away your state. It is attacking your Basavanna, your culture, your language, your food," he said quite in line with the pro-Kannadiga, pro-Lingayat image that Siddaramaiah has been projecting.
The see-saw
If Gandhi came across as stepping on the gas and Shah seemed to be self-assured despite his irritation, it is not without reason. That reason is Narendra Modi.
A senior journalist who has logged miles after strenous miles across Karnataka in the last three months said: "Things have swung quite a bit to the BJP's favour in the last one week". Modi started his campaign on 1 May, drew in crowds by the drove and addressed way more eallies he was scheduled to.
Congress has reasons to be wary: While it emerged victorious in the 2013 Assembly elections, the 'Modi Wave' of 2014 blew that lead away.
"Even in places away from the big cities people have been saying that Modi's government has done things," the journalist said.
"Not that Siddaramaiah hasn't – his has been a good government with useful subsidies and peaceful environment. But the BJP knows how to go about elections; how to rake up issues," said Cheenappa, a local.
"The Congress regime was peaceful – unlike the troubled times in north Indian states," said Moeen (name changed), who drives an auto rickshaw. But the party may lose votes this time, he said citing the advent of the Muslim Empowerment Party (which he sounds convinced has been floated by the BJP). "Asaduddin Owaisi's support to JD (S) may also cost Congress votes," he said.
Though CM Siddaramaiah has sounded confident about his move to root for a separate religion for Lingayats, that has not gone down well with everyone. "It will be a sweep for the BJP. The Congress has tried to drive a wedge between the Lingayats and Veera-Shaivas," claimed another local who did not wish to be named.
Even the opinion polls have come across as playing it safe. No wonder that in such a situation, even the JD (S) is not being discounted. "See, both the Congress and the BJP are equally poised. So is the JD (S). If they do well, ultimately it may boil down to who HD Kumaraswamy backs," said Manjunatha (name changed) in Malleswaram, giving credence to the theory of 'kingmaker JD (S)' – a party that has successfully kept its Vokkaliga voters together, especially in the Old Mysore region, over the years.
Party patriarch and former PM HD Deve Gowda has publicly declared that he would disown son Kumaraswamy if he rallies witht the BJP after the elections. But that has not laid all doubts to rest. "He has supported the BJP earlier; can do the same again," said Moeen. The fact that the Bahujan Samaj Party of Mayawati, a known BJP baiter, has tied up with JD (S), is not enough for him.
Even Siddaramaiah has hinted at a tacit understanding between the Janata splinter and the BJP. On Thursday both Gandhi and Shah reiterated that their respective parties would handsomely win: Shah predicted at least 130 members in the 224-strong Assembly and there would be no need to give or take support, Gandhi claimed his party would win and Modi would lose not only in Karnataka, but also in Rajasthan, Madhya Pradesh, Chhattisgarh and eventually in 2019.
But then claims will be claims and both scenarios can't come true simultaneously. In reality, if the scale is as finely balanced as Manjunatha claimed, then giving and taking support might be the only option to consider. Stakes will remain high as whoever does get the chair will also be at a psychological advantage in the state's Lok Sabha constituencies next year.
Fun fact: No Karnataka CM has been voted back to power since Ramakrishna Hegde in 1985; nobody has been able to complete two consecutive terms. Will that change after the counting of votes on 15 May?