Karnataka: Congress in a bind as sulking veterans write to Modi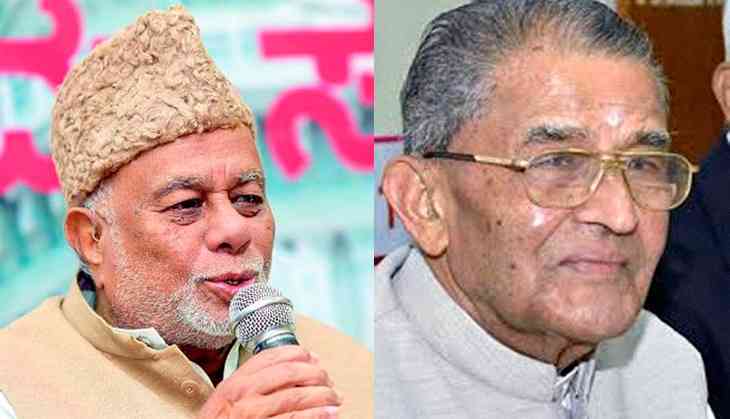 Letters from veteran Karnataka Congress leaders to Prime Minister Narendra Modi have come as an embarrassment for the Congress party especially since the Assembly polls are only a year away. Two veteran leaders – CK Jaffer Sharief (84) and MV Rajasekharan – have written letters to the prime minister which has worried the beleaguered Congress that is yet to come to terms with former chief minister SM Krishna switching over to BJP.
Sharief created a political storm after he wrote a letter to the prime minister wherein he backed RSS chief Mohan Bhagwat for the post of the President of India. On 29 March, Sharief wrote a letter to the prime minister wherein he said, "I personally feel that nobody should find fault with Shri Mohan Bhagwat's name being considered as a choice for the Presidentship of our country. There are different schools of thought in India and it is but natural for such a vast country. Mr. Mohan Bhagwat may belong to one school of thought but there should not be any doubt about his patriotism, love for the people of India and loyalty to the nation".
In a similar fashion, former Union minister Rajasekharan wrote to the prime minister congratulating him for BJP's recent victories in Uttar Pradesh and Uttarakhand. He went on to compare Modi's pro-poor populist schemes with that of the former prime minister Indira Gandhi's 'Garibi Hatao' slogan. The 89-year-old leader didn't stop there and went on to heap praises on Union minister Venkaiah Naidu.
Alarmed with these developments, senior Congress leaders have reached out to Sharief and Rajasekharan to ensure that they too like former chief minister SM Krishna didn't switch sides before the state goes to crucial assembly polls earlier next year.
Karnataka is one of the last remaining big states with the Congress and the party is leaving no stone unturned to ensure a comeback in the state. The senior leadership believes that their departure would be a major blow for the party that is already a divided house in the state.
However, a senior Congress leader from the state vehemently denied the possibility of these veterans switching over to BJP and said that the central leadership has already reached out to them. In return, they have assured the leadership that they are not making any such move.
"Senior Congress leaders spoke to Sharief who is said to have claimed that he has no such plans and that those were his personal views. He is a very senior leader of the party and we need him more than ever considering the elections are just around the corner. He has issues with the chief minister but an understanding has been reached," said a Congress functionary from Karnataka.
Even Rajasekharan said that he has no such intentions and will always be with Congress. These leaders are extremely critical of the incumbent chief minister Siddaramaiah and the letter could be seen as a warning to the central leadership that if the voices of the seniors are ignored, the party could face dire consequences. "However, we have sorted the matter with him and he no longer holds any grudges," the Congress functionary asserted.
Another senior leader considered close to the Sharief family claimed that the veteran leader had been completely sidelined from the day to day affairs of the party and is routinely ignored by the state and central leadership. "He is not invited to any of the party programmes and even if he is, he is just made to sit on the dais. He is the senior most Muslim leader in the state and since the party believes in including people of all castes, creed and religion, Sharief has just become the Muslim face who is only remembered when party needs votes from Muslims," he pointed out.
He, however, did agree that Sharief because of his age has not been very active in politics and wants to stay relevant in state politics. "If someone so senior is sidelined like this, he is bound to fight back and assert his position. It could also be a sign of desperation," the Congress leader said.
Blaming the chief minister for the mess the party is in the state, this leader informed how charges of corruption and anti-incumbency are making things worse for Congress. "And in such a scenario if veterans abandon the party, it would reflect poorly on the party and could be detrimental to its plans of getting re-elected to power," he added.
Accusing Siddaramaiah of neglecting the party's interest in the state, another state Congress leader said, "He has a habit of playing cards every evening with a bunch of his friends and howsoever important the matter be, the chief minister would not leave the game midway. This has become a sore in the eye of other senior leaders who believe they deserve that chair more than him."
Both Siddaramaiah and Sharief have been at loggerheads with each other and the latter has repeatedly questioned the functioning of the party under the chief minister. In fact, earlier in February, Sharief dubbed the state government as "Kuruba government" for which he had to apologise later. The chief minister is from the Kuruba community.
Several others have accused Siddaramaiah of taking unilateral decisions which they believe has dented the party's prospects of staging a comeback in the state. "He is a like a horse with blinkers and does only what he is suppose to do or told. He remains oblivious to everything else which is beginning to hurt the party," said a Congress leader.
However, there is a section of young leaders who feel that these veterans are literally blackmailing the party which should fall in this trap. They believe that these veterans have been given more than what they deserved and if still they want to go to BJP, they should be allowed to do so. "On Sharief's insistence, his grandson has been given ticket twice and yet he lost. So, if such elements leave Congress for BJP, it would help the next generation build the party all over again. But if we keep compromising, we would be finished," said a Youth Congress leader.