Justice Dhingra report: Khemka team member says BJP helping Vadra get away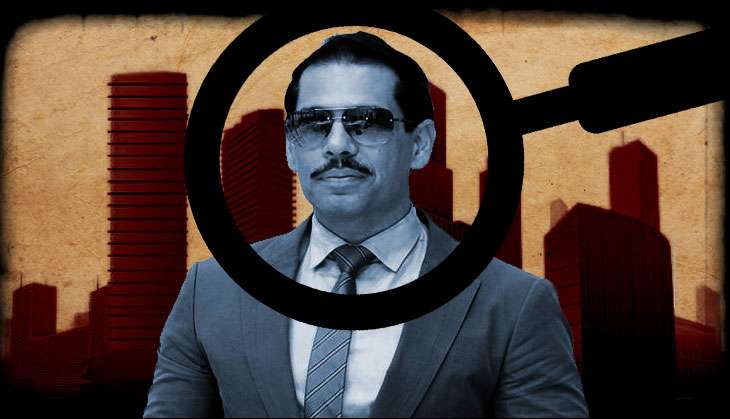 Retired Justice SN Dhingra, probing the allocation of 250 land licences in Gurgaon, including the one allotted to Robert Vadra, submitted his 182-page long report to Haryana chief minister Manohar Lal Khattar on Wednesday. Speaking to the media, Dhingra hinted at irregularities in the allocation of the land during the tenure of the then Congress chief minister Bhupinder Singh Hooda. He is said to have recommended action against all those involved including government officials and private players.
However, there are questions that Dhingra himself needs to answer.
Justice Dhingra's failure
Why did he not summon either Vadra or Hooda during his one year long inquiry?
His failure to do that has put a question mark on the credibility of the report. Strangely, this opinion is shared by two opposing sides - the Congress and Ashok Khemka's erstwhile team of bureaucrats because of whom Vadra came under the scanner.
They opined that the inquiry would have no legal standing in the court of law. "It's an adjudication and not an inquiry. Justice Dhingra has been unsuccessful in making a distinction between the two," said one of the bureaucrats.
It was Khemka who first investigated and cancelled Vadra's controversial land deal with realty giant DLF. Yet, Dhingra never called Khemka for any clarification. When asked, the retired judge said that he didn't feel the need to do so.
Speaking to Catch, Khemka said he would not like to offer any comments since he is yet to read the report. "I have not read the report so how can I comment and if Justice Dhingra didn't feel the need to call me, it is up to him. After all, he is the one heading this commission and not me."
Both the Congress and a bureaucrat who was part of Khemka's team cited Section 8(b) and (c) of the Commission of Inquiry Act and claimed how the findings of the report would never be able to establish any wrong doing by either Vadra or Hooda.
"The commission summoned nobody under section 8 (b) (c) which means commission can never return adverse finding against any person. As we all know Shah Commission of Inquiry and Bansilal Commission of Inquiry were all quashed because no proper notice was given before returning an adverse finding. So, if principles of natural justice have not been fulfilled and if there is no finding against any person what would be the purpose of such a report is in the realm of future when it is disclosed," said Congress spokesperson Randeep Singh Surjewala.
In his defence, Justice Dhingra said that a questionnaire was sent to Vadra's company Skylight Hospitality Pvt Ltd and summons were twice issued to Hooda, but he didn't turn up for questioning.
"If he was not co-operating, they could have taken some coercive action to ensure he was questioned about the details of these deals," said the Haryana cadre bureaucrat.
He went on to add that even the three bureaucrats who in 2008 gave a clean chit to this deal, were also not summoned. Even Omkareshwar property, from whom Vadra's firm bought the land, was also not questioned. According to this bureaucrat, Omkareshwar property never submitted any cheques in the bank suggesting wrongdoing.
"This report is just hogwash. It is a shame that someone who is an expert on legal issues made such a horrible choices. These decisions do raise some doubts about the procedures involved and the veracity of the report," he added.
Justice Dhingra, who retired from Delhi High Court, was in 2015 given the task to investigate 250 controversial land allotments under Hooda. Soon after the Khattar government took charge of Haryana, it ordered the probe since Prime Minister Narendra Modi had made it a major poll issue in his 2014 election campaign.
While 250 licenses were issued by Hooda government, it was Vadra's 3.5 acre plot that made the headlines. What made Khemka alarmed was how a plot bought for Rs 7.5 crores in 2008 was sold for a whooping Rs 58 crores to DLF within the next few months. The controversy has been raging since then. When in power the government could silence Khemka, but that changed once BJP won Haryana.
Meanwhile, the Congress questioned how the contents of the report was leaked in the media and how Haryana government continues to follow the license allotting policies of the previous government. "The intent of this government, especially that of Modi and Amit Shah, is to malign, vilify and slander individuals and the Congress party. There is not a whisper of any allegations of any wrong doing, any wrong policy or any violation of any rule," said Surjewala.
Calling Justice Dhingra Commission "a stillborn commission" Congress said that former high court justice has compromised his position as an independent arbiter by accepting favours from the BJP government in Haryana.
"If the government feels that my client is a bad man and they have a jawai babu report, why are they hiding the report. Let the report come out," said Vadra's legal counsel Suman Khaitan. He further added, "Now you tell me, if you don't summon anybody, can you hold it against him. Isn't it breach of Section 8 (B) and the principles of natural justice. But to give full credit, Mr Dhingra has not said anything against my client."
ALSO READ
Justice Dhingra report: Khemka team member says BJP helping Vadra get away
Dhingra panel set to report on Robert Vadra's deals. Congress jittery