Jignesh Mevani resigns from AAP. Wants BJP to suffer for Dalit atrocities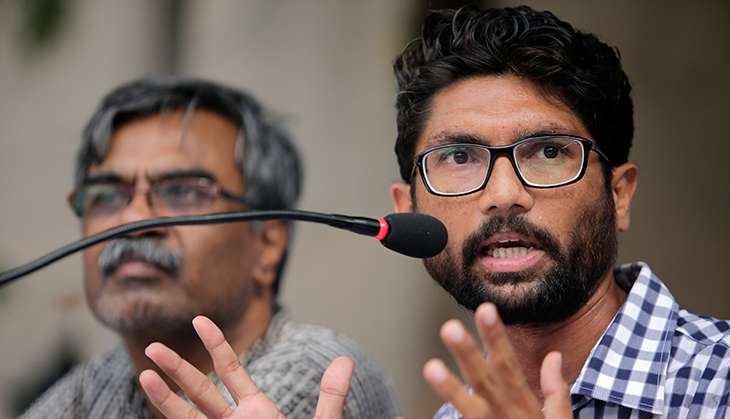 The recently-concluded Dalit Asmita Yatra is fast turning into a major anti-BJP political movement beyond Gujarat.
Jignesh Mevani, the 35-year-old lawyer and activist, who is the face of this movement, resigned from the Aam Aadmi Party on Saturday, and clarified that he had no intention to fight any polls.
At a press conference in New Delhi, Mevani said the movement he had become the face of was just about fighting for the rights of Dalits, and not about fighting electoral battles.
But the fact is, the 10-day Dalit Asmita Yatra has deeply embarrassed the BJP government in Gujarat, and has created a potential dent in the BJP's vote bank, a good share of which has traditionally come from the socially-backward community.
In fact, Mevani himself goes as far as to say: "I know the BJP will suffer because of these yatras, and it should suffer. It was under BJP that Dalits suffered most. It is under their rule that atrocities against socially-backward communities have increased sharply. Cow vigilante groups are a gift of Modi."
He adds that through his marches, Dalits will expose the injustices committed by elements under BJP regime. "We are not bothered about caste or party calculations, but BJP should pay for the havoc it has wreaked on us."
Resignation from AAP
Mevani had not concealed that he was a member of AAP while carrying out the Dalit Asmita Yatra. But on Saturday, while addressing the media in Delhi, he said he had begun facing accusations of being an AAP man, and he did not want the movement to get undermined due to his political affiliation.
"I want to preserve the sanctity of the movement we've just started. We don't want the movement to suffer because of my association with any party. It is true that AAP had expressed solidarity with this movement, but I now feel that for this movement to go forward, I will have to part ways with AAP," said Mevani.
Message to Modi
Mevani also said that he also wanted to seek time from Prime Minister Narendra Modi to discuss the concerns of the Dalit community.
"When Modi was the Chief Minister of Gujarat, he used to call himself CM - Common Man. Now, I have come to you as the common man, sir, please give me some time. Thousands of Dalits have pledged not to work as manual scavengers - are you going to launch a Startup India for them? Are you going to give them land? Or are you going to condemn them to the same pits from which they want to rise and escape?"
Mevani said Dalits had not just pledged not to return to manual scavenging, they were also waiting for the land that was their due.
"If every Dalit family in Gujarat doesn't get five acres of land, we'll start a rail roko program from 15 September. And it's not as if we want to disrupt normal traffic and supplies, but when we have exhausted all other means of protests and rallies, there aren't many options left for us."
Where next?
After the 10-day yatra in Gujarat, Mevani is looking at creating the same effect in Uttar Pradesh. Both these states are going to the polls at different times next year.
Another state with a huge - 33% - Dalit population is Punjab, which also goes to the polls in 2017.
Edited by Shreyas Sharma
More in Catch
Una Dalit march: Meet the men taking on Gujarat's Hindutva brigade
Gujarat Dalits attacked again, this time for demanding justice
BJP on the backfoot: Dalit movement may harm party in poll-bound Gujarat