JD(U) won't fight UP polls. Is anti-BJP front for 2019 taking shape?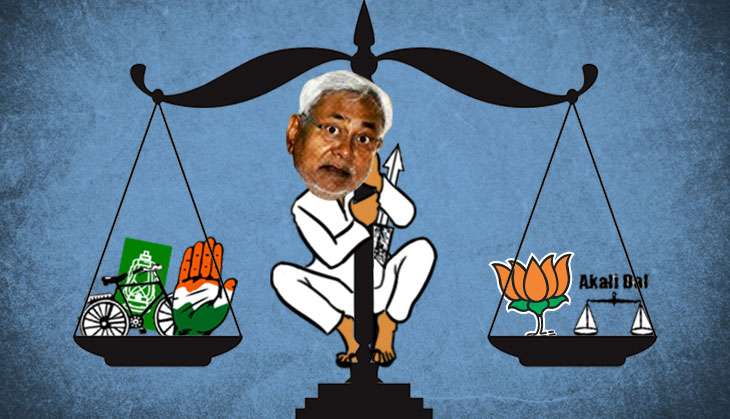 The Janata Dal (United)'s decision not to contest the forthcoming Assembly polls in Uttar Pradesh will hardly have any bearing on the state elections. What it is actually significant for is the race to the 2019 general, because it indicates party chief Nitish Kumar's return to the anti-BJP camp.
Nitish's 'in-principle' support for demonetisation had put him on the verge of rejoining the BJP camp late last year. The Bihar Chief Minister kept articulating nuanced positions on the issue throughout the last two months only to keep people guessing, especially his senior ally, Rashtriya Janata Dal (RJD) supremo Lalu Prasad Yadav.
But opting out of the UP race has pitted JD(U) firmly in the Congress camp. The party's statement - that it was doing this to "stop fragmentation of votes & strengthen secular & socialist forces" - made its intentions amply clear.
. @JanatadalU has decided that it would not contest UP Polls inorder to stop fragmentation of votes & strengthen secular & socialist forces.

— Janata Dal (United) (@JanatadalU) January 25, 2017
The RJD has already expressed its support for the Samajwadi Party-Congress alliance in UP, with Lalu even actively pushing for it. With JD(U)'s tacit support, all members of the Grand Alliance in Bihar have come on the same page in UP. That may not matter as much in UP as it did in Bihar in 2015, but it sets the tone for 2019.
What JD(U) has been doing in UP
Things were not working out for JD(U) in UP anyway. Months ago, the party organised several rallies in the state and Nitish addressed them.
Most of these were publicised as events meant to broaden the Bihar CM's prohibition campaign, but increasing the JD(U)'s presence in the state was also an objective.
The party then got into an alliance with Ajit Singh's Rashtriya Lok Dal, which was later also in talks with the SP and the Congress. However, that deal eventually did not materialise.
This is believed to be the final twist that made JD(U) junk its ambitions for UP. It used the opportunity to also make it look a decision to support the anti-BJP camp.
Nitish's cautious approach
Nitish has also tried to push BJP on the backfoot on demonetisation, asking Prime Minister Narendra Modi to enlist what gains had the move led to in the 77 days after its announcement.
CM @NitishKumar का PM @narendramodi से सवाल, नोटबंदी के 77 दिन बीते अब तो फायदे बताये केंद्र #DeMonetisation https://t.co/QPcipy9ZNs

— Janata Dal (United) (@JanatadalU) January 25, 2017
He also talked about the limited role of cash in the black economy, arguing that the next logical step after demonetisation was a crackdown on benami investments in real estate, gold and securities.
The Bihar CM also reportedly slammed the Centre over the Law Commission's questionnaire on the Uniform Civil Code, which has been sent to state governments. The Bihar government had earlier refused to fill up the form, saying the format was limited and it led respondents to only one kind of response. He also highlighted the need for dialogue with various communities, whose personal laws would be impacted by a common code.
However, there are a few issues which continue to indicate a deliberate ambiguity on Nitish's part. Demonetisation is a prime example - in spite of all his criticism, he still has not slammed the move as unequivocally as parties like the Congress, the Trinamool Congress and the Left parties. His official position continues to be of 'in-principle' support.
Secondly, he has also reiterated that PM Modi has supported his prohibition policy. Nitish reportedly lashed out at Bihar BJP leader Sushil Modi, saying "chhotka neta" (smaller leaders) were opposing the liquor ban, while "badka neta" (bigger leaders) came to Bihar and supported it.
It seems Nitish is likely to maintain this ambiguous stand till power equations begin decisively shifting towards any camp, as 2019 inches nearer. UP will contribute heavily to that narrative.
Edited by Shreyas Sharma
More in Catch
In accusing Nitish of minority appeasement, BJP ignores own majority appeasement
Well played Modi! Shower of praise on Nitish for Prakash Parv puts RJD, BJP in a spot
When Hardik met Nitish: what's behind the bonhomie?