It's not just Muslims, even Sikhs have to prove their patriotism now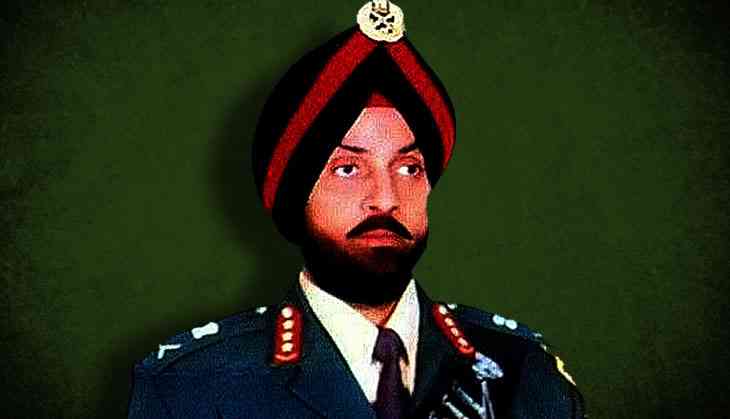 It's not just Muslims. If you are a Sikh, your patriotism will be questioned if you do not toe the line of the Hindutva brigade. Even if you happen to be a decorated officer of the Indian Army.
Lieutenant General (retired) Harcharanjit Singh Panag is one of India's most distinguished army officers. A recipient of the Param Vishisht Seva Medal and the Ati Vishisht Seva Medal, he has served as the General Officer Commanding-in-Chief of the Northern Command as well as the Central Command.
But in the past few days, right-wing trolls have crossed all limits in insulting this veteran of the 1971 War. They hurled unspeakable abuses at him and called for him to be thrashed, lynched and humiliated. Even worse, they called him a traitor, a terrorist sympathiser and of course, "Khalistani".
All this because Lt Gen Panag tweeted that the image of a Kashmiri, tied in front of a military jeep will "haunt the army forever".
Image of a 'stone pelter' tied in front of a jeep as a 'human shield',will 4 ever haunt the Indian Army&the nation!

— Lt Gen H S Panag(R) (@rwac48) April 15, 2017
This was an extremely bold statement for a former armyman, that too one who has had five stints in Jammu and Kashmir and been the head of the Udhampur-headquartered Northern Command. But it was also typical of Lt Gen Panag, given his track record as a soldier - he never shied away from speaking his mind and following his conscience. He is said to have ordered as many as 120 Courts of Inquiry into alleged corruption in the Army. Even last year, he wrote in favour of autonomy for Kashmir.
What followed his tweet on Saturday was a barrage of bile, abuse and accusations. But it wasn't just right-wing trolls but some prominent supporters of the BJP who targetted Lt Gen Panag.
Among the first off the block was former Infosys honcho TV Mohandas Pai, who fired a thread of rhetorical questions at Lt Gen Panag.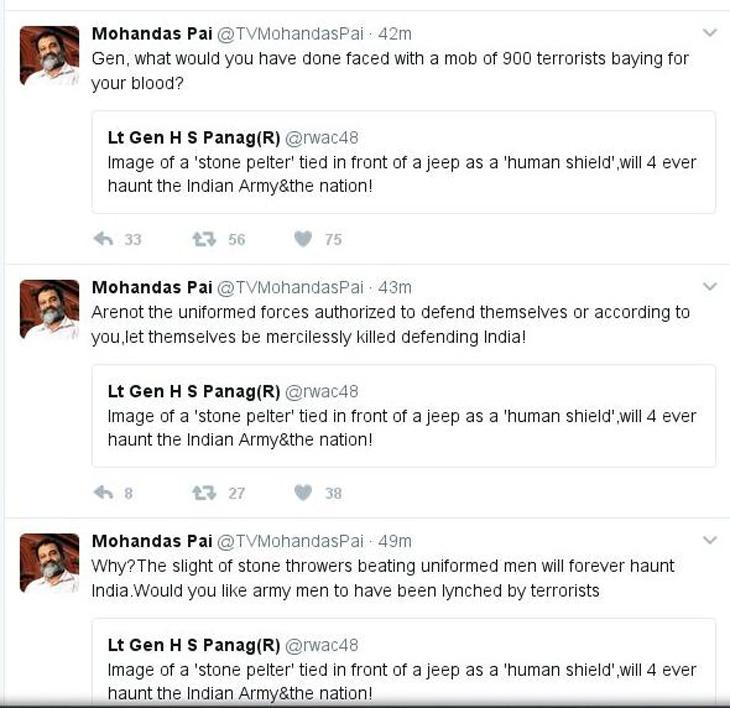 But the real abuse came from two known stormtroopers of the Narendra Modi government -- film director Ashoke Pandit and singer Abhijeet. This is what Pandit, a member of the Central Board for Film Certification, tweeted:
Sir I wish the soldiers who were kicked,beaten & humiliated on the streets of #Kashmir would have been U & then Wd hv seen ur reaction. https://t.co/ax2DmNQXuU

— Ashoke Pandit (@ashokepandit) April 16, 2017
To know Ashoke Pandit's opinion of Sikhs, watch his film Sheen (2004) in which Kashmiri Sikhs are shown as spineless people who struck a deal with militants. Then of course there was molestation-accused Abhijeet:
U r a Pak supporter, wish you were kicked,beaten & humiliated on the streets of #Kashmir & then wd hv seen ur reaction.. #Salute #IndianArmy https://t.co/yUkSlW8gI5

— abhijeet (@abhijeetsinger) April 16, 2017
Not to be left behind, Madhu Kishwar joined the right wing party and called the 1971 war hero a "Paki puppet".
He is actually turned out to be stupider than Gurmehar. She had the excuse of youth in her defence.This #AAPtard turned Paki puppet? https://t.co/LgxIBuacxQ

— MadhuPurnima Kishwar (@madhukishwar) April 17, 2017
One Guruprasad Bhat, who is followed by none less than PM Narendra Modi on Twitter, said that Lt Gen Panag "would throw stones at his own troops" in Kashmir.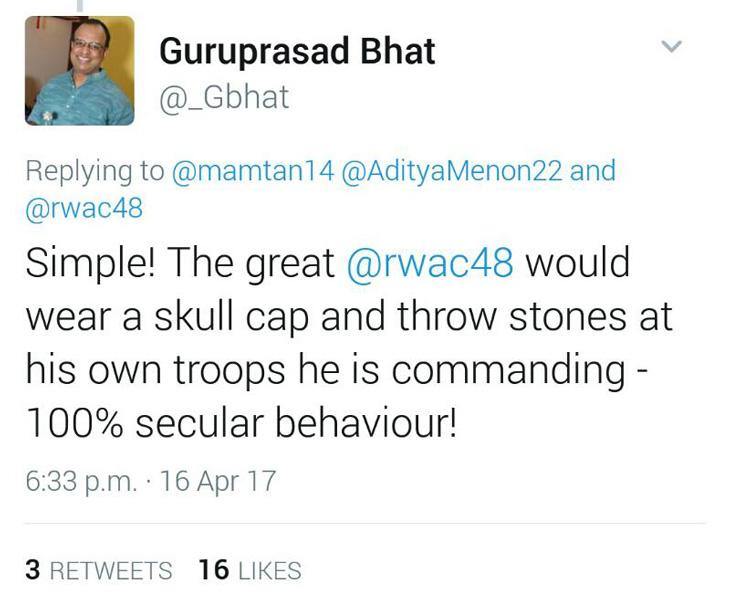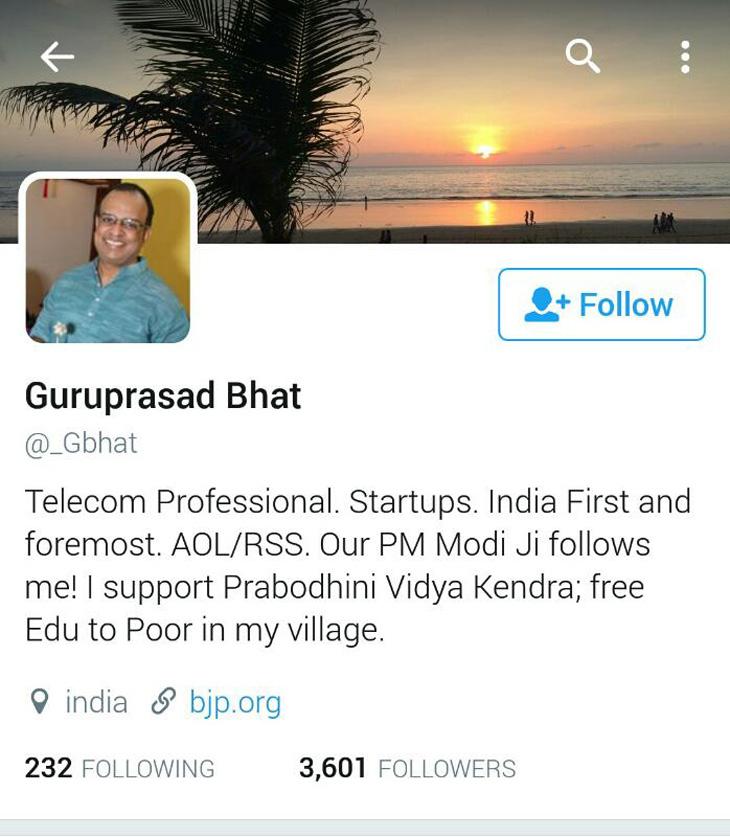 A number of officers spoke against the use of a civilian as a human shield and the complete alienation of Kashmiris from the military. But it was only Lt Gen Panag who was targetted by the right-wingers. It does seem that this was partly because of him being a Sikh. This is evident from the fact that part of the abuse, comprised "Khalistani" barbs. Take these distasteful tweets for instance:
@rwac48 a fit n young foul mouthed, elitist n khalistani general of Indian army on pakistan payroll!! https://t.co/iPdLILvznT

— Aparna Singh (@aparnasingh1211) April 16, 2017
@AdityaMenon22 @har_preetS @rwac48 A soldier who is not pained to see his men being beaten but is feeling for a stone pelter who was tied to a jeep is a khalistani!

— Aparna Singh (@aparnasingh1211) April 16, 2017
@Indian1Proud @rwac48 @ajitbhinder @GeneralBakshi Now @rwac48 crossing all limit, he might be supporting Khalistani terrorists and Kashmiri Jehadist

ISI has its deep root..

— Sandip ABVP (@SandipRnc) April 16, 2017
@rwac48 shut up bloody khalistani. only thing that will haunt shld haunt the army & nation was that a traitor like u got into such a high position😗

— Sandrocottus (@mauryastate) April 15, 2017
@rwac48 Let me ask you one question.
Are there really so many Khalistani in our Army and that to at Lt General level?

— Nimesh Dikshit (@ndikshit) April 15, 2017
Some even compared him to Shabeg Singh, the Indian Army Major General who joined forces with Jarnail Singh Bhindranwale.
Really shameful that abject AAPtard @rwac48 once donned uniform of Indian Army. But then there've been aberrations like Shahbeg Singh too.

— Sabyasachi Basu (@SabyasachiBasu_) April 16, 2017
@jayashreeravish @colbhagwan @rwac48 @harishbpuri @YusufDFI @alok_bhatt Very likely that @rwac48 is another Shahbeg Singh in the making. Only a traitor could've turned himself into a Khalistani-loving AAPtard.

— Sabyasachi Basu (@SabyasachiBasu_) April 16, 2017
It wasn't just Lt Gen Panag, even his family had to face similar slurs. This is a sample of what his son Sherbir Panag, a Delhi based lawyer, had to go through.
@Sherbir what are you sucker son of a Khalistani who wasn't promoted to COAS an AapTard good traitors getting exposed yeh le 🖕👊

— Proud Hindustani (@Leghumake) April 15, 2017
Air Marshal, that's your best argument against your visibly gross incompetence to hold the appointment you do? pic.twitter.com/f2lda0g1FP

— Sherbir Panag (@Sherbir) April 15, 2017
Unfortunately, the Aviator Anil Chopra, who "liked" a tweet calling Sherbir a Khalistani, happens to be a retired Air Marshal.
Even lawyer Navdeep Singh, a former military reservist, who fights cases for the welfare of soldiers, was abused for supporting Lt Gen Panag.
This is not the first time in the recent past that Sikhs are being targetted by the Hindutva brigade in this manner. Recently, Delhi University student Gurmehar Kaur was hounded on social media and given death and rape threats for speaking against ABVP's hooliganism. Aam Aadmi Party leaders like HS Phoolka and Jarnail Singh have also been called Khalistani in the past.
@JarnailSinghAAP @AamAadmiParty @SanjayAzadSln @hsphoolka Baj gaye 12 tere khalistañi...

— मेजर दीपकुलदीप सिंह (@majordks) April 13, 2017
@hsphoolka U have a Khalistani agenda? Or you are not aware how many stay near the border? Are u the NIA? Or the Army spokesperson?

— Rajib Sur (@RoevanScoob) October 1, 2016
Several Sikhs observed that the right wing brigade's frequent use of the "Khalistani" label to target Sikhs, has become a dangerous trend. They voiced their anguish at Sikhs being branded as traitors.
@Sherbir dangerous mindset if such hatred persists and one uses words like Khalistani so casually

— NoToSilence (@akdwaaz) April 16, 2017
@Sherbir If a hindu doesn't agree with their views he's Congressi, if a sikh doesn't he is khalistani, if a muslim doesn't he is a pakistani

— Harsimran Singh (@coolharry700) April 15, 2017
A Sikh may do whatever best he can for the country, but he'll always be just one disagreement away frm being labelled a Khalistani https://t.co/2xDyvD89fM

— Malwinder ਸਿੰਘ☤ (@malwinder25) April 16, 2017
Even if a Sikh gives his life for this country he'll always be just a comment away from being labeled as a Khalistani. I'm sorry @rwac48. pic.twitter.com/cQUZbqTndE

— Jas Oberoi (@iJasOberoi) April 17, 2017
The pattern is exactly like the manner in which the Hindutva brigade has targetted the Muslim community. Even in that case it labelled as traitors several prominent Muslims ranging from Vice-President Hamid Ansari, to Shah Rukh Khan, Aamir Khan and Sania Mirza.
The message for the two communities is clear - you might be a Hamid Ansari or a HS Panag - no matter how much you have done for the country, you will be labelled a traitor if you don't submit yourself to the Hindutva Right. Minorities with a voice and a spine are not allowed.