It's complicated: Nitish and Lalu can't live with or without each other
N Kumar
| Updated on: 24 July 2015, 8:43 IST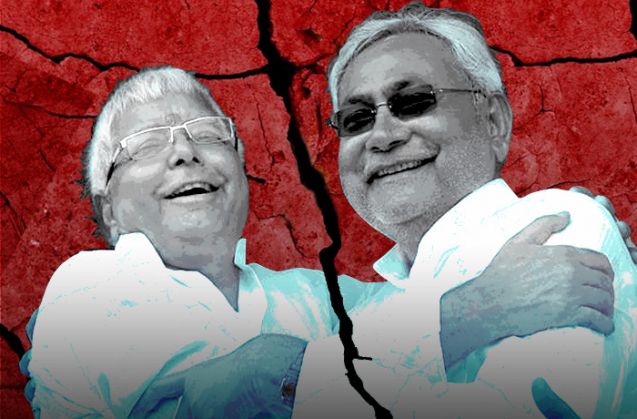 The marriage
Fissures are emerging in the JD(U)-RJD alliance in the run-up to the Bihar assembly polls
Public bonhomie between Nitish Kumar and Lalu Prasad cannot conceal the internal discord
Controversy following Kumar\'s loaded tweet reflects the unease between the two
Bones of contention
RJD resents the Nitish-centric campaign. Posters, slogans, songs glorify Nitish. RJD is missing
Seat sharing is going to be a major challenge. Both RJD and JD(U) want the upper hand
While still allies, both Lalu and Nitish are preparing back-up options
The honeymoon between Nitish Kumar and Lalu Prasad is all but over. Marital tiffs have already begun, though they are often followed by public displays of bonhomie.
Snake bites
On 21 July, Kumar sparked a controversy with his tweet quoting a famous couplet by Rahim: "Jo Rahim uttam prakriti, ka kari sakat kusang, chandan vish vyapat nahi, lipte rahat bhujang (sandalwood will never become poisonous no matter how long a snake remains coiled around it).
It was evident that Kumar's tweet had political connotations, as just before the couplet he wrote 'Bihar's development is my sole agenda'.
The tweet appeared to be Kumar's way of saying that his integrity is beyond question despite his alliance with Lalu Prasad, who has been convicted in the fodder scam.
The BJP was quick to take a dig at Kumar. "Lalu Prasad should respond to this tweet. Who is Nitish referring to as 'serpent'? Who is the one he wants to humiliate?" asked BJP spokesperson Syed Shahnawaz Hussain.
When asked to comment on the tweet, Prasad said the the question needs to be posed to Kumar.
However, the uproar that followed forced Kumar to clarify that he was referring to his 17-year-old alliance with BJP that came to an end in 2013.
Of course, snake jibes are not new in Bihar politics.
Last month, senior BJP leader Sushil Kumar Modi termed the Lalu-Nitish friendship as an alliance between 'Saanpnath and Nagnath'. "The antidote to their venom lies only with the BJP," he said.
Jitan Ram Manjhi used the same same sobriquet to describe BJP and JD(U) last year. "We will befriend Saanpnath to defeat Nagnath, if the need be," Manjhi said, while he was still the chief minister.
He has now aligned with the BJP, which he had described as Saanpnath.
Marital blues
Coming back to Nitish Kumar and Lalu Prasad, a day before this passive-aggressive tweet, the duo came together at Patna's largest auditorium Shri Krishna Memorial Hall at a function commemorating the death anniversary of former chief minister and Congress leader Satyendra Narayan Sinha. The function ended up being reduced to a public display of camaraderie between the two leaders, much to the amazement of the audience, especially the Congress leaders present.
If Prasad swore that he would leave no stone unturned to see Kumar as the CM, the latter was all praise for the RJD chief's announcement that he would deploy tumtums (horse-carriages) for the election campaign.
The show of mutual admiration between the two leaders cannot conceal the tensions that are underlying their alliance.
Often, the 'all is well' posturing by the two parties, ends up exposing the differences rather than hiding them. Take for instance Janata Dal (United) President Sharad Yadav's visit to Patna earlier in the week. Yadav took great pains to drive the message that the alliance is intact. He said that Kumar and Prasad will campaign together and he will personally participate in RJD rallies.
Nitish-centric campaign irks RJD
A day before Yadav's Patna visit, RJD stalwart Raghuvansh Prasad Singh took a dig at the JD(U). "Nitish and his party need to come out of their self-infatuation," he said.
What has irked the RJD is that the campaign material is dedicated to glorifying Nitish Kumar. They also allege that Kumar is shying away from joint campaigning. The RJD believes that on the ground, the success of the alliance is largely dependent on its Muslim-Yadav base and yet the party's isn't being given the respect it deserves.
The resentment took root the day Prasad declared Kumar as the alliance's CM candidate. Soon after, Nitish-centric posters saying 'yun hi badhta rahe Bihar, ek baar aur Nitish Kumar,' sprung up all over Patna.
This didn't go down well with the RJD. Kumar clarified that the posters were designed without his knowledge.
It later turned out that the brain behind the posters was none other than the CM's new spin doctor Prashant Kishore, who was earlier part of Modi's branding team.
The Nitish-mania has only intensified since then, with songs being composed on him and slogans like 'Bihar mein bahar ho, Nitish Kumar ho'. There is no mention of Prasad or the RJD. The party has been kept at an arm's length even in Kumar's mass campaigns 'Parcha par Charcha' and 'Ghar-Ghar Dastak'.
Nitish Kumar's power play
Adding insult to Prasad's injury, the Congress has decided to ignore his long-standing friendship by solidly backing Kumar. Many RJD leaders blame Kumar for the Congress' behaviour.
A miffed Prasad skipped Sonia Gandhi's iftar party, of which he had been a key fixture for all these years. Instead, Kumar was seated at the table with the Congress president.
Using 1,000 tumtums in his campaign could be Lalu's way of saying that Bihar's roads are only for horse-carts
Sources say that Kumar and his advisors want to keep the RJD's shadow away from the campaign as much as possible. Apparently, they want to keep open the possibility of an alternative alliance with the Congress, Left parties an Pappu Yadav, in case JD(U) and RJD fail to arrive at a consensus on seat sharing.
Considering that RJD is asking for 110-120 seats, seat sharing negotiations are going to be a messy affair.
Prasad's argument is that his party got more votes than JD(U) and did better in a greater number of Assembly segments. JD(U), on the other hand, wants the division to be on the basis of the current strength in the Vidhan Sabha, where it is the larger party by a long shot.
Lalu Prasad's counter-moves
Prasad, too, has his back-up plan. This was apparent during the recently held MLC elections. The defeat of the JD(U) candidate from the Patna seat at the hands of an independent Reetlal Yadav, was seen as Prasad's handiwork.
Prasad's activism in demanding the release of caste census figures is also a case in point. He didn't consult Kumar either before marching to the Raj Bhawan to push for his demand or before announcing his fast on 26 July followed by a Bihar bandh the next day.
Also, in contrast to Kumar's hi-tech campaign, Prasad plans to deploy 1,000 horse-carriages to take his message to remote villages. Though the RJD supremo claims it is his way of countering Modi's publicity blitzkrieg, he could well be poking fun at Kumar by hinting that the roads under his rule are only for tumtums.
Prasad too has an alternative alliance plan up his sleeve in former CM Jitan Ram Manjhi.
Damage control
The MLC elections have emboldened the BJP and the prospect of a saffron wave in Bihar may just force Kumar and Prasad to close ranks.
Kumar knows that he cannot do without the RJD's social combination. Prasad and the RJD, on their part, recognise that after being out of power for a decade, this is their last chance of staging a comeback. For that they have no choice but to play second fiddle to Kumar.