Is this the beginning of the end for Amit Shah?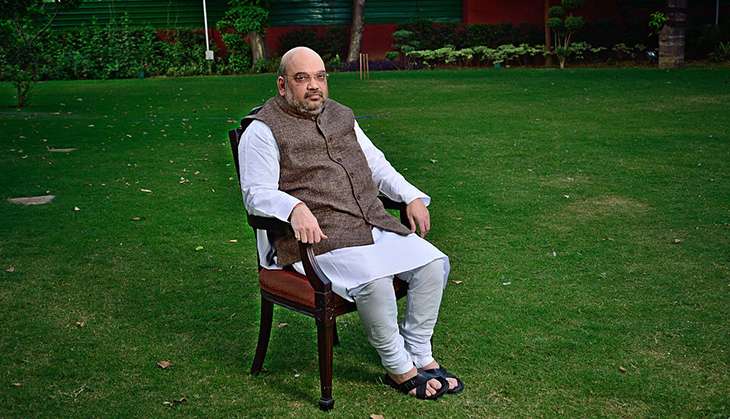 Till recently, opinion poll after opinion poll described him as the second-most powerful person in India. A master strategist. The most trusted and shrewd lieutenant of Prime Minister Narendra Modi. The wisest political pundit.
But off late, Amit Shah hasn't figured in any such poll.
Also read - Amit Shah spooked by 'Hardik' swagat in Surat as Patidars ambush rally
Even his most ardent admirers have noticed that something is off, as recent incidents have shown: Infighting among UP leaders, Una incident and cow vigilantes, anger among socially backward classes and Patidars in Gujarat, revolt in Goa, unresolvable crisis in Kashmir and big back-to-back political failures in Uttarakhand and Arunachal Pradesh. Not to mention the big, fresh loss in Bihar.
So is this the moment where the best of Amit Shah lies past him?
Past glories be damned
Stories and comments about his past glories have been replaced with the challenges that lie in front of him. And in a way his coming challenges complete a full circle of his national political career.
It was his management in Gujarat that brought him much acclaim in the BJP and elevated him to national politics. Then, his historic record-winning margin for the BJP in Uttar Pradesh made him the president of the party.
But in a reversal of fortunes, the BJP is now looking at a tough time in both these states. And Amit Shah is facing his biggest test in his political career - a dismal performance in Uttar Pradesh could have a cascading effect in Gujarat and consequently in 2019 general elections.
The Gujarat challenge
"Amit Shah likes to take big risks and win big," said a party source, talking about BJP's big recent embarrassment in Surat on 8 September where the BJP president and Gujarat chief minister had to wind up their five-hour programme - Rajasvi Sanman Samaroh (royal felicitation ceremony) - in one-and-a-half hours after Hardik Patel supporters smashed chairs at the event.
What made the incident worse was the presence of the entire leadership of the Gujarat BJP at the Surat function - Amit Shah, Chief Minister Vijay Rupani, his predecessor Anandiben Patel, BJP state president Jitu Vaghani, Union Ministers Parshottam Rupala and Mansukh Mandaviya and 44 Patidar MLAs of the BJP.
It was a big mess.
"For several months now there has been an apprehension that BJP had irreversibly lost Patidar support and were scared of them. That's why Shah decided to hold a function, a show of strength right in the heart of Patidar belt - Surat. There were two clear messages that Shah wanted to send through the function. One was that BJP still held sway over Patidars," said the source.
The other was to send a signal to recently sacked chief minister of Gujarat - Anandiben Patel.
"Amit Shah wanted to show her 'look this is how the Patels are managed'. And wanted to justify his decision to sack her and appoint his own man in charge."
Shah's decision to sack the person whom Narendra Modi himself had anointed as the chief minister of the state, was another big risk Shah's recently taken.
"Narendra Modi doesn't like to be slighted in this manner. But this time he's gone with Shah with the sole condition that he clears up the mess in Gujarat," said a Gujarat based party worker who did not wish to be named.
"Modi has given Shah a really long rope this time. He doesn't like people who don't deliver and isn't really emotionally connected to anyone. If Shah bungles up UP and Gujarat, there will be no place for him to go."
However according to a senior cabinet minister, "We have no chance in hell of losing the state. Whatever mess has been created in the state will not take much time to clear. We have a strong organisational structure in the state which no one else has. We've ruled it for 21 years, and there is no real opposition party to speak of."
While it is true that BJP may yet not be written off in the state, it is also undeniable that the state is going through its worst phase of unemployment, real-estate slump, commercial decline in a very long time.
Plus, Shah is being seen as an increasingly arrogant man. What was true about the Surat incident was that more than the opposition, it was BJP's own party members, who've felt slighted by Shah on various occasions, who were happy for the embarrassment caused to Shah and Rupani.
The Uttar Pradesh debacle
The Surat incident isn't the first when Shah was humiliated at a public gathering. On 31 June, Shah's big Dalit public meeting was cancelled at the last minute when instead of the expected 40,000 Dalits, the party couldn't gather even 40.
But Shah and his party weren't always in such a humbling position.
The BJP still has the largest number of Dalit MPs in the country. Out of the 66 reserved Dalit Lok Sabha constituencies, the party won 60%, or 40 seats, in the 2014 general elections.
So, while this doesn't necessarily mean an overwhelming Dalit support for BJP, it still theoretically gives the party a big edge over everyone else in UP where Dalits form a huge 20-21% of the vote share and OBCs between 40-45%.
Party insiders claim to have had a big advantage, especially among the socially backward classes in UP. But that only lasted till the Una incident, thanks to which the party's popularity take a severe hit in the state.
"It was a big failure on our part. We did not react in time. And now we're seeing a Dalit-Muslim alliance taking shape, which we thought would for several reasons not ever happen," a party insider said.
But before the party had time to compose itself and recover, it suffered back to back punches from their former vice president and Thakur leader Dayashankar Singh who compared Mayawati first to a prostitute and then to a dog.
He's repeatedly called her deceitful, coward and greedy and personally attacked her several times in last four months letting the Dalit and OBC sympathy drift towards her.
After being expelled from the party, Singh has been holding rallies and public meetings in the name of hurt Thakur and Kshatriya pride and increasing his personal attacks on Mayawati.
BJP's problems in the state have been compounded with the alliance and mergers they have affected. Its proposed alliance with a Dalit Eastern UP party Suheldev Bharatiya Samaj Party (SBSP) has still not materialised and their recent acquisition - BSP's senior leader SP Maurya - has begun to assert his independence barely days after joining the party.
"Maurya was anyways not liked by seniors because of the derogatory manner in which he's talked about Hindu gods and goddesses while in BSP. But now he's making it worse," said a party insider.
Maurya had recently launched the Loktantrik Bahujan Manch (LBM) which he recently merged with the BJP. But despite strictures by the senior most leadership of the party, he has continued to hold rallies in UP in the name of his LBM party. All this has sent a confusing message to ground workers in the state.
A lot of BJP leaders were already said to be unhappy with outside leaders like Anupriya Patel and SP Maurya and their affiliates getting prominent positions in the party. This also caused RSS to cap the number of tickets given to outsiders to 30-35.
----------
Many are calling these two elections a referendum on Shah's popularity within the party and of his political career. He is known to have told his party members that Bihar was his sole defeat in his political career. And in a recent interview he denied ever considering Gujarat CM's post.
Others inside the party also say that Shah's replacing Rupani is highly unlikely. So the only option for Shah is to win the two big states. And both the elections expected to happen within a year, add or take a couple of months, time is quickly running out for him.
Edited by Aleesha Matharu
More in Catch - 8 reasons why Amit Shah will stay as BJP chief, despite Bihar defeat
This is Amit Shah's Cabinet expansion, not Modi's