Is Shiv Sena staring at Dynasty 2.0?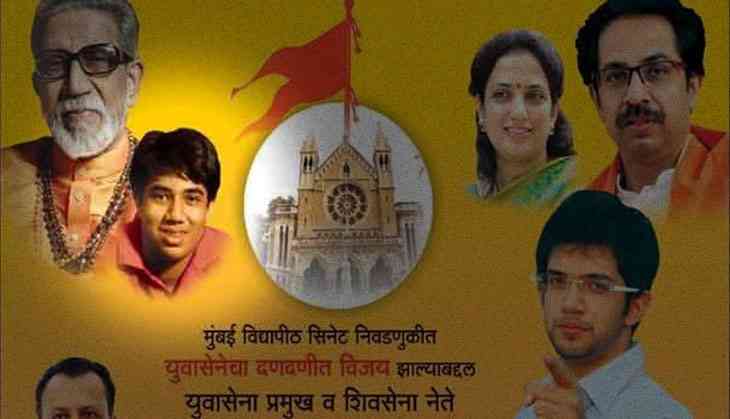 Shiv Sena, a party that was always critical about dynasty, has just taken one more step towards it. Tejas Thackeray, younger son of party chief Uddhav Thackeray has been projected on party hoardings put up after thumping victory by Yuva Sena in Mumbai University Senate elections.
Yuva Sena is youth wing of Shiv Sena headed by Uddhav's elder son Aditya. He was elevated as Shiv Sena leader in recently held national executive meeting of the party at Mumbai.
Speculations are rife that Tejas will be handed over responsibility of Yuva Sena. It was strikingly highlighted in the hoardings put up by Yuva Sean after the victory in Mumbai University Senate elections. For the first time, Tejas featured on any political hoarding of Shiv Sena or Yuva Sena. It is a clear indication that Uddhav is promoting his younger son to take the charge of Yuva Sena.
Unlike his father and elder brother, Tejas had been low profile. He came into limelight for the first time when Tejas discovered five species of fresh water crabs in February last year and one of them was named after him.
Being in oblivion since then, Tejas suddenly hit the limelight when his photo appeared on party hoarding recently. Shiv Sena Secretary Milind Narvekar put Tejas' photo on the advertisement published in party mouthpiece Saamna, congratulating Yuva Sean for the victory in Mumbai University Senate elections.
"It is the beginning of branding Tejas as politician who in all probabilities will soon be heading Yuva Sena. The post will be vacated once Aditya completely shifts to Shiv Sena," said a senior Shiv Sena leader who did not wish to be named.
Shiv Sena Spokesperson Manisha Kayande said, "Tejas is a keen environmentalist and social activist. Party cadre will definitely welcome the decision if the leadership decides to induct him in the Yuva Sena."
The youth wing of Shiv Sena, won all the 10 seats to Mumbai University Senate under the leadership of Aditya Thackeray recently. This thumping victory and Aditya's elevation to Shiv Sena was the right time to induct Tejas in the politics, feels another senior party leader.
"Once Aditya was elevated to Shiv Sena as leader, it was obvious that he would gradually withdraw from the day to day affairs of Yuva Sena. And in that situation, Tejas can step in elder brother's shoes and take over the youth wing," the leader said.
Once Tejas takes over Yuva Sena, Aditya will concentrate on forthcoming state Assembly and Lok Sabha elections with his father.
"The victory in the Mumbai University Senate elections is the concrete evidence that people have complete faith in Shiv Sena and its ideology. This victory is result of the social service we have been doing over the last eight years.
"Similar activities are being carried out by Shiv Sena. It will help us in forthcoming state Assembly and Lok Sabha elections as well," said Aditya Thackeray.
After elevation to Shiv Sena as one of the eight first line leaders, Aditya will now focus on the affairs of Shiv Sena. "In fact, his progression to Shiv Sena bagan in 2014 when he was part of the team that discussed seat sharing with BJP," said a Shiv Sena leader.
While Shiv Sena leaders are enthusiastic about the development, the other parties such as Bharatiya Janata Party (BJP) and Congress apparently have decided not to comment on it, saying it was the internal matter of Shiv Sena.